Masks remain key defence in orange setting - Hipkins
Covid-19 Response Minister Chris Hipkins is continuing to champion mask wearing, despite some requirements being loosened.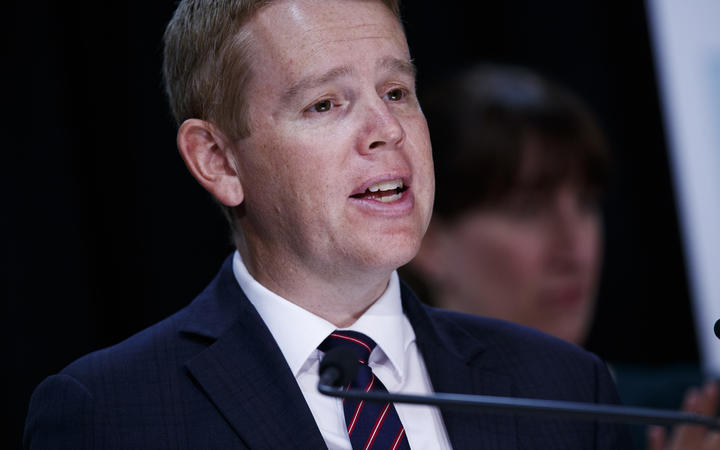 Covid-19 Response Minister Chris Hipkins. Photo: Pool / Stuff / Robert Kitchin
New Zealand is now at the orange traffic light setting, which means all gathering limits have gone and customers no longer have to be separated and seated to be served at hospitality venues.
Masks are still required in retail stores and on public transport, but no longer in restaurants or schools.
Covid-19 Response Minister Chris Hipkins told Morning Report the move to not require masks in hospitality is because people can choose to be there.
"People have to go to the supermarket in order to survive. So, you're going to have elderly people, you're going to have people who are immunocompromised, who would be very vulnerable if they got Covid-19, and so, requiring masks there helps to protect them."
Hipkins said mask wearing remained a major defence against Covid-19 under the orange traffic light setting.
He said it would be up to individual schools to decide whether masks were needed, and it could depend on a lot of factors.
"It'd be fair to say there's been quite a range of feedback from the school communities but the schools have found this a very difficult requirement to enforce because young people are not necessarily the easiest people to get to wear their masks or wear them properly."
He said opening windows will ventilate rooms properly, and in winter opening them as much as a centimetre would help clean the air, although this may not be possible for all schools.
"There's going to be a limited number of cases where it's not [an option], where you've got schools that are covered in snow for example, it's not a practical option.
"So, we will make sure that they have portable air cleaners to cover those sorts of settings."
With case numbers rising amongst the older population in the South Island, Hipkins defended the decision to move to the orange setting.
"We look at the rate of hospitalisation [and] the rate of new cases right across the country in making this decision," he said.
Hipkins said hospitals around the country were already shifting patients between themselves to balance the demand created by the pandemic.
Meanwhile, the relaxing of Covid-19 restrictions comes with perks for central city bars, restaurants and cafes.
After 11 weeks, business owners say they are pleased to see the back of mandatory seated service and limits on capacity.
They are also preparing for a bump in bookings and sales, as office workers return to the city.
Auckland's Vivace Restaurant owner Mandy Lusk described her relief at yesterday's announcement.
"We can't really survive at red so very happy [but] it's a little bit late in that it won't make a difference for us now ... until the beginning of May," she said.
Lusk said she was not expecting a big rush of business as many people were heading on vacation for long weekends and school holidays this month.
She said some major employers in the CBD had called for staff to return to the office in some capacity from 2 May which she hoped would provide a valuable boost in foot traffic.
"People are allowed to come and stand which makes a big difference, if you've got a bunch of people coming after work they've been sitting at a desk all day (now) they're allowed to stand up and have a drink which psychologically makes a big difference."
Lusk said her restaurant would be trying to maintain social distancing of tables under orange as a precaution.
source: https://www.rnz.co.nz/news/national/465256/masks-remain-key-defence-in-orange-setting-hipkins