Media mogul: Hollywood execs, top actors should take 25% pay cut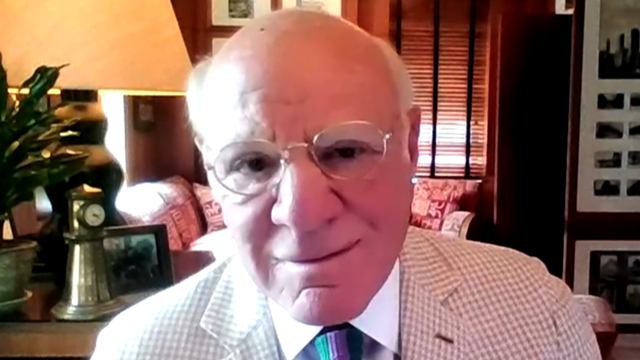 Washington — Media mogul Barry Diller suggested top Hollywood executives and the highest-paid actors take a 25% pay cut "to try and narrow the difference" between the highest and lowest earners in the industry as TV and movie actors joined screenwriters on strike. 
"Everybody's probably overpaid at the top end," Diller, chairman and senior executive of IAC and Expedia, told "Face the Nation" on Sunday. 
Diller served as the chairman and CEO of Fox, Inc., in the 1980s as it created the Fox Broadcasting Company and its motion picture operations, another turbulent time in the industry. Prior to Fox, he served 10 years as chairman and chief executive of Paramount Pictures Corporation. 
Actors represented by the Screen Actors Guild-American Federation of Television and Radio Artists went on strike Friday amid concerns about artificial intelligence replacing jobs and the impact of streaming services on actors' residual pay. Writers represented by the Writers Guild of America walked out in May over similar concerns. It's the first time the two Hollywood unions have been on strike simultaneously in six decades. 
Diller said "the perfect storm" led to the current issues in Hollywood which faces an industry-wide shutdown. 
"You had COVID, which sent people home to watch streaming and television and killed theaters," he said. "You've had the results of huge investments in streaming, which have produced all these losses for all these companies who are now kind of retrenching." 
Diller said it will have a lasting consequences on the industry if the strikes carry on until the end of the year. In fact, he said the strikes could potentially cause an "absolute collapse" of the industry if a settlement is not reached before September. 
"Next year, there's not going to be many programs for anybody to watch," he said. "You're going to see subscriptions get pulled, which is going to reduce the revenue of all these movie companies, television companies. The result of which is that there will be no programs. And it just the time the strike is settled, that you want to gear back up, there won't be enough money. So this actually will have devastating effects if it is not settled soon." 
But, he said, it's going to be hard to reach a settlement when both sides lack trust in the other. 
"The one idea I had is to say, as a good-faith measure, both the executives and the most-paid actors should take a 25% pay cut to try and narrow the difference between those who get highly paid and those that don't," he said. 
Diller also said he thinks the concerns over A.I. in the industry have been overhyped and he does not believe the technology will replace actors or writers, but it will be used to assist them. 
"Most of these actual performing crafts, I don't think in tech are in danger of artificial intelligence," he said. 
Kara Swisher, co-host of the "Pivot" podcast, told "Face the Nation" on Sunday that Diller's pay cut proposal won't go anywhere and the industry is facing a "Rubicon moment" as it shifts to streaming. 
"This shift to streaming, which is necessary and important, is expensive," she said. "Nobody's figured out how to pay for people. Now, the actors are correct as they should get a piece of this and figuring out who values and who's valuable is going to be very hard. But there is a real strain on these companies at this moment in time." 
Some CBS News staff are SAG-AFTRA members. But they work under a different contract than the actors and are not affected by the strike.  
Caitlin Yilek is a politics reporter for CBS News Digital. Reach her at
[email protected]
. Follow her on Twitter: https://twitter.com/hausofcait
source: https://www.cbsnews.com/news/barry-diller-sag-aftra-wga-strike-hollywood-face-the-nation/