Major breakthrough for Sweden's bid to join NATO, Hipkins arrives in Lithuania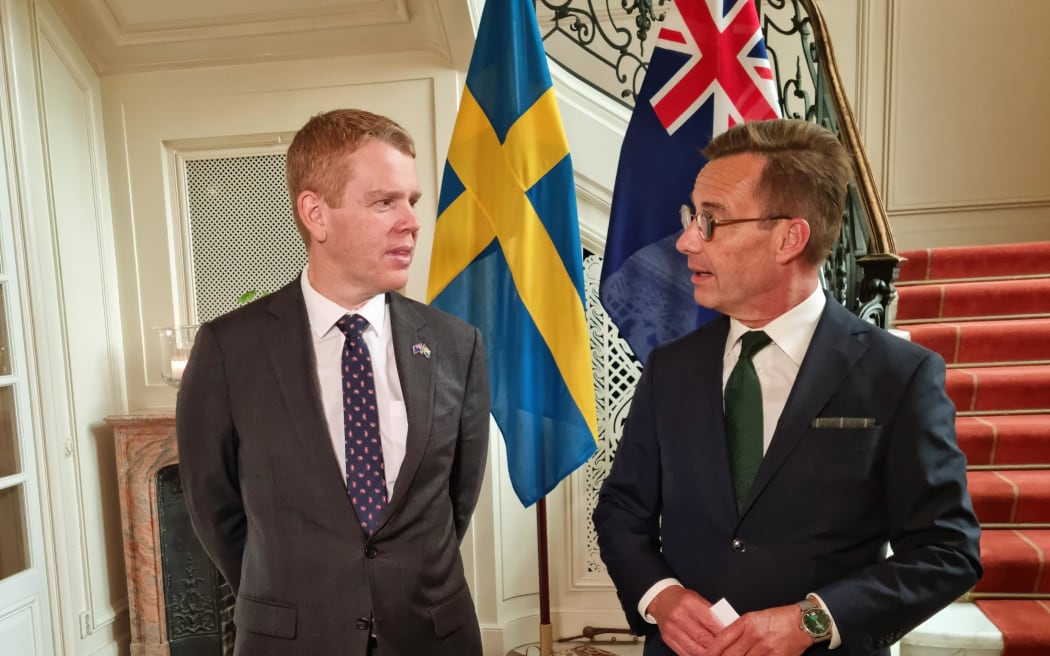 Prime Minister Chris Hipkins meets Sweden's Prime Minister Ulf Kristersson in Stockholm, 10 July 2023. Photo: RNZ / Jane Patterson
World leaders are descending on the Lithuanian city of Vilnius for the NATO Leaders' summit, mere hundreds of kilometres away from the frontline of the war in Ukraine.
It's a crucial meeting where decisions will be made that will shape the security future of Europe.
Among them is New Zealand Prime Minister Chris Hipkins, who's just flown in from Sweden, saying he's "looking forward to the opportunity to engage with other leaders from around the world, to talk about the situation in Ukraine, to talk about the geo-strategic issues that I think the whole world is talking about at the moment".
On the eve of the first day, a breakthrough with Turkey agreeing to support Sweden's application to the military alliance, paving the way for ratification. NATO Secretary-General Jens Stoltenberg broke the news after talks in the Swedish capital between him, Turkish President Recep Tayyip Erdogan and Swedish Prime Minister Ulf Kristersson, coinciding with Hipkins' visit.
"President Erdogan has agreed to forward #Sweden's accession protocol to the Grand National Assembly ASAP & ensure ratification. This is an historic step which makes all #NATO Allies stronger & safer," he tweeted.
Erdogan had been the only NATO leader publicly opposed to the plan, saying he wanted Sweden to do more to crack down on Kurdish separatists living there. He has also now called for the European Union to open talks to consider Turkey's membership of the EU.
All eyes of course remain on the war and Russia's invasion: NATO members are united in their support of Ukraine as the conflict now drags past the 500-day mark.
The summit presents the opportunity for some of the world's most powerful leaders to come together in person, to settle on the way forward for Ukraine, including discussion over its future membership. United States' President Joe Biden says now is not the time, telling the BBC that would be "premature" with fears that would propel all NATO members into direct conflict with Russia, a view widely held among the alliance which is fundamentally based on the principle of collective defence.
Just that afternoon, Kristersson had welcomed Hipkins to Sager House in Stockholm, describing New Zealand as "far away in a geographical sense, but close countries ... similarities in terms of values, in terms of priorities".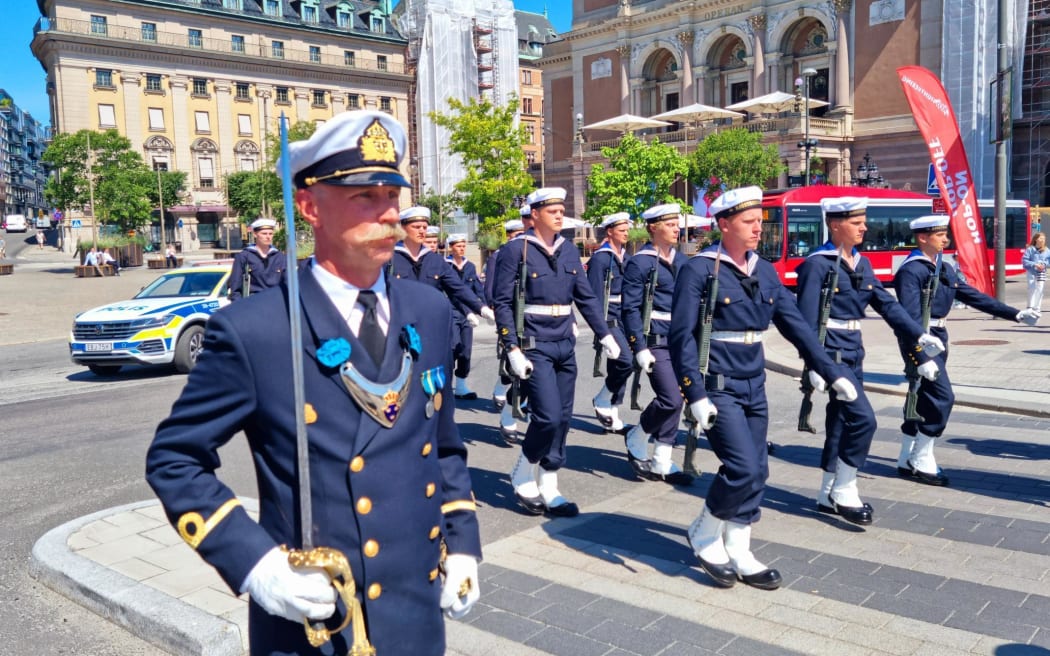 Swedish Navy personnel march in Stockholm. Photo: RNZ / Jane Patterson
Another connection now, through the European free trade deal: Kristersson said Sweden as President of the EU Council through the final negotiations was "extremely happy to be one of the parties to make this happen".
"Even though you finalised it just after Sweden's presidency - but we will forgive you for that," he added with a laugh.
On Sweden's bid for NATO membership, he said it was "very important, obviously there's a very good reason after 200 years of non-alignment... I look forward to the summit in Vilnius".
Hipkins said the fact he'd made time for him during a day with such a critical meeting with Stoltenberg and Erdogan showed the relationship was "in a really strong space".
"They've been real champions for New Zealand in terms of pushing our free trade agreement and helping us to get that through in the European Union, we really, really appreciated that support," he said.
It was a quick 24 hours in Stockholm, the prime ministers' meeting, a business roundtable and an event promoting New Zealand food and wine, attended by the Swedish trade minister Johan Forssell, who had worked closely with New Zealand's trade minister Damien O'Connor on the deal.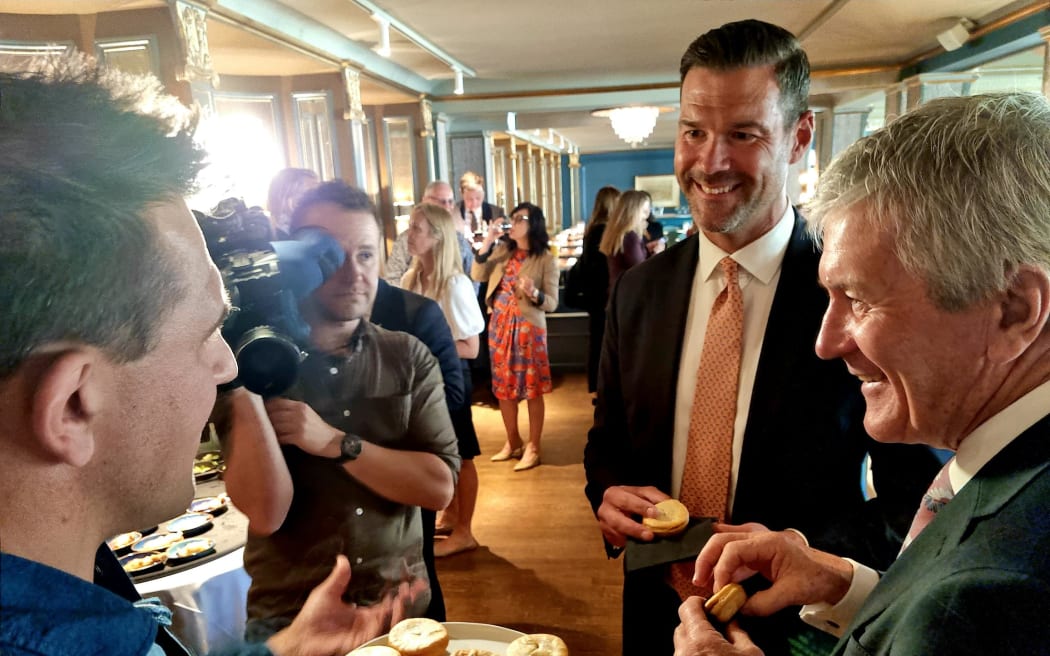 Sweden's trade minister Johan Forssell, second right, and New Zealand trade minister Damien O'Connor, in Stockholm. Photo: RNZ / Jane Patterson
In between sampling venison tartare, hasselback potatoes and the obligatory meat pies, I asked Forsell how pivotal President Erdogan's visit was for Sweden's push to join the military alliance.
"We'll see what happens," he said. "We have been working hard for this for many, many months now and we have also delivered what we said we were going to deliver."
Forsell said it was up to the other member states to decide, but Sweden believed it should "join NATO ... and deliver important things" for the alliance.
The "visit from Erdogan was crucial, he said, "absolutely...but we've also said already from the beginning that this is a decision that must be made by all the member states; we have delivered what we said were going to deliver to our Turkish friends and now it's up to them to make a decision".
Hipkins has a range of meetings on his bi-lateral dance card, one of the first with Secretary-General Stoltenberg. A sit-down with Ukrainian President Volodymyr Zelensky has also been confirmed in the last 24 hours.
"I want to be able to reiterate New Zealand's support for Ukraine," Hipkins said. They are scheduled to meet overnight Wednesday New Zealand time.
"We see the war as unjust, it's illegal. We acknowledge the position that the people of Ukraine have been placed in. It isn't right, it isn't fair and New Zealand will continue to support Ukraine."
New Zealand was offering "more than kind words", he said, when questioned about the level of support.
"We have been steadfast on our support for Ukraine, we have offered a range of support and we're going to continue to do that. I'll say a little bit more about that tomorrow."
Another leader on the wish list is US President Joe Biden, but the day before the summit Hipkins had "nothing to update [the media] on".
"It may be possible for us to have a brief conversation," he said. "But I'd note that we've had quite a lot of engagement with the US recently."
US Secretary of State Antony Blinken had been in "regular dialogue with New Zealand" and Hipkins' predecessor Dame Jacinda Ardern visited the White House last year.
"So if there's an opportunity for us to have a conversation, then we will - I'm not expecting it's necessarily going to be a priority on their side at the moment."
Vilnius borders Belarus and is about 600km from Ukraine - roughly the same distance as between Wellington and Auckland - with Russia just a bit further.
"It will certainly be interesting to see the vibe" in a country so close to the conflict, Hipkins said.
"Having spent a couple of days in Europe now, clearly Europe is very, very attuned to what's going on in Ukraine - it is the number one topic of discussion almost everywhere that I've been.
"European nations are following this very, very closely, and are very invested in supporting Ukraine."
source: https://www.rnz.co.nz/news/world/493523/major-breakthrough-for-sweden-s-bid-to-join-nato-hipkins-arrives-in-lithuania