This week on "Sunday Morning" (July 16)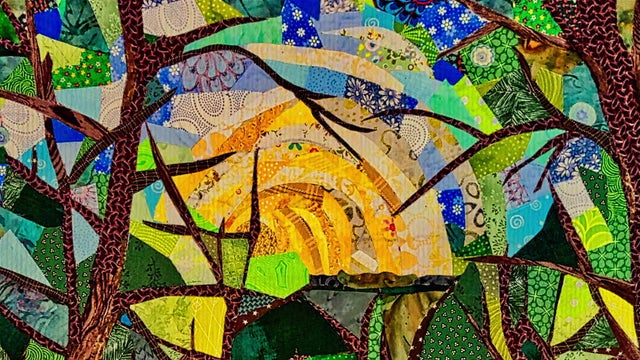 The Emmy Award-winning "CBS News Sunday Morning" is broadcast on CBS Sundays beginning at 9:00 a.m. ET.  "Sunday Morning" also streams on the CBS News app beginning at 12:00 p.m. ET. (Download it here.) 
Guest host: Lee Cowan
COVER STORY: Christopher Nolan on J. Robert Oppenheimer, "the most important person who ever lived"In his latest film, "Oppenheimer," director Christopher Nolan examines the efforts of physicist J. Robert Oppenheimer in the race to build the atomic bomb that ended World War II. What happened after the war proved to be an entirely different power struggle, as Oppenheimer was accused of being a Russian agent. CBS News national security correspondent David Martin talks with Nolan, and with Kai Bird, co-author of the Pulitzer Prize-winning biography, "American Prometheus." He also visits Los Alamos and the Trinity site - Ground Zero for when the world changed.
To watch a trailer for "Oppenheimer" click on the video player below:
For more info:
ART: Jaune Quick-to-See Smith: Raising Indigenous voices throughout her artOver the last five decades, artist Jaune Quick-to-See Smith has had nearly 100 shows, and in 2020 a painting of hers was the first by a Native American to join the collection of the National Gallery of Art in Washington, D.C. Now the 83-year-old is the subject of a retrospective at the Whitney Museum of American Art in New York City – the museum's first retrospective ever of an Indigenous artist. Correspondent Serena Altschul reports on a moment that's been described as long overdue.
For more info:
SUNDAY JOURNAL: Actors join writers in labor's battle against Hollywood producersFor the first time in 63 years, actors and writers are on strike at the same time, demanding better pay and job protection as streaming has upended film and TV production, and artificial intelligence threatens writers' jobs. Correspondent Tracy Smith talks with those on the frontlines of the picket lines.
For more info:
       IN CONVERSATION: Zoe Saldaña on "Special Ops: Lioness" – Action that's down-to-earthShe's the only actor to have starred in the top three highest-grossing movies – science fiction extravaganzas that transported audiences to other worlds. But at the moment Zoe Saldaña, a 45-year-old mother of three, is focusing on more terrestrial roles – on-camera and off.  She talks with correspondent Seth Doane about her new TV series, "Special Ops: Lioness," in which she plays a CIA station chief.
To watch a trailer for "Special Ops: Lioness," click on the video player below:
For more info:
      PASSAGE: In memoriam     
ON BROADWAY: "Here Lies Love": A dance-pop musical on the life of Imelda MarcosShe was the wife of President Ferdinand Marcos, under whom martial law was imposed in the Philippines, until their rule was ended by a "People Power" revolution in 1986, when Imelda and Ferdinand Marcos were forced into exile in the U.S. Their story is now being told in a disco-pop musical, "Here Lies Love," featuring the first all-Filipino company on Broadway. Correspondent Elaine Quijano talks with David Byrne (of the rock group Talking Heads) about creating an immersive musical based on the Marcoses' lives set in a dance club; and with cast members Lea Salonga (a Tony-winner for "Miss Saigon"), Arielle Jacobs and Jose Llana.
For more info:
MOVIES: The history of the summer blockbuster movieIt's been assumed that the Hollywood summer blockbuster was born with the 1975 release of Steven Spielberg's "Jaws," followed two years later by "Star Wars." But the film industry's desire for box office blockbusters existed long before a shark prowled the waters off Amity. Turner Classic Movies host Ben Mankiewicz talks with actor Stephen Lang (star of the "Avatar" films), critic Dana Stevens, and Charles Acland, author of "American Blockbuster," about the origin of blockbuster movies – both big-budget spectacles of Biblical proportions, and low-budget films with heart that won a huge audience.
FROM THE ARCHIVE: 1982: The movies' best summer
For more info:
SUNDAY PROFILE: Kareem Abdul-Jabbar: "There are times when you don't have any choice but to speak the truth"He was the all-time leading NBA scorer when he retired in 1989, after leading the Milwaukee Bucks and Los Angeles Lakers to six championship victories. But today Kareem Abdul-Jabbar prefers to focus on his role as an activist and social critic, writing with uncommon candor on such topics as race, politics, culture … and basketball. He talks with correspondent Jim Axelrod about his guiding principle of speaking his truth.
For more info:
COMMENTARY: Yuval Noah Harari warns of dictatorship in IsraelThe historian says that in Israel, which has no constitution, the only check on governmental abuses of power is the Supreme Court, which is now under attack by forces that want to impose a de facto dictatorship. If they succeed, says Yuval Noah Harari, there is no other mechanism in place that could limit the government's power.
For more info:
      NATURE: Puffins     
FROM THE ARCHIVES: Mattel's toy story (YouTube Video)From Barbie and Ken, to Hot Wheels cars, to Chatty Cathy and countless others, California-based Mattel is the largest toymaker in the world. In this story originally broadcast on "CBS Sunday Morning" November 10, 2013, correspondent Mo Rocca went for a rare behind-the-scenes tour to see how the magic happens.  
FROM THE ARCHIVES: Writers on writing II (YouTube Video)Enjoy a look back at "Sunday Morning" conversations with some of the most popular writers of our time, including Harry Smith's 2006 profile of Tom Wolfe; Mark Phillips' 1999 interview with "Harry Potter" creator J.K. Rowling; Seth Doane's 2022 conversation with Ian McEwan; Martha Teichner's 2004 interview with Nobel Prize-winner Toni Morrison; and Rita Braver's 2023 visit with John Irving.   
The Emmy Award-winning "CBS News Sunday Morning" is broadcast on CBS Sundays beginning at 9:00 a.m. ET. Executive producer is Rand Morrison.
DVR Alert! Find out when "Sunday Morning" airs in your city 
"Sunday Morning" also streams on the CBS News app beginning at 12:00 p.m. ET. (Download it here.) 
Full episodes of "Sunday Morning" are now available to watch on demand on CBSNews.com, CBS.com and Paramount+, including via Apple TV, Android TV, Roku, Chromecast, Amazon FireTV/FireTV stick and Xbox. 
Follow us on Twitter; Facebook; Instagram; YouTube; TikTok; and at cbssundaymorning.com.  
You can also download the free "Sunday Morning" audio podcast at iTunes and at Play.it. Now you'll never miss the trumpet!
David Morgan is a senior editor at CBSNews.com and cbssundaymorning.com.
source: https://www.cbsnews.com/news/this-week-on-sunday-morning-july-16-2023/