At least 3 dead in Pennsylvania flash flooding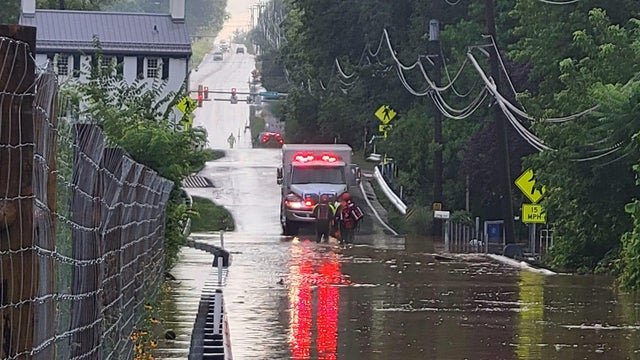 Three people died Saturday when a region of Southeastern Pennsylvania was hit by powerful flash flooding, authorities said.  
The three weather-related deaths, two females and a male, occurred in Upper Makefield Township, the Bucks County Coroner's Office confirmed. Upper Makefield is located about 35 miles northeast of Philadelphia. Their names and ages were not immediately provided. 
Bucks County firefighters, along with other local agencies, had been dispatched to a search and rescue operation at 6:44 p.m. Eastern time. 
Bucks County Coroner Meredith J. Buck told CBS News that several water rescues were taking place in the area, and officials expect there could be more fatalities.   
Taylorsville Rd is closed at Woodside Rd in Lower Makefield Twp in due to severe flooding. Police say part of the road is broken apart after heavy rain moved through Bucks County. @CBSPhiladelphia pic.twitter.com/uxcY9EoHkF
This is a developing story. Refresh this page for updates. 
The CBS News Philadelphia Staff is a group of experienced journalists who bring you the content on CBSPhiladelphia.com.
source: https://www.cbsnews.com/news/multiple-fatalities-flash-flooding-pennsylvania-bucks-county/