El Paso Walmart mass shooter gets 90 consecutive life sentences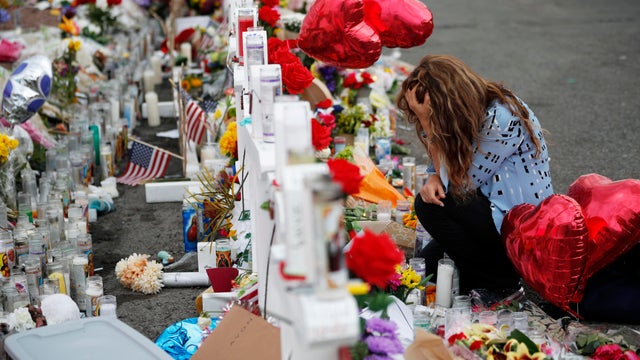 The white Texas gunman who killed 23 people in a racist attack at an El Paso Walmart in 2019 was sentenced to 90 consecutive life sentences Friday, after relatives of the victims berated him for days over the shooting that targeted Hispanic shoppers on the U.S.-Mexico border.
Patrick Crusius, 24, was sentenced to federal prison for committing one of the deadliest mass shootings in U.S. history. He pleaded guilty in February to nearly 50 federal hate crime charges after federal prosecutors took the death penalty off the table, although he could still face the death penalty in a separate case in a Texas state court that has yet to go to trial.
Crusius, wearing a jumpsuit and shackles, did not speak during the hearing and showed no reaction as the verdict was read. The judge recommended that Crusius serve his sentence at a maximum security prison in Colorado.  
The sentencing took place not far from the El Paso Walmart where Crusius opened fire with an AK-style semiautomatic rifle. The attack came after Crusius ranted online, warning of a "Hispanic invasion of Texas."
Some of the victims were citizens of Mexico. In addition to the dead, more than two dozen people were injured and numerous others were severely traumatized as they hid or fled.
Confronting Crusius face-to-face for the first time at a sentencing hearing this week, several relatives of the victims looked him in the eye and mocked his motivations, telling him his racist pursuits failed.
Thomas Hoffman lost his father, Alexander Hoffman, during the massacre, CBS Texas reported.
"You killed my father in such a cowardly way," Thomas Hoffman said. "He was not a racist like you."
 Alexander Hoffman was an engineer who migrated to Mexico from Germany in the 1980s and enjoyed listening to The Beatles and watching James Bond movies, his daughter Elis said in a statement through an attorney. She described her father as a "gentle giant with a big heart."
"You're an ignorant coward and you deserve to suffer in jail and then burn in hell," Thomas Hoffman said, according to CBS Texas. "You are an evil parasite that is nothing without a weapon."
Hoffman held a photo of his father and looked directly at Crusius and said, "See it. See it."
It was unclear whether Crusius looked at the photo, but he could be seen swallowing while Hoffman said, "You can see it."
Francisco Rodriguez, the father of the youngest victim of the Walmart mass shooting — his 15-year-old son, Javier Amir Rodriguez — also addressed the gunman, El Paso CBS affiliate KDBC-TV reported. Rodriguez pulled out a necklace from around his neck holding his son's ashes, the station reported.
"I carry his ashes everywhere I go," he said, crying. "That's all I have left."
source: https://www.cbsnews.com/news/el-paso-shooter-patrick-crusius-sentenced-killing-23-people-2019-attack-walmart/