Wheels up as Palmerston North welcomes back petrolheads
Engines are revving and bar tills ringing in Palmerston North for the city's biggest weekend of the year.
Track manager Bryan Puklowski would love to see a local team win the champs. Photo: RNZ / Jimmy Ellingham
The Superstock Teams' Champs bring thousands of petrolheads to Manawatū, pumping millions of dollars into the economy.
Covid forced the rescheduling of the champs this year from their normal February slot, and the orange traffic light means it's all on this Saturday and Sunday nights.
More than 10,000 visitors are expected to the city, many camping out in a field behind the stock car track, including Dave Bartholomew.
The Napier man has wheels of his own he brought down for the weekend - a 1982 classic stock car he used to race.
"I never did drive here at the Teams' Champs, but I drove for many years."
Since they began in 1981, Bartholomew has only missed two champs. "It's a good meeting, a really good meeting. Good fun. Great atmosphere."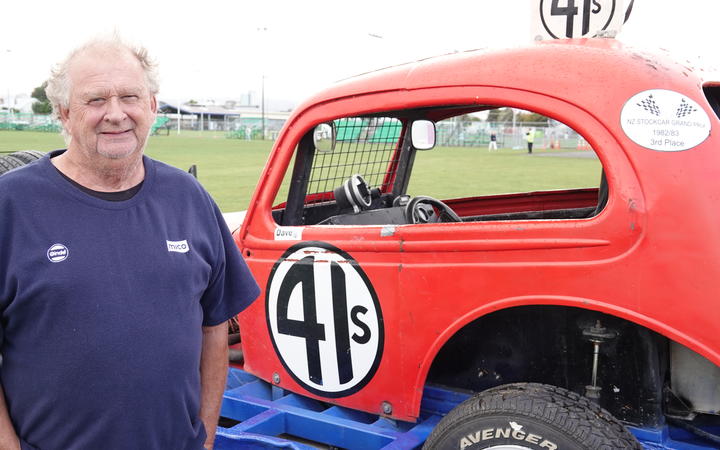 Dave Bartholomew, of Napier, has brought his classic 1980s stock car to Manawatū for the weekend. Photo: RNZ / Jimmy Ellingham
Much of that atmosphere transfers to the city's bars and night spots, which are in for a welcome boost after quite times brought by Omicron.
Brew Union co-owner Murray Cleghorn is expecting a busy weekend and a fillip for his staff.
"It will be a good spirit lift for everyone to have a good level of energy, and we're expecting pretty heavy bookings.
"The whole town's pretty much booked out."
Traditionally a 15,000-ticket sell-out, although with a few tickets left this year, the champs add more than $5 million to the region's economy.
It is the biggest earner for the city, well ahead of the secondary schools volleyball champs, and ranks alongside the Central Districts Field Days in the wider region.
Promoter Bruce Robertson said the Teams' Champs were the biggest motorsport event in New Zealand.
They were supposed to happen over Waitangi weekend, but the move to the red traffic light put that on hold.
"It was the furthest we could go out and we just hoped that we would come out of red by this stage, so it's a stroke of luck that the event is actually going ahead."
At the arena, track manager Bryan Puklowski and his team are working from dawn until after dark putting the finishing touches on the venue.
"As long as it doesn't rain too much in the next 24 hours the track should be really good. It will be a real racy track with a bit of rain on it.
"It should lead to good racing."
He said he would like to see one of the local teams, the Palmerston North Panthers or Manawatū Mustangs, win but it was anyone's trophy.
The Rotorua Rebels are the defending champions.
source: https://www.rnz.co.nz/news/national/465748/wheels-up-as-palmerston-north-welcomes-back-petrolheads