How much is silver worth?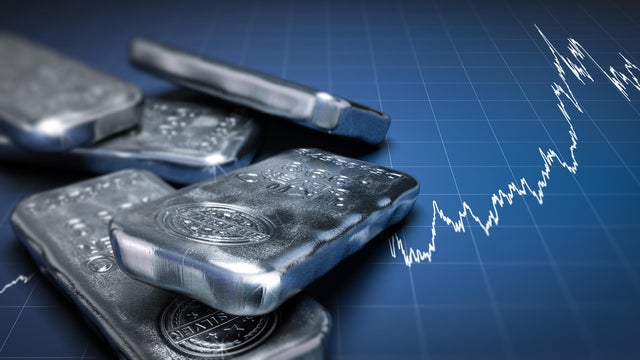 While inflation has cooled, Americans are still feeling the pinch in their everyday spending. And the Federal Reserve appears poised to raise interest rates ain July, while the benchmark interest rate currently stands at its highest rate in 16 years. Plus, some remain concerned about the potential for a looming recession.
Amid this uncertain economy, many investors may be contemplating new ways to invest their money. One asset you might consider buying is silver, which has performed strongly in recent months. Let's examine the current value of silver, its historical value and where the price of silver might be heading.
Learn more about adding precious metals like silver and gold to your portfolio with a free information kit today.
According to Monex, the spot price of silver is $23.98 per ounce as of July 12, 2023. On this same date at JM Bullion, a 100-ounce silver bar in varied condition runs about $2,772.00, while a one-ounce 2023 Canadian Silver Maple Leaf coin costs around $31.50, but prices can vary depending on your form of payment.
You might wonder why a one-ounce coin costs more than the $23.98 spot price of silver. For one, sellers will generally add a markup to any precious metal purchase you make. Plus, silver coins are also valuable as a collectible. Highly sought-after coins can sell for a price many times higher than the current spot price of silver.
The spot price of silver was $18.94 per ounce on July 12, 2022, according to Monex. As such, the spot price is currently $5.04, or around 26%, higher than a year ago.
After dipping below $18 per troy ounce in September 2022, silver rebounded to kick off 2023 at $24. Silver's price dropped to $20.07 in early March before rising to $26.21 on May 4. Since then, the price has hovered mostly in the $22 to $24 per ounce range.
While the price of silver has seen a substantial one-year gain, silver did experience ups and downs in performance to get here. The lesson? If you're going to invest in silver, be aware of the short-term volatility of this precious metal. This stems from a myriad of factors such as investment demand, changes in currency values, world events and economic uncertainty.
Gold is another option for risk-averse investors looking to precious metals. Explore your gold investing options with a free investors kit today.
Along with gold, silver has been a store of value for trade for centuries. In the United States, it reached peaks in value of around $50 per ounce in both 1980 and 2011. 
Based on historical price data, the price of silver has increased relatively steadily over the past several years — while still experiencing some high peaks and low troughs when it comes to value. But unlike traditional investments focused on growth, like the stock market, the real attraction of silver for many investors is as a store of value. Like gold, silver is often seen as a safe-haven asset that may provide protection to preserve your wealth in uncertain times.
Projections for the price of silver vary widely among precious metals experts. For example, the World Bank predicts a $21 average silver price for 2023 and 2024. On the other end of the spectrum, Gov Capital forecasts silver to end 2023 with a $28.895 average and rise in subsequent years to hit $97.494 by the end of 2027.
Generally, silver's price hinges on three primary factors: supply and demand, production costs and investment demand. 
Currently, the demand for silver appears to be on an upward trend with new uses for the precious metal, including solar panels, electronic devices and cell phones, according to Howard Crosby, founder and executive director of Gold Express Mines. "Back in the 1990s, over 50% of industrial silver demand was focused on photographic film. Digital imaging has nearly completely eliminated that, and yet industrial demand for silver has increased due to all of the new uses."
According to the Silver Institute, investment demand for silver in 2023 is forecast for 295 million ounces. While that's a drop from the record high in 2022, it's still the second-highest demand on record.
While there are countless factors influencing the price of silver, some of the primary drivers provide at least some insight as to why many experts offer strong forecasts for silver.
Silver investing can be wise in specific scenarios, such as:
Of course, there are certain times when it may not make sense to invest in silver, including the following situations:
If you're considering investing in gold, silver or other precious metals, consulting your financial advisor beforehand is a good idea to ensure it meets your overall investment plan and objectives. Learn more with a free investment guide today.
source: https://www.cbsnews.com/news/how-much-is-silver-worth/