Jimmy and Rosalynn Carter mark 77th wedding anniversary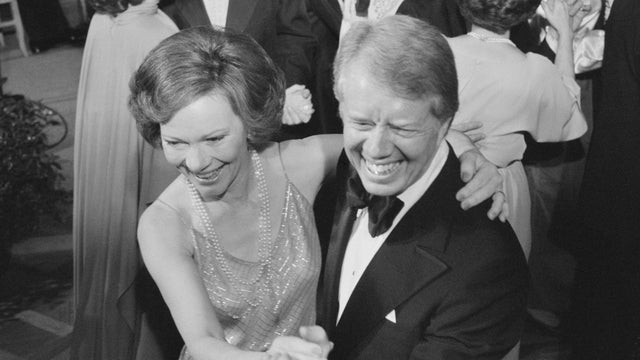 Former President Jimmy Carter and former first lady Rosalynn Carter are celebrating their 77th wedding anniversary on Friday, continuing their reign as longest-married presidential couple.
While the pair wed in 1946 while Mrs. Carter was in college and Mr. Carter was home from the U.S. Naval Academy, their love story started about a year prior, when Mr. Carter's younger sister set him up with Eleanor Rosalynn Smith, a family friend. 
After their first date, Mr. Carter came home and told his mother, "She's the girl I want to marry."
The Carters moved often when Mr. Carter was in the Navy and their children were all born in different states: John William in Virginia, James Earl III in Hawaii, Donnel Jeffrey in Connecticut and Amy Lynn in Georgia, where the family is originally from and returned after Mr. Carter's service. 
Back in Georgia, the pair ran Carter's Warehouse, a seed and farm supply company, in Plains and the farm he inherited. 
When Mr. Carter ran for the Georgia Senate in 1962, Mrs. Carter was a member of his campaign team. She continued to help him get elected governor of Georgia in 1970 and later president.
Mr. Carter once said his wife is "much more political."
"I love it," she said, according to the Associated Press. "I love campaigning. I had the best time. I was in all the states in the United States. I campaigned solid every day the last time we ran."
The couple is known for their strong bond and working together not just during his political career, but afterward as they helped build up Habitat for Humanity, an organization that builds affordable housing, and run the Carter Center, which is committed to human rights "and the alleviation of human suffering."
Earlier this year, the family announced Mrs. Carter had been diagnosed with dementia. Previously, it was announced Mr. Carter would receive hospice care at home after a few trips to the hospital in recent years. 
In 2019, he became the oldest living former president in U.S. history, at 94 years and 172 days old.
Mr. Carter, 98, and Mrs. Carter, 95, also hold the record for the longest presidential marriage. President George H. W. Bush and his wife Barbara Bush come in second, with a marriage that lasted 73 years, 101 days until her death in 2018. Mr. Bush died months later. 
Bess Truman, the wife of former President Harry Truman died at age 97 and is only former first lady who has lived longer than Mrs. Carter. 
When Mr. Carter was inaugurated president in 1977, he and Mrs. Carter had been married for 30 years, 197 days, putting them in 10th place for longest marriage at inauguration.
The pair is marking their 77th anniversary with a quiet Friday at home, the AP reports.
Caitlin O'Kane is a digital content producer covering trending stories for CBS News and its good news brand, The Uplift.
source: https://www.cbsnews.com/news/president-jimmy-carter-rosalynn-carter-77th-wedding-anniversary/