Forfeited criminal proceeds: NZ and China split $70 million after laundering case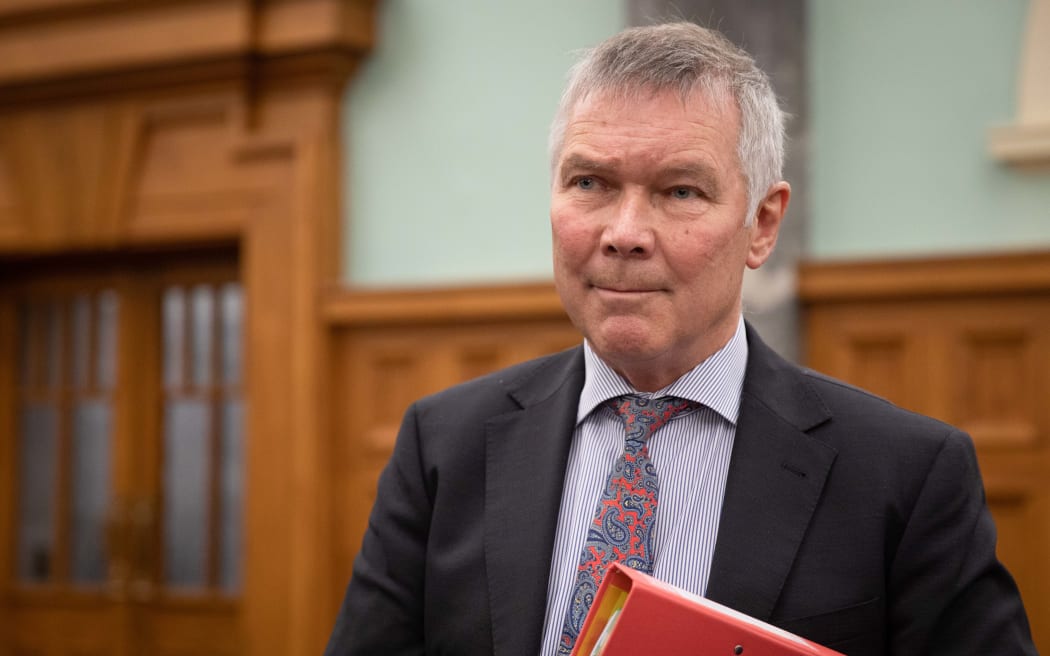 Attorney-General David Parker's office said the money was sent to China in February. Photo: RNZ / Angus Dreaver
New Zealand is giving $38 million to China over a Canadian-Chinese businessman who laundered millions here for years, then last month tried to become mayor of Toronto.
Xiaohua Gong ran under the banner 'Here to rescue Toronto'.
But he had forfeited $70m in criminal proceeds in New Zealand two years ago, after a money laundering investigation linked to a half-billion-dollar pyramid scheme. In 2021, his company pleaded guilty in Canada to running a pyramid scheme.
He lives in Canada but had run a scheme in China that gleaned hundreds of millions from investors, with some banked in this country.
A Cabinet paper shows New Zealand police helped China investigate him for four years.
It shows a split of $70m - 45 percent to New Zealand and 55 percent to Beijing - to recognise the key evidence China provided and translated.
A single line from this year's Budget Vote Justice document read: "Disbursement of Recovered Criminal Proceeds to China."
That led to a Cabinet paper that said New Zealand sought a 50-50 split, and China 60-40, before landing between the two.
"A 55/45 split is appropriate," Attorney-General David Parker told ministers in late 2022.
The money was paid at the end of February, Parker's office told RNZ on Tuesday.
New Zealand gets to keep $31.7m.
The "complex" investigation into Gong spanned four years, built on a foundation laid in the earlier joint operation over an Auckland multimillionaire - and a most-wanted fugitive in China at one time - Bill Liu, Parker told a Cabinet committee.
Gong's scheme in China was estimated to have involved 40,000 investors and generated between $400m and $600m from 2009 to 2017, by promising investors returns of up to 4000 percent in health products and company shares, he said.
Gong "attempted to hide and launder" $77m in several New Zealand bank accounts, according to Parker. He also bought a big house in East Tamaki.
The case hinged on affidavits from "four Chinese witnesses" who provided banking information.
"Without the evidence the PRC provided and translated, the High Court would not have been satisfied of the significant criminal activity from which Mr Gong's assets were derived."
Canada's Globe and Mail in 2018 reported that Gong claimed the evidence against him was "coerced" in China.
"Canada is accusing me and treating me unfairly ... China just wanted my money," it quoted him saying.
He was currently suing Ontario authorities for $8m in damages, claiming his rights were being violated by Canada working with the Chinese government to investigate him.
Parker's paper said sharing the money "would recognise the PRC's work in investigating the fraud and providing significant evidence in support of the New Zealand asset forfeiture proceeding".
"It would also reflect the PRC's expectations that the money recovered from Mr Gong would be shared."
Gong's forfeiture was the largest ever in this country, and the $38m is the largest sharing of forfeited proceeds.
It was the second time New Zealand had sent millions China's way like this: In the Liu case, the Cabinet paper shows that New Zealand gave Beijing $30m in 2017, "to reflect the significant evidence Chinese investigators provided to the [NZ Police] Commissioner and the Chinese victims' interests".
This was from the $43m forfeited by Liu, aka Yan Yongming, who pleaded guilty to money laundering.
"The working relationship established in the William Liu affair" was the base of cooperation in the later Gong case, Parker said.
Gong dealt with an Auckland finance firm, Jiaxin Finance, and the convictions of the firm and two of its operators were the first criminal prosecutions in this country under the Anti-Money Laundering and Countering Financing of Terrorism Act.
Various international conventions recommend asset sharing, though New Zealand does not have guidelines that apply specifically to this case, the paper said.
Police and Foreign Affairs staff negotiated the deal last September with China's Ministry for Public Security and of Foreign Affairs.
Earlier, police had spent a week in Hunan "to develop this evidence" from China's investigation and prosecution of Gong's associates.
Parker anticipated a lot of media attention in the $38m Gong deal, because though he did not plan a media release, he expected the Chinese would want to publicise "the successful law enforcement cooperation", he said.
Gong lives in Canada, where he styles himself as a health supplements, hotel and media mini-mogul, owning two TV channels, and where he just ran for mayor in Toronto.
"His signs are everywhere that I go, and to the point where it's blocking my blind spots when I make a left turn onto incoming traffic," one voter complained.
Gong demanded a recount after coming 11th in the late June election, 260,000 votes behind Olivia Chow, Toronto's first Chinese-Canadian mayor.
A Liberal party donor, he had a Liberal MP Geng Tan act as an intermediary for him with the Chinese government in 2018, after he was charged in Ontario with fraud. Those charges against him were later withdrawn but Gong's company pleaded guilty over the pyramid scheme and forgery, and was fined $CA1m and ordered to forfeit $CA15m.
Canada's CTV News published a long report in April about the joint Ontario-China investigation, in which critics voiced concerns that too much trust was placed in China's justice system.
Prior to the Ontario investigation, Gong was considered by many to be a success story. A widely-circulated photo shows him watching Prime Minister Justin Trudeau make dumplings at a fundraiser in 2016.
The asset transfer from New Zealand cut by more than half the $72m total in the Proceeds of Crime Fund as of last November.
RNZ approached the Chinese embassy for comment.
source: https://www.rnz.co.nz/news/national/493582/forfeited-criminal-proceeds-new-zealand-and-china-split-70-million-after-laundering-case