New Jersey councilwoman shot and killed in vehicle outside her home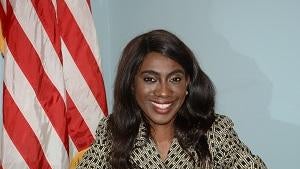 A borough councilwoman in northern New Jersey was found dead inside of her car on Wednesday night, authorities confirmed on Wednesday. Eunice Dwumfour, of Sayreville, succumbed to fatal injuries after unknown perpetrators shot her several times, the Middlesex County Prosecutor's Office said in a news release. 
Sayreville police officers were dispatched on a 911 call to a residential property in the township just before 7:30 p.m. ET on Wednesday evening, the prosecutor said. When they arrived, officers discovered Dwumfour inside her vehicle. She had sustained multiple gunshot wounds and was pronounced dead at the scene, according to the prosecutor's office. Dwumfour was 30 years old.
A homicide investigation is underway as authorities work to locate a suspect. The county prosecutor has asked that anyone with information about Dwumfour's death, or access to surveillance footage of the area where the shooting took place, to submit tips to either the Sayreville Police Department or the prosecutor's office.
Government leaders in New Jersey reacted to Dwumfour's death in public comments shared on Thursday. In a statement, Governor Phil Murphy praised the councilwoman for her service and condemned the gun violence that caused her killing.
"I am stunned by the news of Sayreville Councilwoman Eunice Dwumfour's murder last evening in an act of gun violence," Murphy said. "Her career of public service was just beginning, and by all accounts she had already built a reputation as a committed member of the Borough Council who took her responsibility with the utmost diligence and seriousness."
Murphy shared his condolences to Dwumfour's "family and friends, her governing body colleagues, and the entire Sayreville community" in the statement.
"Sayreville is a proud, tight-knit, and safe community and I know that it will come together, as it always has, in common purpose," the governor's statement continued, adding, "The New Jersey State Police are supporting the ongoing investigation, and I urge anyone with information to contact either the Sayreville Police or the Middlesex County Prosecutor's Office."
Sayreville Mayor Victoria Kilpatrick also paid tribute to Dwumfour, as a colleague and friend, in a statement shared with NJ.com on Thursday.
"Eunice was a dedicated member of our borough council who was truly committed to serve our residents," Kilpatrick said in a statement, according to the publication. "The fact she was taken from us by this despicable criminal act makes this incident all the more horrifying."
"On a personal note, I can't adequately express my feelings of sorrow at the loss of a friend," the mayor said, according to NJ.com.
source: https://www.cbsnews.com/news/eunice-dwumfour-sayreville-new-jersey-councilwoman-shot-killed-outside-home/