Axed player's 'courage' helped expose serious failings in Black Ferns, report says
Māori and Pacific Island players within the Black Ferns have been badly served by both team management and NZ Rugby, a new report says.
A scathing review released this afternoon highlights isues within the Black Ferns' culture and environment, however, head coach Glenn Moore will keep his job through until at least the Women's World Cup in October.
The report has reached some damning conclusions both about NZ Rugby and the team management structure of the Black Ferns and makes 26 recommendations for improvements.
The review was sparked when hooker Te Kura Ngata-Aerengamate shared a social media post saying Moore told her she did not deserve to be on the team, and was "picked only to play the guitar".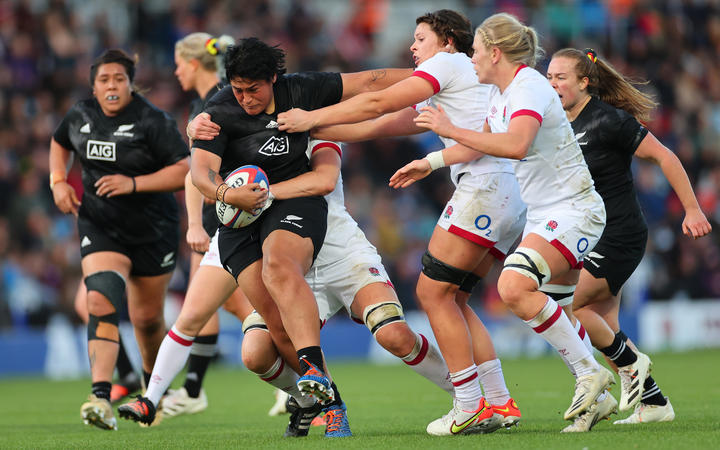 The Black Ferns against England during their disastrous tour of the Northern Hemisphere that has been looked at in a wide-ranging review. Photo: PHOTOSPORT
The report details how her non-selection for the third test on last year's end-of season tour to the Northern Hemisphere was the final straw, after eight years of not feeling valued.
Lawyer Phillipa Muir - who chaired the review - said at a media briefing today: "In the days that followed, Te Kura was not properly supported or monitored and the review team is of the view that what occurred to Te Kura that night and the days that followed was not managed or monitored and should have been escalated".
As well, after being told that she was not being contracted for the 2022 season, "and without any reasons being given for not being contracted, Te Kura's feelings of isolation, ghosting, of not being a favourite, only deepened and she felt she had nothing to lose and nowhere else to turn but to go public with her concerns, so she made her instagram post", Muir said.
"Although Te Kura's courage resulted in the initiation of the review, her concerns were not isolated and some other players - particularly Māori and Pasifika - had either experienced similar behaviour, witnessed it, or been told about it."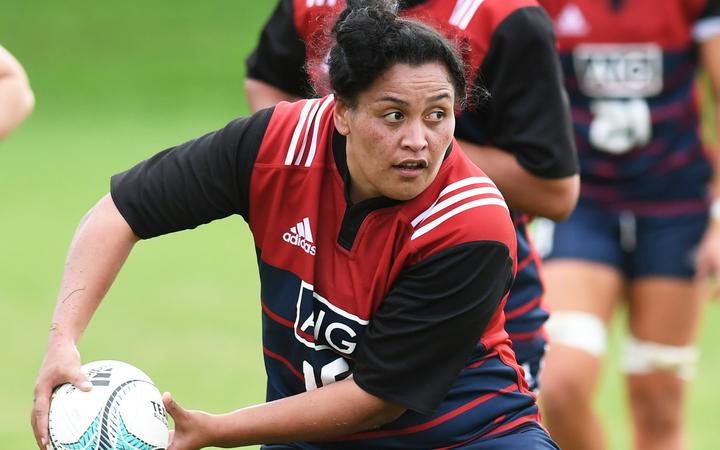 Te Kura Ngata-Aerengamate. Photo: Photosport
Other Black Ferns players also complained of poor communication leading to misunderstanding and issues of favouritism or ghosting, a lack of timely or specific feedback, and insufficient investment in understanding how to coach women, Muir said.
Another panel member, Tammi Wilson Uluinayau, speaking about the Black Ferns' culture, said while the use of tikanga and other cultural practices were already embedded, there needed to be much better capability within team management, especially as 50 percent of the players were Māori and 25 percent were Pacific Island.
"NZR should give consideration to establishing a central role for someone to hold this responsibility - similar to the turanga kaumātua in the Māori All Blacks team given the sense of identity and pride that culture has within the team for both players and management."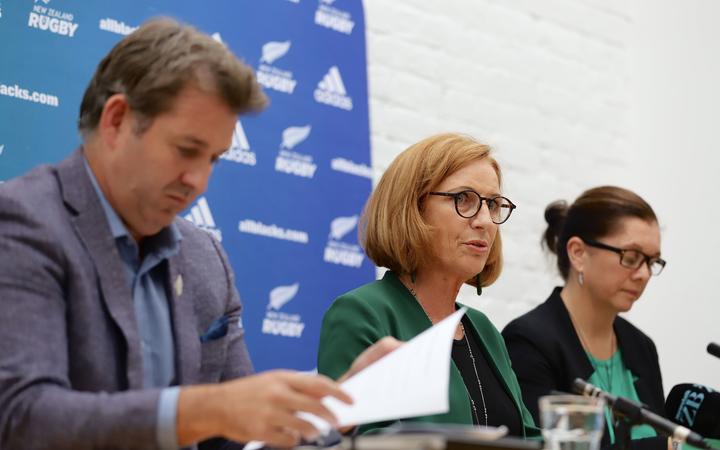 From left, NZ Rugby chief executive Mark Robinson, panel chair Phillipa Muir and panel member Tammi Wilson Uluinayau address the media briefing. Photo: RNZ / Marika Khabazi
The report also identified several of NZ Rugby's failings including: Not enough support for high level women players; no clear vision for the Black Ferns and a lack of cultural diversity among the managers.
Players also spoke of having little faith in reviews, such as for tours, that had been carried out in the past, the report's authors said.
Women in Rugby Aotearoa chair Traci Houpapa told Checkpoint she was surprised Moore was keeping his role in the wake of the report.
"It does send a message to say they are retaining the status quo... NZR needs to think about what that sends to the players and to the rugby community," she said.
"I think the report tells us in many ways what we already knew, that these are long-time long-term systemic issues that have been affecting and impacting women who want to play rugby in Aotearoa."
NZ Rugby chief executive Mark Robinson told Checkpoint the organisation had been "very open" throughout the review of culture at the Black Ferns.
"There are a number of areas that we need to improve on and want to improve on. Certainly we respect and accept the findings of the review and know that we have to do better."
Robinson would not say if he had apologised to Ngata-Aerengamate, and said there would be a restorative justice session between her and Moore later this week.
"When we weigh up the feedback from the cultural environment review and the campaign review, we remain of the view that [Black Ferns coach Glenn Moore] is best placed to continue to lead the programme through until the Rugby World Cup."
Asked if there was racism identified within the team environment, Robinson said there were things that had happened that NZ Rugby did not like and efforts were being made to fix them.
In an earlier statement today, he said NZR is working towards adopting the report's recommendations.
"No-one should be in any doubt about our commitment to the progression of women's rugby in this country. This report highlights that we haven't got everything right and we apologise for not having provided all the tools for our people to succeed."
source: https://www.rnz.co.nz/news/sport/465099/axed-player-s-courage-helped-expose-serious-failings-in-black-ferns-report-says