Countdown expects price of seasonal produce to drop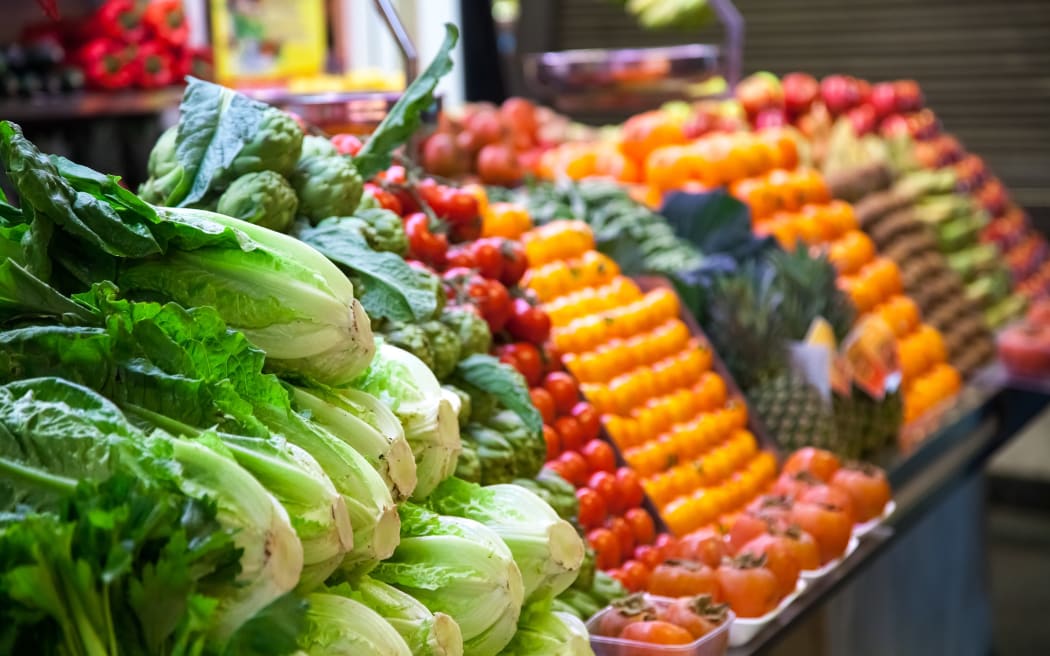 The cost of seasonal fruit and vegetables is expected to drop in the coming weeks following a challenging year.
The weather remains a wild card for food price inflation, with adverse weather events hitting New Zealand- growers over summer.
Food prices have risen at their fastest annual rate in 32 years, with fruit and vegetables increasing by 23 percent year-on-year.
Countdown supermarket commercial director Pieter De Wet said growers were now delivering more seasonal products.
"We've got over 100 direct relationships with growers and they actually want to bring prices down as well because they want to move volumes as soon as they get it," De Wet said.
Customers could expect to pay less at the checkout when more produce was available next month, he said.
"It looks like we're already getting into a better space and hopefully next week will be the same.
"Gisborne looks like it's going to be dry for the next week as well so we expect prices to come down".
Major Gisborne vegetable grower LeaderBrand said the cost of seasonal fruit was expected to drop in the coming weeks.
The constant rain in August last year meant that planting was delayed and consistent rain throughout January, as well as lower sunshine hours, has impacted harvesting schedules.
New Zealand grown watermelons had recently come into season, but wet weather meant much of the crops did not make it.
De Wet visited LeaderBrand in Gisborne last week and said up to 30 percent of watermelon crops were "under water".
"It was quite intense to see what's going on down there," he said.
"The entire watermelon field we looked at was literally under water from the rain, I'd say about 20 or 30 percent of those watermelons were rotting in the water".
LeaderBrand executive Richard Burke said growers were feeling the pinch of inflation as well.
"We know that watermelon is quintessentially summer on a plate and beloved by Kiwis' both young and old. So, the pressure to grow the sweetest and juiciest melons has been keeping me up at night.
"Our team has been watching the watermelon patch daily and the first harvest is this week and will be available until end of March."
The company was desperately holding out for some decent sunshine this summer, Burke said.
"There's nothing worse than getting home and cutting a watermelon in half and it's not that full red colour you're looking for.
"We've got plenty of truck loads packed and ready to be dispatched today or tomorrow and we should see reasonably consistent numbers as we move forward"
Supermarket giant Foodstuffs also said it was working to put a lid on inflation.
Foodstuffs owns New World, Pak'N Save and Four Square supermarkets.
In December, the average cost increase from suppliers to the Foodstuffs co-operatives on the same products measured in the Food Price Index (FPI) basket was 12.2 percent.
"Domestically, input cost pressures are continuing for suppliers who are facing higher costs to grow, pick and pack produce for market, with adverse weather events still the wild card this year. It's been a pretty tough summer so far for growing produce" Foodstuffs NZ managing director Chris Quin said.
"Our co-operatives will stay laser focused on helping customers fight inflation and find value within their household budgets this year."
There was still plenty of uncertainty about how strong the economic headwinds would be this year.
"Most are predicting that 2023 will be tougher for households, but we'll be looking towards the second quarter of this year to see whether a clearer picture has emerged."
ANZ economist Sharon Zollner told Checkpoint today that inflation was "staying up there".
"People are quite reasonably starting to wonder when this will end, I think."
Zollner said there were some positive notes to be found in today's figures.
"There was actually some encouraging detail in today's headline in terms of what the Reserve Bank was expecting, it wasn't so bad, particularly in terms of the non-tradeables, the sort of sticky slow-moving part of inflation."
Zollner said it was reasonable to expect things like air fares to start coming down soon.
However, new Prime Minister Chris Hipkins' government had a difficult line to navigate, she said.
"For example, more generally, anything that puts money in the pockets of households might provide some relief, but from the Reserve Bank's point of view that's going to be working directly counter to what they are trying to do in terms of reducing consumer spending and general demand and getting inflation down that way, but today's data did provide some hope that maybe the Reserve Bank won't have to raise rates as high as previously thought."
Zollner was now picking a 50 basis point rise in the next Official Cash Rate (OCR) announcement, instead of a 75 point rise as before.
But the inflation crisis still had a while to run, she said.
"We're not picking inflation to actually go negative, we're picking inflation to fall.
"The prices are still going to be going up that hopefully, you know, at a rate where wages are outpacing them, and so people are getting that purchasing power back.
"Generally, the best you can hope is that prices stop going up and then income catch up and things sort of come right that way."
source: https://www.rnz.co.nz/news/business/483089/at-the-checkout-countdown-expects-price-of-seasonal-produce-to-drop