Tesla's Model Y, other EVs now qualify for $7,500 tax credit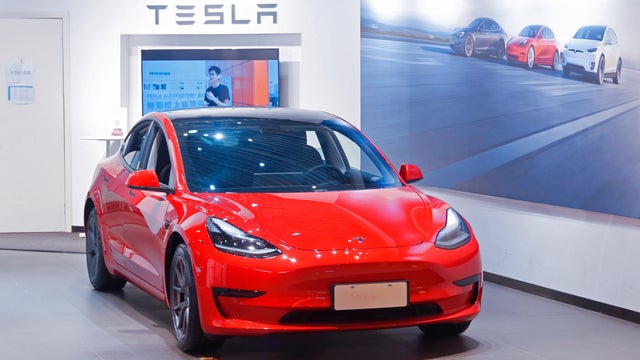 Tesla's Model Y model and other electric vehicles from auto manufacturers including Ford, General Motors and Volkswagen will now qualify for a federal tax credit of $7,500, the IRS said Friday. 
The change comes after the U.S. Treasury Department revised its vehicle classifications in a way that broadens the definition of what qualifies as an SUV, which has a higher price threshold to qualify for the tax credit. Previously, the five-seat Tesla Model Y was classified as a sedan, which meant it didn't qualify for the EV tax credit because it cost more than $55,000 price cap for sedans stipulated under the government's rules.
The issue had drawn the ire of Tesla CEO Elon Musk, who had complained that the earlier classification was "messed up," according to The Verge. The tax credits stem from the Biden administration's Inflation Reduction Act, which provides billions in rebates for EVs and home upgrades geared toward shifting consumers away from fossil fuels.
Expanding the number of SUVs that qualify for the full $7,500 tax credit could spur consumer demand for EVs, given that the crossover SUV vehicle is one of the fastest growing auto segments, noted Albert Gore, executive director of the Zero Emission Transportation Association.
"Congressional intent with the IRA and clean vehicle tax credit was to rapidly accelerate deployment of qualified EVs, and today's decision is a big step toward that goal," Gore said in a statement. "We have long advocated for the IRA's tax credits to be as widely accessible as possible."
General Motors had also pushed back against the prior limits, with the automaker asking the Treasury earlier this month to reconsider classifying its electric Cadillac Lyriq so that it would meet the threshold for the credits, Reuters reported.
Last year, Teslas weren't eligible for a tax break under a previous federal credit program because the company had reached a limit of 200,000 vehicles sold. But the tax credits through the IRA don't have such a limit, which means more buyers may be able to lower the purchase price of a Tesla this year through the tax credit. 
Ford and Tesla earlier this month cut the price of some of their EV models so they would qualify for the tax credit and as more motorists move to go electric. 
Some of the electric vehicles that qualify for the $7,500 are listed below by price range.
EVs that qualify with an MRSP of $55,000 or less
EVs that qualify with an MRSP of $80,000 or less
source: https://www.cbsnews.com/news/tesla-model-y-qualifies-for-7500-ev-tax-credit-gm-ford-vw-irs-rules/