'It's just a battle zone': Aucklanders take stock after extreme weather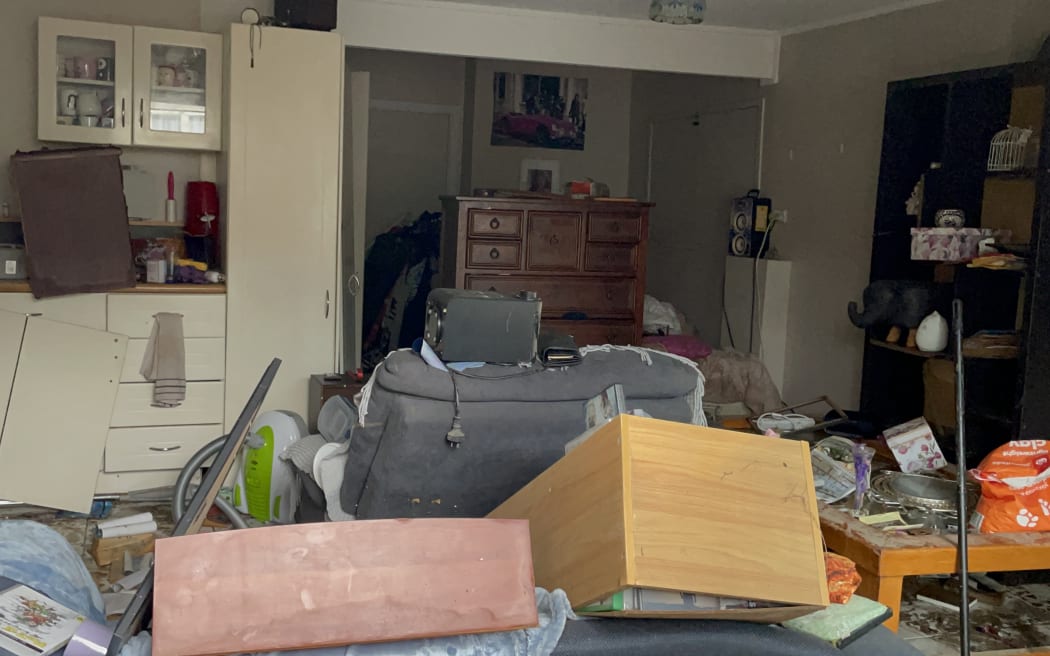 The granny flat at Annette Kennedy's West Auckland home after it was flooded on Friday. Photo: RNZ
Aucklanders whose homes and businesses were inundated during Friday's deluge have begun cleaning up as the threat of further wild weather lingers.
Some of them told First Up how the unprecedented rain event had impacted them.
Annette Kennedy has lived in her West Auckland home for 50 years.
She told First Up, this was the first time she had ever witnessed a weather event causing damage of this magnitude.
"It's just a battle zone, all my fences are buckled and twisted."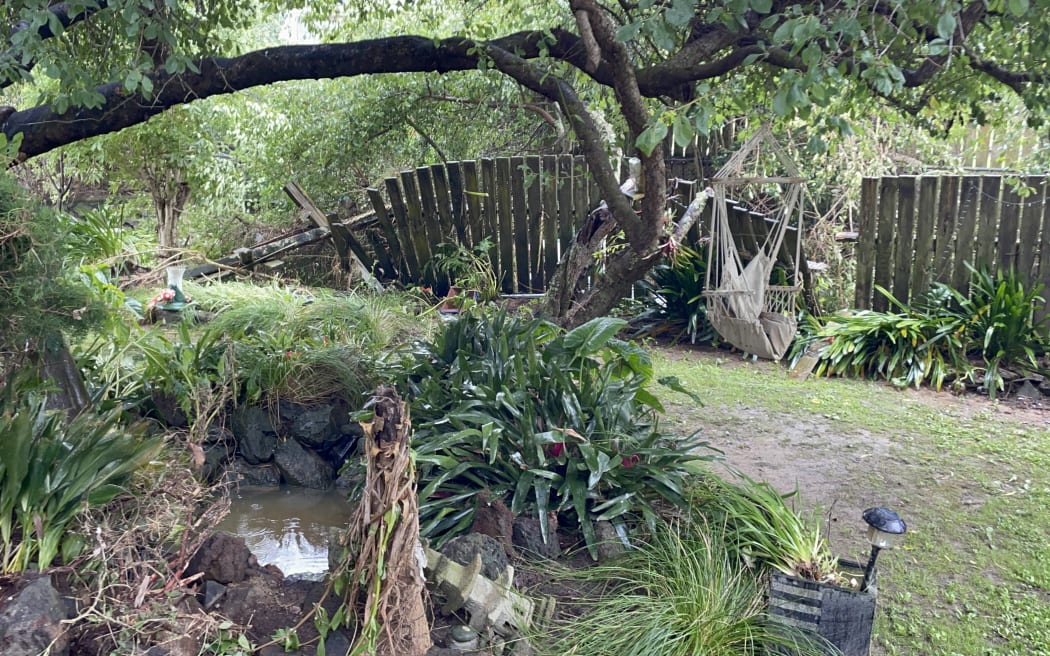 Damage to Annette Kennedy's West Auckland garden following last Friday's floods. Photo: RNZ
Her basement and granny flat were flooded and the water was up to her waist.
"Everything was floating, even the fridge was floating for God's sake."
Kennedy said there was rubbish scattered everywhere and she would have to dump most of the items in her storage.
"Everything is ruined."
The water came with "amazing force" bringing with it items - including a wheelbarrow - from properties down the road, she said.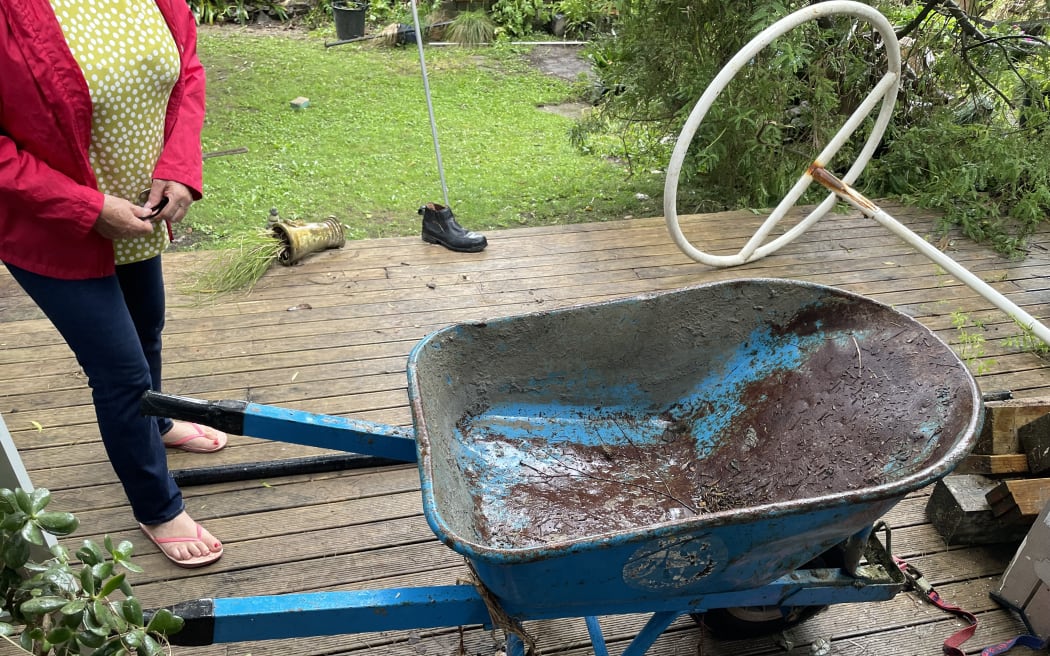 A wheelbarrow was among the items washed into Kennedy's garden by the floodwaters. Photo: RNZ
Her next door neighbour's swimming pool had also been ripped by the water.
Kennedy still had not called her insurance company, but hoped to do so in the next few days once she had cleaned up the property with the help of family and friends.
Central Auckland residents Vee Aruljah and his wife Yvonne were at the Elton John concert when the wild weather - which also caused the concert's cancellation - hit.
The couple ended up spending the night at a friend's place.
They returned home to find their their three-storey townhouse on Gillies Ave had been damaged by the rain.
"Our entire ground floor and car were submerged in water."
Their two-week-old SUV was likely be written off, Aruljah said.
But the clean-up was going well, thanks to social media, he added.
"Just a quick post on our neighbourhood page has resulted in five to six times more people than we would have had otherwise."
Volunteers with a concrete truck came to the rescue, pumping the water, as neighbours and strangers used buckets.
Wairau Valley on Auckland's North Shore was one of the places worst-hit by the weather event.
Two of the four people who died in the floods lost their lives in the area.
Anna McGregor of cafe and coffee shop Coffee Lab Roasting Company said at least $50,000 worth of green beans had been damaged as a result of the flood.
She said insurance would cover most of the damage.
McGregor was not at the cafe when bad weather hit on Friday and said she did not believe her business would be affected.
However, later that evening she received a message saying there was flooding at Wairau Park.
"We came and tried to get to the building; we could not get close."
"North Shore Events Centre had like a river flowing through it."
She tried taking an alternative route to enter her building and said she saw people with water up to their armpits walking to the nearby BMW dealership.
McGregor dropped the idea after deciding it was too dangerous to access the cafe.
Sarah Atkinson from crystal shop Opal and Sage said her carpet was completely ruined and needed to be replaced.
"It's starting to smell."
Atkinson said she was not sure if she would be able to operate out of her shop next week.
Among the community organisations that rallied to support the flood victims was the Supreme Sikh Society, which was preparing hundreds of meals for those affected.
Sukhjap Singh at the temple in Takanini told First Up they had delivered 450 boxes of pasta to affected communities on Saturday.
They were also making approximately 500 boxes of rice and curry for the victims on Sunday.
In South Auckland, a resident of Māngere's Mascot Avenue told First Up the water came up to his fence.
"It's the worst it's ever been."
He rang the fire service for help and the family was told to evacuate immediately.
He said the power went out and he stood outside his home watching the water rise.
"We did not know what to do. It was really scary to see the water coming up like that."
Three Civil Defence centres are open for anyone who needs a safe place to go to:
A helpline has been set up by Auckland Emergency Management for anyone who needs accommodation: 0800 22 22 00.
source: https://www.rnz.co.nz/news/national/483317/auckland-floods-residents-take-stock-after-extreme-downpours