Firefighters didn't recognise warning signs a fatal landslide was imminent - report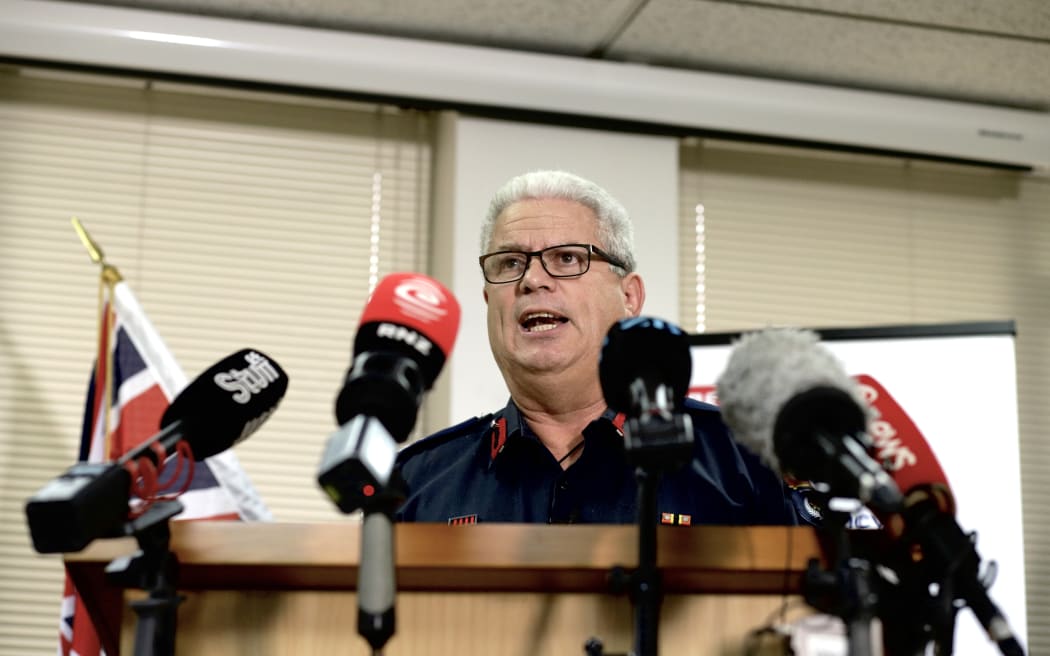 FENZ chief executive Kerry Gregory. Photo: RNZ / Marika Khabazi
An independent investigation into the deaths of two volunteer firefighters at Muriwai has concluded they did not recognise the warning signs a landslide was imminent.
The volunteer firefighters - Craig Stevens and Dave van Zwanenberg - were killed by a slip in the coastal community of Muriwai in Auckland in February.
Fire and Emergency New Zealand says it is working on four recommendations from the report including more training and equipment for firefighters and urban search and rescue teams.
But the review concludes that FENZ's risk management systems "did not identify landslides as a hazard that could harm its firefighters".
This resulted in a lack of procedures and training.
"The Muriwai firefighters knew about Muriwai's general susceptibility to landslides but did not recognise the warning signs that indicated an imminent landslide threat."
It says once the specialist search and rescue teams arrived everything practicable was done to rescue the firefighters in very difficult conditions.
FENZ chief executive Kerry Gregory told a media briefing today the report's release was another chapter in the pain and grief, but also the healing that the tragedy had brought about.
He began by saying it was a significant day for the service.
"This tragedy has had such an outpouring of grief right across the country - both within Fire and Emergency but also outside of Fire and Emergency as well."
He acknowledged the families of the two firefighters who died and also the Muriwai volunteer brigade.
He also acknowledged the wider Muriwai community.
"In small communities tragedies like this have a profound impact and our thoughts are with all of them too as they rebuild in the aftermath of the cyclone."
He also thanked everyone involved in the search and rescue operation during the "extremely challenging" night of the tragedy.
"This continues to be an awful reminder of the risks our firefighters can be exposed to on any given day," he said.
The investigation was undertaken not to attribute fault, blame or liability, but to ensure FENZ could learn from the "catastrophic event" and reduce the risk of something like it happening again.
Three firefighters went to the flooded home that was hit by the landslide and they had decided to dig a trench, Gregory said.
They were in the house for under seven minutes when it was hit. An extensive search and rescue operation began in pitch black conditions with gale force winds and heavy rain.
Early on 14 February rescuers found Stevens, while van Zwanenberg was found around 10am the next day.
Van Zwanenberg died at the scene while the critically injured Stevens died in hospital three days later.
During the search for van Zwanenberg, firefighters and Urban Search and Rescue crews removed 2000 cubic metres of soil and debris, picked the house apart piece by piece, and used thermal imaging, a dog and listening devices in the hope of finding him alive, the report said.
Dave van Zwanenberg (left) and Craig Stevens. Photo: Supplied
The report had made four recommendations:
source: https://www.rnz.co.nz/news/national/493325/watch-fenz-releases-report-into-deaths-of-two-muriwai-volunteer-firefighters