Auckland rents to go up after flooding, property investors body says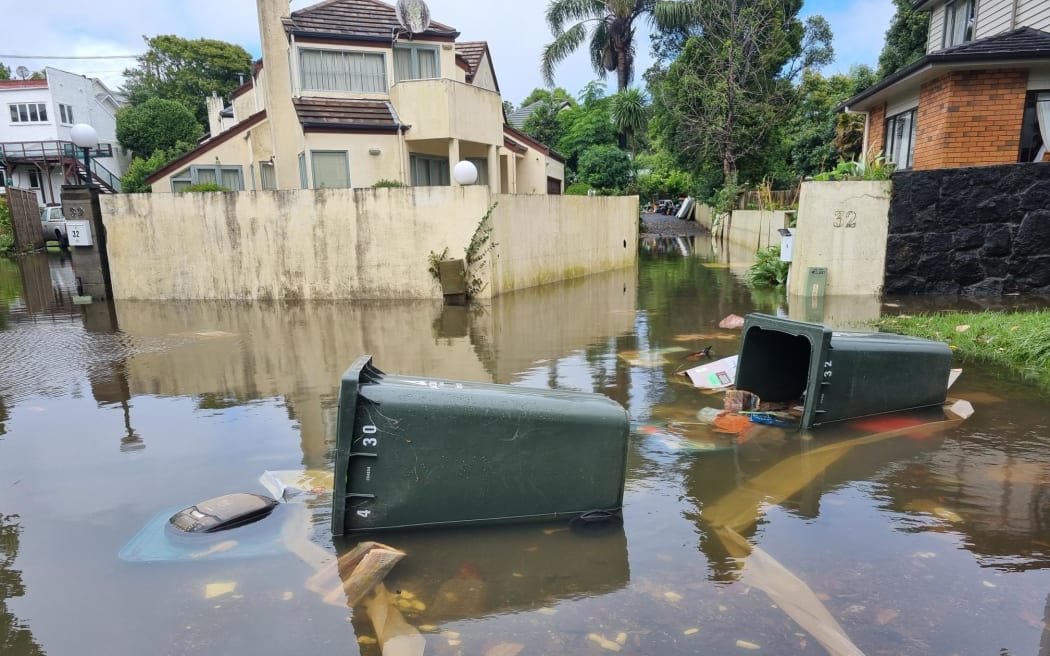 Homes stickered on Kimberley Road in Auckland's suburb of Epsom. Photo: RNZ / Rayssa Almeida
Expect Auckland rents to go up as remedial work to flood-damaged properties affects supply and demand, an investors body is warning.
President of the Auckland Property Investors Association Kristin Sutherland said the rent hikes were not landlords using the last week's severe flooding events to make more profit, but simply market forces at work.
Her comments come as Auckland Emergency Management Duty Controller Rachel Kelleher today said assessment teams had so far issued 175 red stickers to and 760 yellow stickers to flood damaged properties across Auckland.
A red stickered property does not necessarily need to be bowled, Kelleher said, but it was uninhabitable until remedial work was done.
The group was aiming to get through about 700 to 1000 property assessments a day.
Sutherland told Checkpoint it was hard to get a handle on the number of rentals hit by flooding in the city, but said anecdotally "a good proportion" of her organisation's members had been affected.
As a result, the cost of renting would inevitably increase.
Families across Auckland are already struggling with a cost-of-living crisis as inflation continues to bump up the price of everyday items, like food and fuel.
"We are going to have the supply and demand issue," Sutherland said.
"So we will have a shortage of supply of rentals for a period of time just while these repairs are undertaken. And I think it just needs understanding from landlords and from tenants that that will be the case and we may see some increased rent for that period of time.
"I'm not in a position to say whether it's fair or not. It's the same in any market when the supply and demand changes. I don't think landlords are out there to make an extra buck.
"At the end of the day, they're in there just trying to do the best by their tenants really, and offer properties to people. And if if the rental price has changed during that time, then that is the market."
Reduced rent was an option open to tenants if they remained in property damaged by flooding, but that was a negotiation between tenants and landlords themselves, based in individual circumstances, she said.
Landlords did have a legal obligation to aid tenants in a rental home damaged by the flooding by drying it out and she encouraged landlords to do so.
Consumer NZ said for rentals which had been damaged but were still inhabitable, the rent should be reduced. Alternatively, the landlord or tenant could apply to the tenancy tribunal to end the tenancy.
"There's no black and white, written-down rules about this, really - even the insurers and the Residential Tenancies Act, disagree on the definition of what's uninhabitable," Sutherland said.
"And actually, the Residential Tenancies Act doesn't even have a definition of 'inhabitable' in there. So what I would encourage landlords to do is to do all they can to make premises habitable for tenants. If they can't, then it's working with your insurer and your tenant to make sure that firstly, everyone's safe, and that the damage to property, both yours and the tenant's, is minimised."
She said landlords should get in there and help ensure tenants can stay in the property.
"I've been in there with my husband, and we've ripped out carpets, we've been drying floors, we're doing wet, dry vacuuming," she said.
"So if landlords are in a position to do that, I really do encourage you to get in and help as much as you can."
She had waited on the phone for two-and-a-half hours before her insurers accidentally hung up on her, and then waited a further two hours to get through and finally reported her claim to get the process going, she said.
Ministry of Business, Innovation and Employment head of tenancy services Steve Watson told Checkpoint if properties were completely uninhabitable the tenancy or rent should cease from the date that the premises are deemed uninhabitable.
The process of claiming a rent reduction was reached through an agreement between a tenant and landlord, but if no agreement could be reached people could apply to the Tenancy Tribunal to get a rent adjudication on that, he said.
"We would encourage people to talk to each other in the first instance. But the Tenancy Services is here to provide advice through our website and service centre and also a mediation service. Then you can also apply to the Tenancy Tribunal if that doesn't work."
Landlords are responsible for all drying out the property and this includes any costs associated with the drying process, including the cost of electricity.
Landlords are not responsible for any damage flooding has caused to tenants' belongings.
source: https://www.rnz.co.nz/news/national/483472/auckland-rents-to-go-up-after-flooding-property-investors-body-says