Groundhog Day 2023: Punxsutawney Phil makes his annual prediction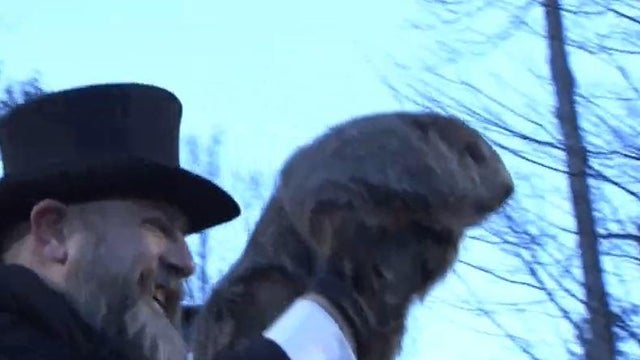 Pennsylvania's most famous groundhog emerged from his burrow on a cold Thursday morning and saw his shadow, declaring there would be six more weeks of winter.  Punxsutawney Phil made his prediction as a deadly storm wreaked havoc in the South and the Northeast was bracing for a dangerous Arctic blast.
People gathered Thursday at Gobbler's Knob as members of Punxsutawney Phil's "inner circle" revealed the animal's annual prediction. According to folklore, if he sees his shadow there will be six more weeks of winter. If he doesn't, spring comes early.
The "inner circle" is a group of local dignitaries who are responsible for planning the events, as well as feeding and caring for Phil himself.
The annual event in Punxsutawney originated from a German legend about a furry rodent. Officials in the community - which is about 65 miles northeast of Pittsburgh - welcomed a crowd of thousands to this year's festivities.
According to records dating back to 1887, Phil has predicted winter more than 100 times. Ten years were lost because no records were kept, organizers said.
The 2022 forecast called for six more weeks of winter, as did the year before.
Phil made his prediction as a deadly storm system lashed a large swath of the southern U.S. with bands of sleet and snow for a third day on Wednesday. The storm grounded more than 3,300 flights, left hundreds of thousands without power, forced school closures and made already treacherous driving conditions worse.
At least eight weather-related deaths have been confirmed in Texas, according to numbers obtained by CBS News Wednesday.
source: https://www.cbsnews.com/news/groundhog-day-2023-punxsutawney-phil-prediction/