Bob Huggins says he didn't resign as West Virginia basketball coach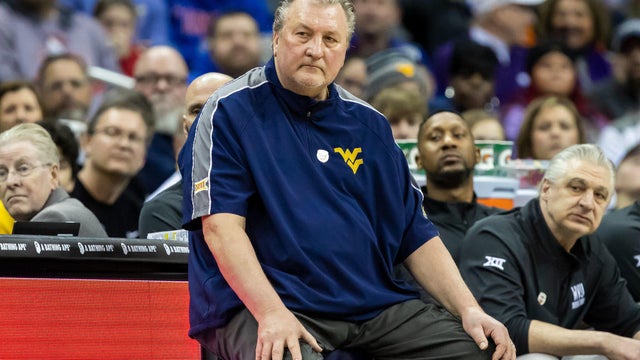 Bob Huggins claims he never resigned as West Virginia basketball coach, accusing the university of putting out a "false statement" saying he had agreed to step down following a drunk driving arrest last month.
"I am employed by WVU pursuant to an Employment Agreement," Huggins said in a statement Monday. "I never submitted the notice required under the Employment Agreement to voluntarily resign."
Huggins was arrested in Pittsburgh on June 16 after he failed a field sobriety test. The following day, the school's president and athletic director released a joint statement that said the 69-year-old coach "informed us of his intent to retire and has submitted his letter of resignation, and we have accepted it in light of recent events."
West Virginia University also released a statement supposedly written by Huggins himself.
"My recent actions do not represent the values of the university or the leadership expected in this role," the statement said in part. "While I have always tried to represent our University with honor, I have let all of you — and myself — down." 
Huggins on Monday disputed the authenticity of that statement.
"I did not draft or review WVU's statement," Huggins said. "This false statement was sent under my name, but no signature is included."
Huggins said that he is at a "world-class rehabilitation center" where he will stay "until I am cleared to return to my active coaching duties."
The university had told Huggins' attorney, David A. Campbell, in a letter Saturday that "in no uncertain terms, the University will not accept Mr. Huggins' renovation of his resignation, nor will it reinstate him as head coach of the men's basketball program." On Monday, the university issued another response, saying Huggins' letter was without merit and any claim that he hadn't resigned "is frivolous." 
Huggins said he let the university know that he was seeking rehabilitation but that WVU "was not willing to speak with me about the Pittsburgh event nor to provide me time to obtain counsel to review my Employment Agreement."
Huggins said he met with his players the day his resignation was announced and "let them know the truth — that I did not know what would happen to me, but that if I was not their coach, I was hoping that I would be replaced by a coach that I recommended to WVU."
The university has said Huggins met with his players and staff "to announce that he would no longer be coaching the team."
Huggins said now that he has obtained a lawyer to review his contract and has seen the university's comments about his current status, "it is clear that WVU did not handle the situation appropriately. More importantly, the basketball program is in need and I have a strong desire to conclude my career as the Head Basketball Coach for the program I love. I hope to meet with WVU in the near future to resolve this situation."
Campbell wrote Sunday to Stephanie Taylor, WVU's vice president and general counsel, requesting a meeting to discuss "an amicable resolution to this dispute." Taylor replied Monday that the university stood by its position and won't reinstate Huggins but she requested in writing a detailed version of Campbell's proposal before such a call is scheduled.
On Friday, Campbell wrote that the university's resignation announcement was "based on a text message from Coach Huggins' wife" to Steve Uryasz, West Virginia's deputy athletic director. The university had provided The Associated Press with a copy of a notice sent by Huggins' wife, June, that same day. The notice was sent from an email address associated with June Huggins, with a signature indicating it was sent via iPhone. It was sent to Uryasz's email address and did not appear to be a text message, as Campbell claimed.
West Virginia athletic director Wren Baker responded an hour later by writing, "We accept your resignation and wish you the best in retirement. We appreciate your many years of dedication to WVU."
Huggins' supposed resignation came after the school handed down a three-game suspension for his use of a homophobic slur during an interview. His salary was also reduced by $1 million and his contract would need to be renewed on a yearly basis, the university said at the time.
The 69-year-old Huggins was the third-winningest coach all-time in Division I with 935 victories, trailing only Mike Krzyzewski of Duke (1,202) and Jim Boeheim of Syracuse (1,015), both of whom are retired. Unlike the others, Huggins did not win a national title. He took Cincinnati to the Final Four in 1992 and West Virginia in 2010.
source: https://www.cbsnews.com/news/bob-huggins-says-never-resigned-as-west-virginia-basketball-coach-rehab/