Baby, 3 relatives missing after flash flooding left 3 dead in Pennsylvania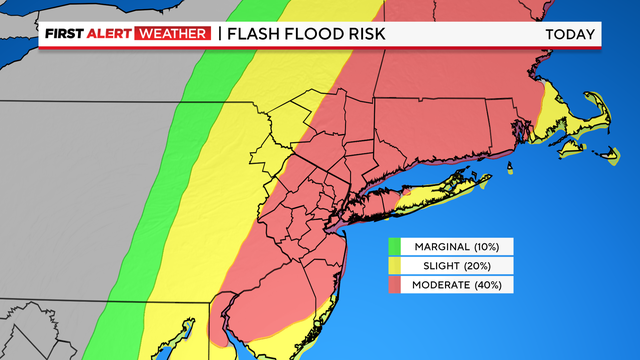 Heavy rain and flash flooding again turned deadly in parts of the northeastern United States over the weekend. Multiple people were confirmed dead in flash flooding that hit suburban Pennsylvania on Saturday night, just six days after a woman died while trying to evacuate her upstate New York home amid mass flooding that swept through the region — and devastated parts of Vermont. 
Three people died on a flooded roadway in eastern Pennsylvania after around 5:30 p.m. ET on Saturday, when the area saw between six and seven inches of rainfall in less than an hour, CBS Philadelphia initially reported, citing the Bucks County Coroner's Office. The victims included two adult women and one adult man, all of whom authorities found outside of their cars in an area where the water level was about five feet above ground, the coroner's office confirmed to CBS News. The flash flooding occured about 30 minutes north of Philadelphia by car and just under a mile from Houghs Creek, a tributary in the Delaware River.
Eleven vehicles were estimated to be on the road when the flash flooding occurred, said Tim Brewer, Chief of the Upper Makefield Fire Company, at a news conference on Sunday morning. Authorities confirmed that three of those cars were swept away in the flood, with eight people rescued from their vehicles and another two rescued from the creek nearby. Four people were still missing when the conference took place, as search teams resumed operations in the area after stopping at dark on Saturday night.
Authorities said three cars belonging to the deceased were found in the creek and recovered, with one car found roughly 1 1/2 miles downstream from where it entered the water. They were treating the search for those four missing people as a rescue, although Brewer said they are fairly sure it will be a recovery effort. The missing people include a 9-month-old and three of the baby's relatives, according to the fire chief, who identified them as three females and one man as 63 years old. He did not provide details about the three victims who were confirmed dead.
Across the northeastern U.S., forecasters warned of potential flash floods and tornadoes on Sunday linked to the latest bout of severe weather. 
The National Weather Service issued a flash flood warning for parts of Connecticut, including Danbury, Shelton and Waterbury, that was set to remain active until at least 11 a.m. ET. Officials at the Storm Prediction Center also warned that the "potential for a few brief tornadoes may gradually increase through 10 AM-Noon EDT," in portions of Connecticut, New York, New Hampshire, Vermont and Massachusetts, NWS New York tweeted. 
Here is the latest Mesoscale Discussion from the Storm Prediction Center (SPC) which highlights portions of our area. Click the link for the latest! https://t.co/CZixxwdUHX pic.twitter.com/V3wnbjDlM2
The weather service enacted a formal tornado watch for nine New Hampshire counties, which was scheduled to expire on Sunday afternoon, while New York City Emergency Management officials urged residents to prepare for potential flash flooding as showers and thunderstorms were expected to continue throughout the day, potentially bringing as much as five inches of rain to some areas.
"A reminder that the flash flood risk is elevated for today, especially throughout this morning! Exercise good safety practices! Much of the area is in a Moderate risk of excessive rainfall, not often seen in our area!" NWS New York said in another tweet shared early on Sunday. An accompanying graphic from the weather service showed that the probability of excessive rainfall leading to "rapid onset flooding" was at 40% for a vast stretch of coastal areas, including portions of Pennsylvania, New Jersey, New York, Connecticut, Rhode Island, Massachusetts, Vermont and New Hampshire.
A reminder that the flash flood risk is elevated for today, especially throughout this morning ! Exercise good safety practices! Much of the area is in a Moderate risk of excessive rainfall, not often seen in our area! #nycwx #nywx #hvwx #ctwx #liwx #njwx pic.twitter.com/Y7rwPBUBdk
Various flood watches and tornado watches were also in effect for most of the day on Sunday for parts of Maine, according to a National Weather Service bulletin.
source: https://www.cbsnews.com/news/bucks-county-pennsylvania-flash-flooding-deaths-missing/