Suspect in Half Moon Bay shootings charged with 7 counts of murder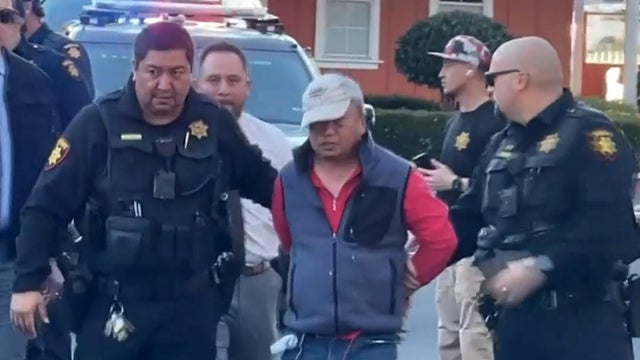 The San Mateo County District Attorney's Office has charged the suspected gunman in the fatal shootings at two mushroom farms in Half Moon Bay, California, with seven counts of murder. Chunli Zhao made his first court appearance Wednesday, where he held up a piece of paper to shield his face from the cameras. 
The 66-year-old, who had two court appointed attorneys and an interpreter, did not enter a plea. Zhao is being held without bail, and his arraignment is scheduled for Feb. 16.
San Mateo County District Attorney Steve Wagstaffe told reporters outside the courtroom that Zhao spoke to detectives following his arrest, adding that they "do have a feeling on the motive at this point based on what he has told us." 
Wagstaffe also said police found a note in Zhao's car, and that the weapon used in the shootings was a Ruger.
San Mateo County Sheriff Christina Corpus said Zhao acted alone on Monday when she says he entered the Mountain Mushroom Farm and shot and killed four people and wounded a fifth. 
Police then discovered three more deceased victims at nearby Concord Farms.
Zhao was taken into custody without incident after he was located in his vehicle in the parking lot of a sheriff's substation, and a semi-automatic handgun was found in his vehicle, Corpus said. Investigators assume the suspect was there to turn himself in, but they had not yet confirmed that, Corpus said.
On Wednesday, the San Mateo County coroner's office identified six of the seven victims in the shooting as Zhishen Liu, 73, Qizhong Cheng, 66, Marciano Martinez Jimenez, 50, Yetao Bing, 43, Aixiang Zhang, 74, and Jingzhi Lum 64. 
The seventh victim has been "tentatively identified" but their name is being withheld pending "positive identification" and notification of next of kin, the coroner said.
Officials have said some of the people killed were migrant workers.
Servando Martinez Jimenez told CBS San Francisco that his brother, Marciano Martinez Jimenez, was a delivery person and manager at one of the farms. He said his brother never mentioned Zhao or anything about problems with other workers.
"He was a good person. He was polite and friendly with everyone. He never had any problems with anyone. I don't understand why all this happened," Servando Martinez Jimenez said of his brother in Spanish.
Marciano Martinez Jimenez had lived in the U.S. for 28 years after arriving from the Mexican state of Oaxaca, his brother said, who added that he is working with the Mexican consulate to get his brother's body home.
source: https://www.cbsnews.com/news/half-moon-bay-shooting-suspect-chunli-zhao-charged-7-counts-murder-some-victims-identified/