What to know about Bell's palsy, after Tiffany Chen's diagnosis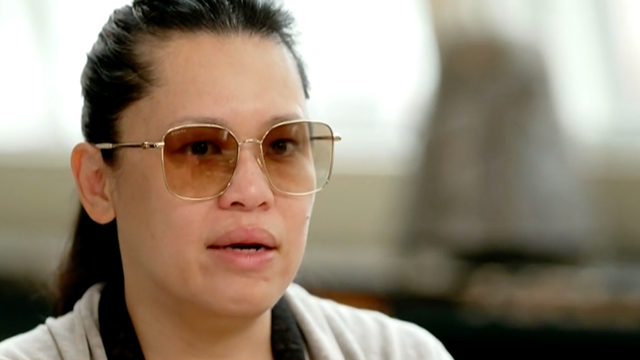 The cause is a mystery — and the symptoms can be distressing. Bell's palsy comes on without warning, bringing partial paralysis or weakness to a person's face.
The condition affects thousands of people in the U.S. every year. And now Tiffany Chen, the partner of Robert De Niro, is speaking out about her experience with Bell's palsy for the first time.
In an exclusive interview with "CBS Mornings" co-host Gayle King, Chen revealed her diagnosis, which began after the birth of the couple's daughter in early April. 
"When I got home, it was like everything was starting to just fall down on itself. Like, my face was melting on itself," Chen says in the interview, which airs Friday, July 14, on "CBS Mornings." "Then a week after giving birth, that was when it all hit."
After calling her doctor, she tried to eat, but more difficulties set in.
"I went to put just a fork of food in my mouth, and everything came out. I couldn't eat," she said. "And then I was starting to slur. So I said, 'There's something really going on here.' ... I lost all facial function the minute I got into the hospital."
Here's what to know about the condition.
The National Institutes of Health defines Bell's palsy as "a neurological disorder that causes paralysis or weakness on one side of the face." This happens when one of the nerves that controls facial muscles becomes injured or stops working properly. 
In some cases — including Chen's — it can affect both sides of the face. 
Symptoms typically appear suddenly over a 48- to 72-hour period, and can range from mild to severe. Though symptoms generally start to improve after a few weeks, with or without treatment, the recovery time varies from person to person. 
"Usually, you will recover some or all facial function within a few weeks to six months. Sometimes the facial weakness may last longer or be permanent," the NIH says on its website. 
The condition affects about 40,000 people in the United States every year, the NIH estimates.
"It can affect anyone of any gender and age but seems to be highest in those in people 15 to 45 years old," its NIH states. It says risk factors for Bell's palsy include: 
According to the NIH, signs and symptom of Bell's palsy include: 
The Mayo Clinic's list of symptoms also includes:
Before Chen noticed differences in her face, she says her tongue felt strange. "It felt like a little tingly, just starting to get a little bit numb," she told King.
Since Bell's palsy symptoms can appear similar to other conditions that cause facial weakness, experts say it's important to seek medical attention immediately to rule out things like a brain tumor or stroke.
Bell's palsy is the most common cause of facial paralysis, but its exact cause is unknown, according to the NIH.
"Viral and immune disorders are frequently suggested as a cause for this disorder," the National Organization for Rare Disorders says on its website. "There may also be an inherited tendency toward developing Bell's palsy."
Most people who develop Bell's palsy recover over time without treatment. There are different treatment options for Bell's palsy, including medications to help recover facial nerve function and relieve pain.
Some patients receive physical therapy or facial massage, or may need eye protection if they are unable to close an eye. 
In rare cases, the NIH says, "cosmetic or reconstructive surgery may be needed to correct some damage such as an eyelid that will not fully close or a crooked smile." 
More of Gayle King's interview with Tiffany Chen, where she will discuss the impact of tabloid headlines on her facial expressions and how Robert De Niro has provided support throughout her health journey, will air on "CBS Mornings" Friday, July 14.  
source: https://www.cbsnews.com/news/what-is-bells-palsy-tiffany-chen-causes-symptoms/