Weather warnings in place across north of NZ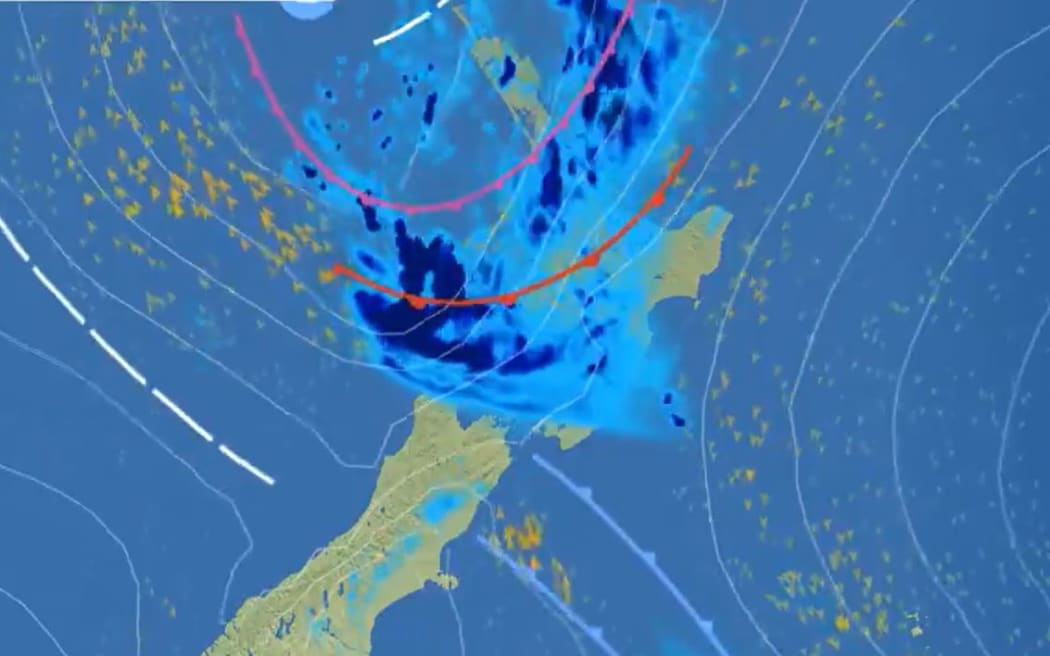 Rain, pressure and wind forecast for Saturday 28 January, 2023. Photo: Screenshot / MetService
People in northern New Zealand are being urged to prepare for heavy rain which is set to hit the country for Auckland Anniversary weekend.
MetService has issued heavy rain and strong wind warnings for parts of the North Island.
Significant rainfall is expected in Northland, Coromandel Peninsula and western Bay of Plenty this weekend.
A heavy rain watch and strong wind watch were also in place for Auckland.
Waka Kotahi has placed a strong wind watch on the Harbour Bridge, with winds gusting 40-50km/hr, strengthening this evening to 50-60 km/hr.
Drivers of high sided vehicles and motorcyclists are advised to avoid the bridge.
An amber alert is in place for tomorrow, with 90kmh winds forecast tomorrow from 7am to midday. Under this alert speeds are reduced and lanes may close.
And forecast winds of 90-100kmh with a risk of 110kmh would signal a red alert from midday to 10pm, closing all lanes on the bridge.
Planned overnight maintenance has also been shifted to Sunday due to weather.
Aucklanders planning to travel on Friday should consider delaying as the weather would mean an increased risk of delays, especially around Coromandel, MetService said.
"More cars on the road, tired drivers and people driving on unfamiliar roads can make holiday driving stressful and risky," Waka Kotahi director of regional relationships Steve Mutton said.
"Checking your car is safe before your journey, keeping your speed down, driving sober, watching for the signs of fatigue and sharing the driving are just some of the things you can do to ensure you arrive safely at your destination."
Mt Taranaki could see heavy rain.
MetService said the humid northerly flow set up over the country was here for the long run and warm air from the north will raise termperatures.
"It is going to be a very wet start to Auckland Anniversary weekend," MetService meteorologist Jessie Owen said.
"Heavy rain could cause flooding and slips and make travel hazardous so if you're planning on heading away for the long weekend it's a good idea to keep up with the forecasts and perhaps consider delaying your travel."
The humid air from the north could bring further bouts of heavy rain to northern areas, and to the west of the South Isalnd, into next week, Owen said.
Coastal water temperatures were warmer than what were expected for this time of the year, MetService said.
Severe marine heatwaves were present in Cook Strait, Chatham Islands, Banks Peninsula and Stewart Island.
Several marine warnings had been issued, with gale warnings in place for Bay of Islands, Bream Head to Cape Coville and Puysegur, and strong wind advisories for Hauraki Gulf, Waitematā Harbour, Manukau Harbour, Coromandel and Bay of Plenty.
Coromandel Peninsula could be in for two obstacles this long weekend with nasty weather on the way and heavy travel restrictions on State Highway 25A between Kopu and Hikuai.
Waka Kotahi is waiting on the result of a geotechnical report after massive cracks appeared on the road, that is used to get to several holiday spots on the peninsula.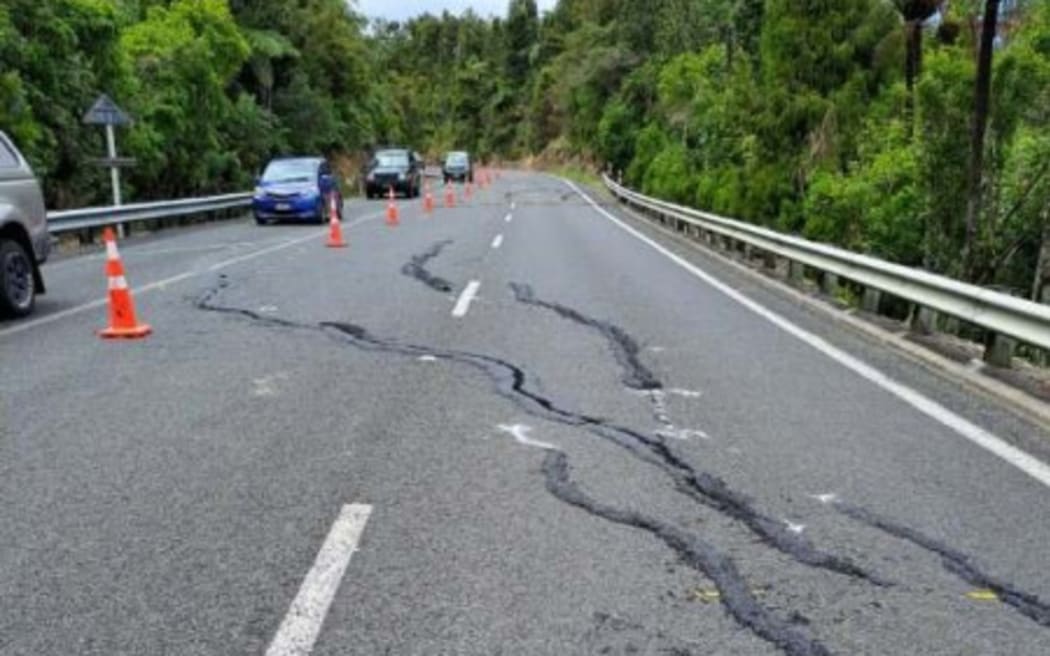 Cracks in the road on State Highway 25A in the Coromandel Peninsula Photo: Supplied / NZTA
SH25A is only open between 7am and 7pm and is down to one lane with a stop / go system operating.
Coromandel mayor Len Salt said the region had been hammered since the start of the year. It had received a metre of rain which was usually the total by May or June.
"What it does is it puts an enormous pressure on the hills, on the roading network that we've got," he told Checkpoint.
The cracking had exacerbated the situation and if the road had to be closed during the daytime, due to more heavy rain, two gravel roads which cross between the east coast and west coast would need to close also.
"That is going to cause all the traffic that needs to access the eastern coast round the top of the peninsula and down through Coromandel and down through that way. That obviously is a problem for us and we'd like to avoid that happening if we can."
While discussions had been underway with Waka Kotahi it all depended on the outcome of the geotech work, he said.
"We're waiting on the geotech ...it is a significant area of damage, there are significant implications. We don't have those answers yet I'm afraid."
Discussions were also taking place with Waka Kotahi over keeping emergency access open throughout the night for the Kopu-Hikuai highway.
Salt said he had written to the prime minister's office pointing out the fragility of the area's infrastructure and the increased frequency of poor weather and the need for a concrete plan on trying to make some improvements.
As a result of incoming weather, Surf Lifesaving chief executive Matt Williams has issued an urgent plea for people to take care around the water.
Watching your kids from the shore simply was not enough, he said.
"Swim between the flags at a patrolled location during patrol hours - if you can't, don't get in the water.
"If you're going to enjoy the water on a vessel, make sure you check in with your coast guard to get up to date safety messages".
The 183rd edition of the Auckland Regatta, set to take place Monday, is the largest single-day yachting regatta in the world, dating back to the founding of Auckland in 1840.
Event organiser Chris Collins said the weather doesn't look too bad for Monday but they were keeping a close eye on things.
"There won't be any decision made until early Monday morning, but the Regatta has never been cancelled before.
"It's primarily the responsibility of any boat and skipper to choose to take part or not".
Organisers had a substantial safety plan put in place for Monday's big event, he said.
"That includes the coast guards, harbour master, maritime, police and all the yacht clubs involved."
A decision would be made tonight about whether the regatta in Mahurangi East would be cancelled.
"A number of water activities have already been cancelled for the Mahurangi Regatta due to large swells".
The shore events, activities and prizegiving had already been cancelled.
Meanwhile, Tauranga will be jam-packed this long weekend.
One Love, Tauranga's homegrown reggae festival, attracts approximately 20,000 music-lovers to the city centre over the weekend.
For the sports fans, the Vantage Black Sticks take on Spain.
The Surf Life Saving Eastern Regional Championships begin on Friday and the Volleyball NZ Secondary Schools Championships take place from Saturday.
Surf Lifesaving chief executive Matt Williams said approximately 700 life guards would be competing.
Road closures would be in place to support event operations and safe pedestrian access.
source: https://www.rnz.co.nz/news/national/483154/heavy-rain-warnings-in-place-across-north-of-country-winds-could-close-auckland-harbour-bridge