Slips, slides and no water - Titirangi suburb battered by storm fallout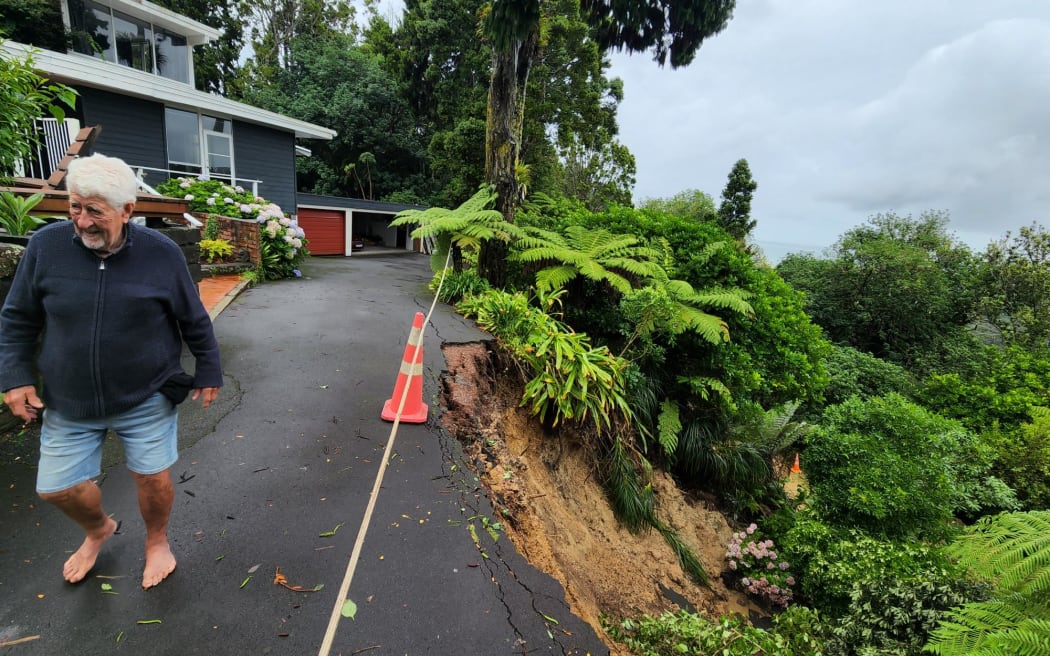 Alistair Grace's driveway collapsed at Ototori Bay Road, Titirangi overnight. Photo: RNZ / Mohammad Alafeshat
The West Auckland suburb of Titirangi has been hit particularly hard by flooding and slips, with multiple locals forced to evacuate, roads cut off and some residents without water for days.
The Friday rain event caused dozens of roads to slip and knocked out water supplies for much of the region. Continuing rain has only made the situation worse for many.
Several Otitori Bay Road residents had to evacuate overnight due to major slips.
One resident posted harrowing footage of huge flows of mud cascading down by their house before they fled.
"We left minutes after this started," Martin Salib wrote on the community Facebook page. "We're not crazy people."
Titirangi resident Alistair Grace said he has to fill up buckets of water from a tanker.
"We have no water for the last three days. We have power, so we're happy with that.
"I have buckets out to collect the water, we have a swimming pool to gather water to flush the toilet, so I'm quite happy."
Grace said he woke up this morning to find his driveway slipping onto Otitori Bay Road.
Grace said it will take at least two years to fix the driveway.
"The fire brigade woke me at 2.30 in the morning. We came out to find that it had all slipped away and blocked the Titirangi Beach road, completely."
The road is now open to residents only, and local Labour MP Deborah Russell of New Lynn told locals to be ready to flee if the situation worsens in coming days.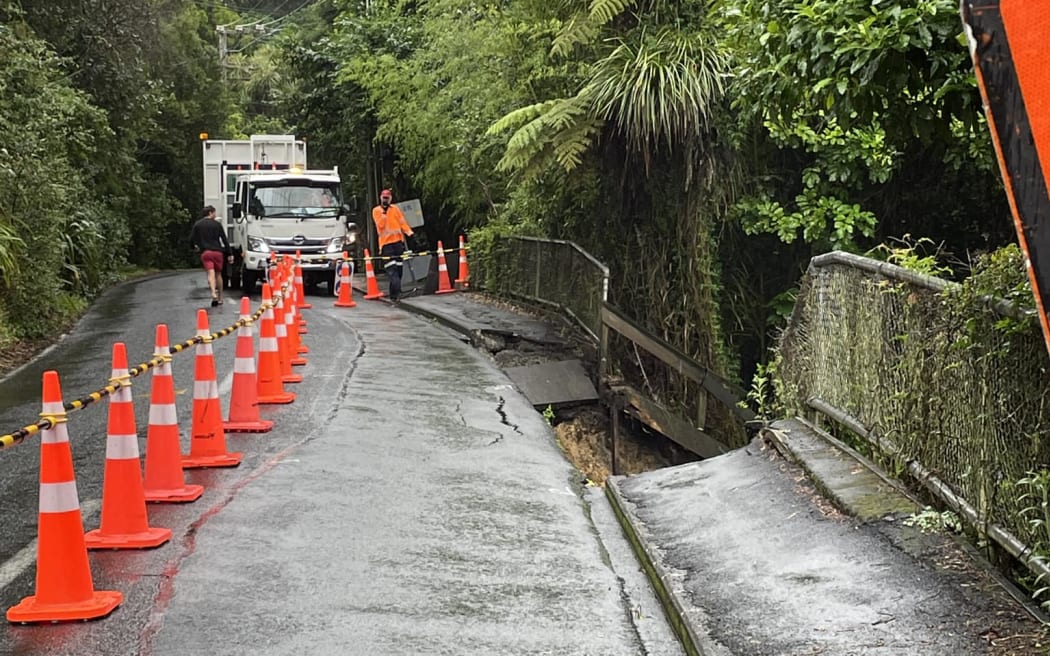 Otitori Bay Road in Titirangi collapsed overnight, leading houses to evacuate. Photo: Facebook / Deborah Russell MP
"I've been asking locals to pack a bag and have an evacuation plan," she said on the local community page on social media.
"Hopefully it won't be needed. But it's really hard to get things organised in the middle of the night if you get a knock on the door asking you to leave immediately."
In Friday's storm the yacht club building at French Bay at the end of Otitori Bay Road collapsed.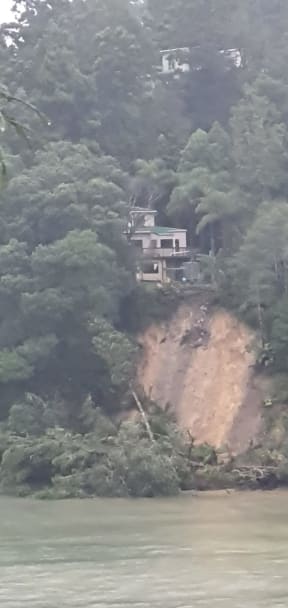 The slip at Paturoa Road as seen from across the bay. Photo: Facebook / Del McFarlane Scott
Some Titirangi residents had water return on Sunday, but it was cut off again in the evening and currently hundreds are without water.
Russell asked local residents on her Facebook page about their water supply this morning and had more than 400 responses, with most people saying they had no water.
"I've spoken to Watercare but none of it's good," she told one local resident in a reply.
Residents on Paturoa Road in South Titirangi have been completely cut off, and fire crews are supplying water, while Watercare has provided tankers around the region this morning.
RNZ's Mohammad Alafeshat was in Titirangi this morning.
Some houses are reporting discoloured water from the tap, and others have been completely cut off.
Residents have been lining up at a tanker to fill up buckets.
"Yeah, no water since Saturday morning," one said. "Just been working with the bottles."
A Watercare worker said the team has been working hard to help.
"The water's been out for three days. We've been pumping water for 14 hours a day for the locals, all bottles."
More than 16,000 litres of water have been dished out to locals in Titirangi each day.
Watercare is also asking Titirangi locals to report faults directly to them.
Chair of the Henderson Massey Local Board in West Auckland, Chris Carter, said that some parts of the city may have to be relocated to avoid future flooding.
Carter said that about 60 homes flooded in August 2021 when Henderson Creek flooded and all of those homes have flooded again.
"This time more severely, in some cases water's reached the ceiling of the downstairs.
"We can't build in places where people are going to get repeatedly flooded in these extreme weather events."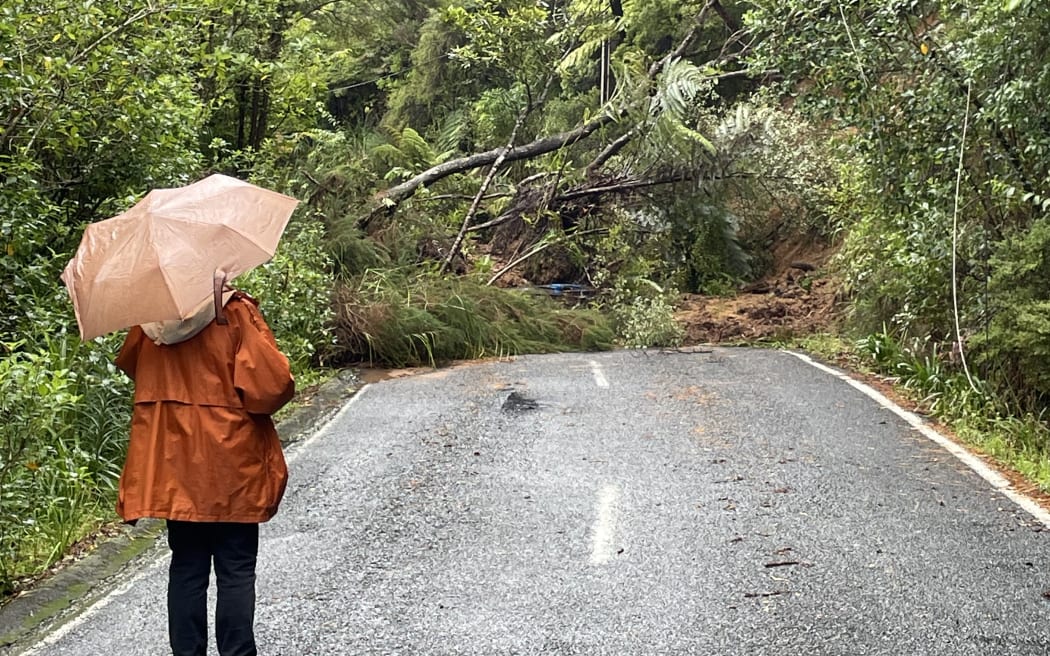 Konini Road in Titirangi was completely blocked by a slip on Friday night which crews are still clearing. Photo: RNZ / Nik Dirga
Crews were busy working overnight clearing roads and slips throughout Titirangi, working to restore access on Kopiko and Konini Roads.
Many roads are open only to local residents and as of 11am today Scenic Drive which leads to Piha and the West Coast was closed with detours just past Titirangi village.
A list of road closures - which may not be completely up to date - can be found on Auckland Transport's website.
source: https://www.rnz.co.nz/news/national/483334/slips-slides-and-no-water-titirangi-suburb-battered-by-storm-fallout