Aussie Super Rugby teams a gift or a curse for All Blacks?
Will Australian Super Rugby teams provide some genuine competition for New Zealand squads this year? Or will the results be as one-sided as last season?
Brandon Paenga-Amosa celebrates a try for the Reds. Photo: AAP IMAGE
The tournament becomes truly Super Rugby Pacific this weekend, with the New Zealand franchises heading to Australia as the championship reaches its halfway point.
The five Kiwi sides will face their Australian and Fijian counterparts in what's being dubbed a "Super Round" in Melbourne.
But Moana Pasifika will have to wait to get some non-New Zealand competition, with their game against the Western Force being postponed due to a Covid outbreak in the Perth-based side.
The Blues beat the Highlanders in last year's Super Rugby trans-Tasman final to end an 18 year title drought, in what was a competition dominated by the New Zealand sides.
The five teams from Aotearoa finished first to fifth, with the five Australian teams winning just two games between them.
Photo: Photosport Ltd 2021
So will the Australian sides win more matches this year?
RugbyPass analyst Ben Smith expects they'll be on the losing side more often than not.
"The wins are going to be few and far between for the Aussie sides I think. Looking at their game, it's not at the same game speed as what the New Zealand sides play.
"If the Kiwi teams can find their rhythm and get some momentum, the Aussie sides will struggle to keep up."
The bookies have the Crusaders and Blues as favourites for the crown, ahead of the Chiefs, Hurricanes and last year's Australian champions, the Queensland Reds.
Hurricanes wing and former All Black, Julian Savea, said the Australian teams will be out to make a point.
"First time playing the aussie teams this year and they'll have a chip on their shoulder because the media says 'they're not better than us'. It's even more motivation for them."
The Hurricanes take on Queensland on Saturday night, with the Reds sitting near the top of the Super Rugby Pacific ladder, just a bonus point behind the Blues and Brumbies.
Reds midfielder Hamish Stewart knows the value of a win this weekend.
"Getting into the Kiwi teams this week which we've been excited about all year. It's a different brand of rugby (to the Australian teams) we're going to be playing, it's a lot more up beat, faster tempo and we're going to have to be on our toes.
"It would be good to get one over the kiwis to start off and get a kick start."
The Crusaders, who play the Rebels on Sunday, will be expected to beat all the Australian sides, but coach Scott Robertson said it's hard to judge how good their trans-Tasman rivals will be.
"It's probably like looking at us, you just feel like you're just seeing the Reds play the Tahs again, just over and over.
"Until you get out on the field, you don't really get a true feeling for what they're going to be like."
RugbyPass analyst Smith reckons the Australian teams might only pick up five or six wins between them against New Zealand sides, but he believes the teams from Aotearoa will get something out of the trans-Tasman fixtures.
"Whilst the New Zealand teams might beat the Aussies a lot, the Kiwi sides should benefit in other ways like playing different styles.
"What's happened with Super Rugby over the last couple of years is that the Kiwi sides play each other and they all defend the same. They play the same type of defence which is easy to roll over the top of and make a lot of metres and you just get your attack rolling and it's a very pretty game.
"It's good to watch but when you look at the bigger picture it doesn't help our All Blacks for test rugby.
"The way New Zealand teams defend they have always have two players in the back field; the first-five and the fullback, then the halfback is a second line of defence and then you have the front line. You're going to have maybe two players in the ruck, so you're going to have around ten or 11 players in the front line and when you're spread like that, you can't bring any pressure.
"New Zealand teams defences are built to bend and absorb and there are three lines of defence and teams will break on them, but they will recover and shut them down. That allows the opposition attack to come forward and what not. However, that's not how France defends, that's not how Ireland defends; they've got 13 man walls up front and they're looking to pound teams backward.
"So, New Zealand teams playing too much has come to light when they've been beaten on last year's end of year tour and other recent defeats where the opposition has looked to employ a dominant defence.
"If there's one things the Aussie Super Rugby sides can do it's hopefully bring some of that. Maybe they can't keep it up for 80 minutes, but if the could bring something different, it would hold the All Blacks in better stead for later in the year."
Smith also thinks refereeing could play a role in the outcomes in the second half of Super Rugby Pacific.
"Over there (in the Australian Super Rugby games) they have been very strict with TMO (video referee) interventions. Looking two or three phases back looking at pulling up anything and you're getting these massive stoppages, ten to 15 minutes sometimes, which is only going to help the Aussie sides."
And he believes that extra attention from the Television Match Officials will result in more red cards for dangerous play.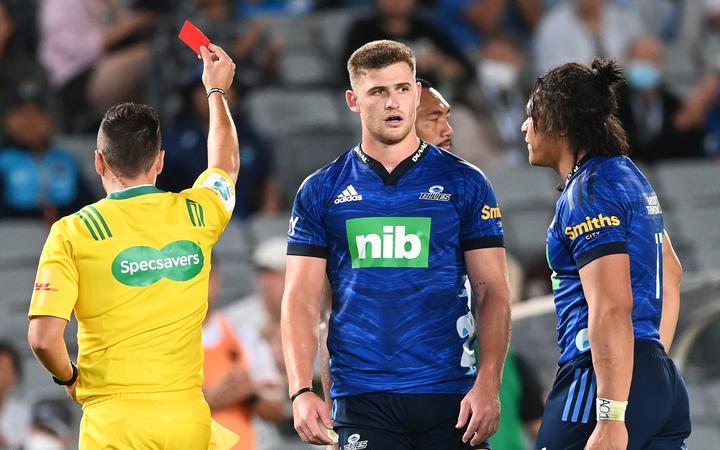 Photo: © Copyright Andrew Cornaga 2022 / www.photosport.nz / Photosport Ltd
"Because the TMOs are actively seeking out anything around ruck time, I think that potentially there will be more infringements from Kiwi sides that will get picked up that have so far been flying under the radar."
While the Australian teams will be striving to make their mark during Super Rugby's first 'Super Round', it won't be such a super weekend for Moana Pasifika, who have had their fourth game postponed this season.
They'll have to wait until the 30th of April for their next match, against the Melbourne Rebels.
source: https://www.rnz.co.nz/news/sport/465696/aussie-super-rugby-teams-a-gift-or-a-curse-for-all-blacks