Warriors response to homphobic slur held up by 'NRL process'
The Warriors are defending their response to a homophobic slur made by outside back Marcelo Montoya in their most recent match in rugby league's NRL.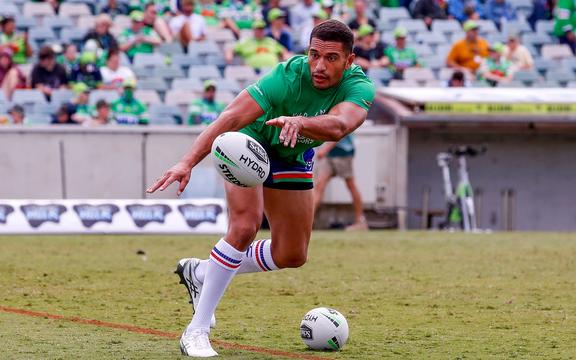 Montoya would front the NRL judiciary on Tuesday night facing a charge of contrary conduct after microphones picked up the comment he made to a Cowboys player in Friday night's game in Redcliffe.
The Warriors official statement on the matter didn't come until almost 48 hour later, which left the first openly gay player of rugby league's pro era, Ian Roberts, questioning what had taken so long.
Back in New Zealand and speaking at Mt Smart Stadium on Tuesday, club chief executive Cameron George was reiterating the club's apology for the comment.
But he was also standing by their response, saying he spoke to players and staff about it the day after the match.
"Due to process at the NRL end, I was held up from making a statement.
"I just rewind to the Reece Walsh thing, it's not our style. I would've been out [with a statement] Saturday morning if I was told by the NRL what they were investigating and how they were doing it.
"I wouldn't have cared about their process, I would have just have just made our statement and apologised, because Marcelo was ready to go in regards to that."
Warriors captain Tohu Harris was also back in New Zealand on personal matters as he continued his recovery from an injury which has so far kept him off the field this season.
Harris said he had spoken to Montoya over the phone in the days since the incident and insisted his team-mate, who won the Warriors "Clubman of the Year award" in 2021, was hugely remorseful.
"He almost couldn't put it into words.
"I could hear it in his voice how regretful he was of his actions, because he's not that type of person. He's someone who would literally take his shirt off and give it to someone else.
"As a club and as players we don't condone that sort of behaviour or language, we know he doesn't either. It was just a massive error in judgement and one he wholeheartedly regrets."
Echoing that sentiment was Warriors hooker Wayde Egan.
"He definitely didn't mean any malice in what he said. Heat of the battle, we play a very violent game as rugby players.
"We're just supporting him this week and we'll let the judiciary decide what punishment he gets."
That decision would be made later on Tuesday night when Montoya's NRL hearing took place.
George said any additional punishment the club could hand down won't be considered until after the NRL process was complete.
"We'll just get through tonight.
"He's a terrific human being. He regrets the situation and he's doing it a bit tough at the moment as well.
"We want to support him and his family. Tonight will be what it is and we'll deal with it tomorrow and thereafter."
source: https://www.rnz.co.nz/news/sport/465153/warriors-response-to-homphobic-slur-held-up-by-nrl-process