Drive-by shooting kills 9-year-old at his grandma's birthday party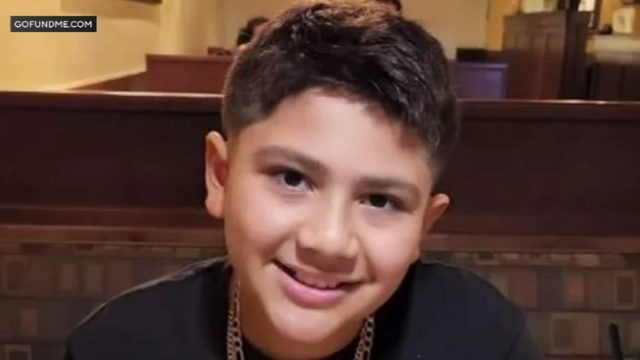 A 9-year-old boy attending his grandmother's birthday party in a Chicago suburb was killed in a drive-by shooting, police said.
Ulysses Campos had been playing with a group of children in an alley late Saturday when four to six shots were fired from a moving vehicle, Franklin Park police director Michael Witz said in a statement Sunday night. CBS Chicago reported that Ulysses was just two weeks away from turning 10, and was playing with his cousins while the adults were inside. 
The boy was struck in the chest and died after being taken to a hospital, police said. Ulysses' uncle, Ottilo Campos,  told CBS Chicago his family has placed a cross at the site of the shooting, and that Campos' father held the boy before he was taken to the hospital. 
"This was not targeted," Ottilo Campos told CBS Chicago. "It was just a random act of violence. ... There's a lot of emotions, sadness, anger. Anger the most, because he's 9." 
No one else was struck by gunfire in the 10:15 p.m. shooting, which happened in a Franklin Park neighborhood about a mile outside Chicago's western city limits. 
Police said a person of interest in the shooting was taken into custody, and officers found a car suspected to be involved in the shooting in nearby Leyden Township. They asked anyone with information to contact the department.
Ottilo Campos said that for now, the family is focusing on remembering Ulysses in a positive way. 
"He was one of those kids that if you were having a bad day, he would try to make you laugh," Campos said. "He had an infectious smile. He lived for life. He was a true daddy's boy. He wanted to do so many things, gamer, YouTube star, social media influencer, all that stuff. We'll never know now, because he was 9."
source: https://www.cbsnews.com/news/ulysses-campos-killed-9-year-old-drive-by-shooting-grandmothers-birthday-party-frankln-park/