'Kiwis not leaving' NZ spend cash and keep regional businesses humming
South Taranaki appears well placed to bounce back from Covid-19 after dodging the worst of the disruption caused by the virus.
Arty Tarts co-owner Richard Paton says business is ticking along nicely. Photo: RNZ / Robin Martin
Some coastal businesses are enjoying record sales while at least one contractor says the virus motivated him to take the plunge on a $30 million development.
A steady steam of customers are making their way into the Arty Tarts Cafe in Ōpunake where home-made pies and coffee are the order of the day.
Co-owner Richard Paton says business is humming.
"We've been busy as ever; it just hasn't slowed down for us. It's been ticking along nicely.
"It's just really crazy. It's just weird; we still see lots of people and the locals are all out supporting us too, so it's amazing how many people still keep coming down."
At the Dreamtime Surf Shop the coffee machine is also working overtime and it's not only caffeine that's in demand.
Co-owner Craig Dingle says boardshorts and T-shirts are moving too.
"The first lockdown was a good holiday because we'd been working hard all summer. This summer just gone has been a record summer for us retail wise."
He has an inkling why.
"It's Kiwis not leaving New Zealand - just travelling around New Zealand and spending money."
Dingle says overseas tourists accounted for 10 percent of business pre-pandemic which has been eclipsed by a 30 percent rise in domestic visitors.
Ōpunake Beach Holiday Camp manager Julian Harkness says the business has benefited from being in a pandemic sweet spot.
"Those that have had a lot of international visitors have found it harder and those a relatively long way from large populations, but Ōpunake has appealed to all those people who are close from the farming communities and out of New Plymouth and Whanganui etc and has stayed solid."
Craig Dingle, left, and Julian Harkness Photo: RNZ / Robin Martin
Across at Hāwera, developer CJ Mahony says Covid-19 motivated him to take the plunge on the $30m South Taranaki Business Park.
"To be honest if Covid wasn't around I wouldn't have taken this gamble, but I've seen with Covid that we're in changing times.
"The economy's changing, the market's changing - not necessarily all for good or all for bad - but we're in changing times and that probably did give me a little bit of confidence to think outside the box and have a go at this project."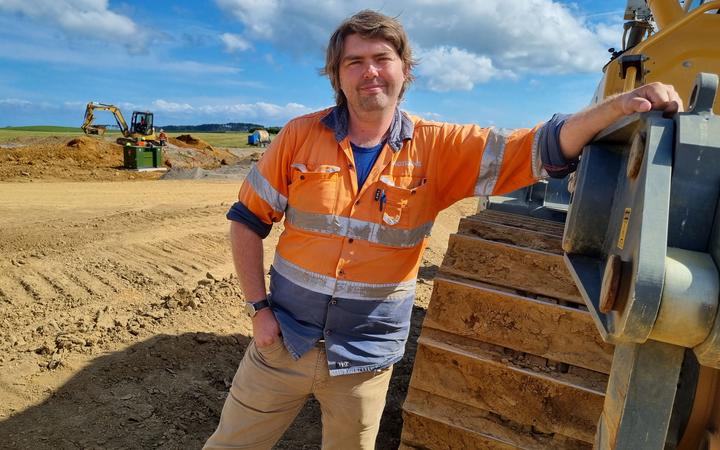 Developer CJ Mahony has taken the plunge on a major development. Photo: RNZ / Robin Martin
Inflation has also been on the 35 year old's mind.
"I probably started this with the idea that we had inflation coming ... this was one way that I saw of trying to stay ahead of that I guess.
"Go and owe the bank a lot of money and hopefully it's worth less at the end and what I own is worth more."
But not everyone's had an easy ride.
Owner of the Lunch Shack on High St, Thea Haunton, tells a story familiar to food retailers in main centres.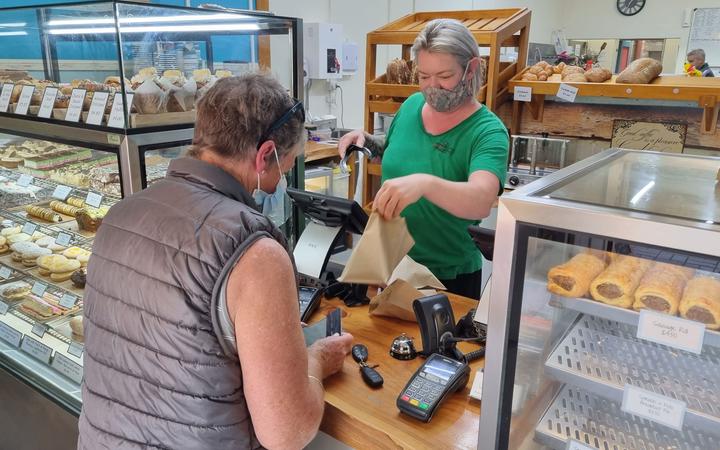 Thea Haunton serves a customer. Photo: RNZ / Robin Martin
"We've been in it for so long now it is hard to say, but definitely from when we first opened it's definitely between that 30 to 40 percent that we are down and we have called on the government assistance."
Taranaki reported 370 new Covid cases yesterday, 88 of those in South Taranaki.
There were 2022 active cases in the community.
source: https://www.rnz.co.nz/news/national/465272/some-businesses-thriving-as-domestic-visitors-splash-cash