More details emerge about suspect who fatally shot Tennessee surgeon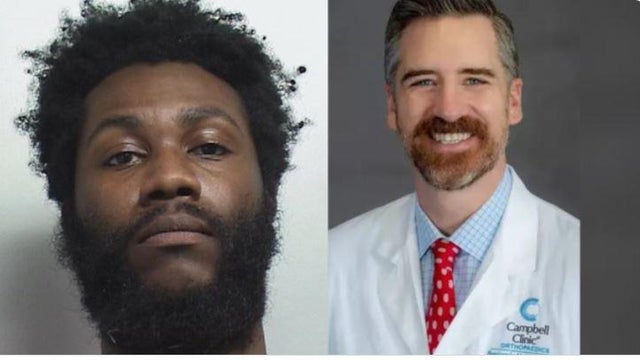 More details have emerged about the suspect who fatally shot a Tennessee surgeon inside of an exam room where the doctor worked. 
Larry Pickens, 29, was charged with first degree murder and aggravated assault for allegedly shooting and killing Dr. Benjamin Mauck, the Collierville Police Department said in a statement on Wednesday. He was arraigned on Thursday morning at the Collierville Municipal Court and is being held on a $1.2 million dollar bond, according to online jail records. 
Police believe that Pickens was a long-term patient of the Campbell Clinic, and Collierville Police Chief Dale Lane told CBS News "he had visited multiple sites" within the network. It was a one-on-one targeted attack, Lane said. 
CBS affiliate WREG-TV reported that a nurse told police that Pickens allegedly pulled a gun from his waistband and fired three shots. The nurse said she recognized Pickens from previous visits to the clinic. 
The Collierville Police Department said they do not have any prior reports regarding Pickens but are checking other agencies. 
Police have not released a motive in the case, but WREG reported that Pickens had previous run-ins with law enforcement. In one case he told police "he had mental health issues," and "was diagnosed with schizophrenia and had been off his medication."
The suspect had reportedly been at the clinic for several hours before the shooting, Collierville Police Chief Dale Lane said, and investigators are currently interviewing staff at other clinics. The orthopedic clinic system, founded in 1909, has nine locations and two ambulatory sites, with 90 doctors, the website says. A statement from the clinic said they "are shocked and heartbroken" by the death of Dr. Mauck.
Pickens was apprehended outside the clinic five minutes after the shooting.
"We were able to take him into custody without any further delay," Lane said. He said the 911 call came in at 2:03 p.m. in the afternoon, and the first officer arrived at the scene at 2:06, and the suspect was in custody a few minutes later. 
Collierville is in Shelby County just outside of Memphis. 
The Associated Press contributed reporting
source: https://www.cbsnews.com/news/larry-pickens-suspect-killed-surgeon-benjamin-mauck-clinic-collierville/