Wellington Phoenix hope home fans aren't lost
After spending the last five months based in Australia the Wellington Phoenix return home this weekend to play two A-League games.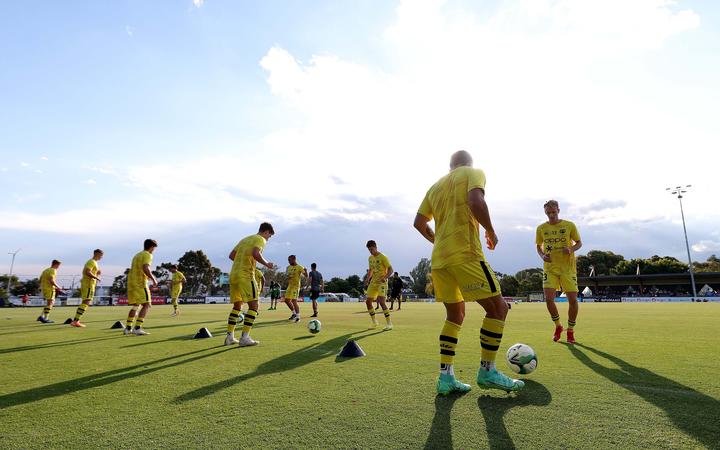 The Wellington Phoenix will return to New Zealand. Photo: PHOTOSPORT
Because of Covid, local fans have been starved of A-League action in recent years, while some of the players will be playing in New Zealand for the first time.
The Phoenix made the most of their return home last season and everyone concerned is hoping they can do it again this time as they push for a play-off spot.
Their last game in Wellington before Covid hit was in March 2020, since then they've played just two games in New Zealand.
The club is hoping to draw a big crowd at Sky Stadium on Sunday and then again at Eden Park a week later.
The team has performed admirably away from home but coach Ufuk Talay said what they have missed is a boisterous home crowd.
"Players are not robots they are humans and everybody loves at pat on the back, everyone loves to be told they are doing a good job," Talay said.
"So the noise is very important we haven't had that all season, it plays a major role it's the boost, it's the 12th man on the park and the fans play a massive part with the boys getting that extra spring in their step."
Ben Sigmund playing for the Wellington Phoenix in Wellington in 2012. Photo: Photosport
Former Phoenix and All Whites player Ben Sigmund wasn't able to get to last year's one-off game in the capital so it's been more than two years since he's been to one of their games and he can't wait to be a fan live at a game again.
"I actually missed the walking up and the kids are really, really excited. They were even asking me to make make sure that I had tickets, so that family time of actually just getting in there not so much as a fan but as a family for people to get in there and do something is really exciting."
Talay said the squad has been fully focussed about playing each game and not getting ahead of themselves, however general manager David Dome said there was little doubt the players want to be playing in front of the big home crowd again.
"Quite a few of our squad not only haven't played at Sky Stadium, or haven't played at any stadium in New Zealand, but haven't even been to New Zealand or to Wellington. We've got players we've signed to the club and the entirety of their Wellington Phoenix career to date has been played in Australian stadia ostentatiously in a Wellington Phoenix home game but not playing in front of many fans," Dome said.
Teenage defender Finn Surman has watched plenty of Phoenix games at Sky Stadium, but has never played there.
"It will be amazing to play there, it excites me to be honest as I am sure it would with all the other boys. I think we are all really looking forward to it. I hope that Wellington and New Zealand can get out there support us, it gives me some goosebumps just thinking about it," Surman said.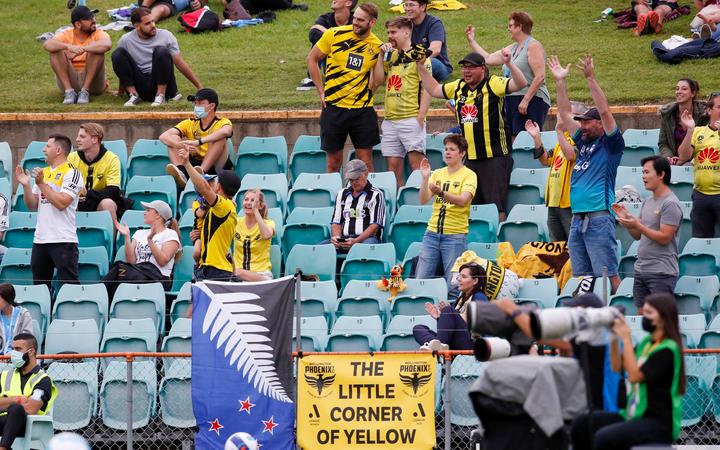 The Phoenix have played in front of small pockets of fans in Australia this season. Photo: PHOTOSPORT
There is little doubt that playing the majority of their games in Australia the last couple of years has hurt the Phoenix financially.
Dome has his fingers crossed that everything is closer to normal again next season.
He said their corporate support has been great, but they won't really know how the fans will react until the new season comes around.
"With no games in New Zealand our membership base has been decimated. Year after year after year our membership base has got stronger and we've grown and grown, no we don't know what the impact of two and a half seasons away is going to have on that and how much momentum we have lost and we won't know until we go back on sale under the assumption that we have 14 games in New Zealand.
The Phoenix host the Central Coast Mariners in Wellington on Sunday and play the Western Sydney Wanderers in Auckland on 24 April.
source: https://www.rnz.co.nz/news/sport/465365/wellington-phoenix-hope-home-fans-aren-t-lost