Kareem Abdul-Jabbar: "There are times when you don't have any choice but to speak the truth"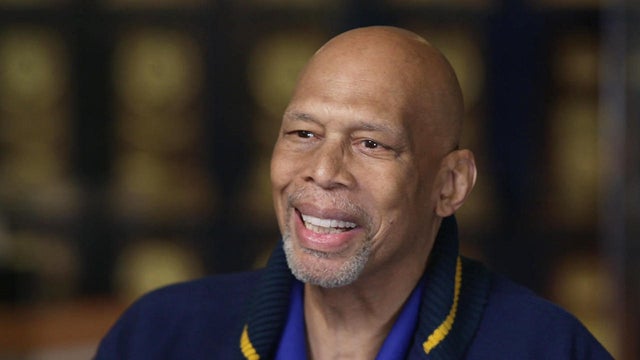 A visit to Pauley Pavilion, where Kareem Abdul-Jabbar led his UCLA Bruins to three straight national championships, is full of good memories.
"You had one loss on this court in three years? That's a crazy record!" said Axelrod.  
"Well, it's the best we could do!" Abdul-Jabbar laughed. "I'm very proud of what I did here."
His pro career – six championships, 19 times an all-star, and the all-time leading scorer when he retired from the NBA in 1989 – provides plenty to savor as well. But he'll leave it to others to consider his career. "I have thought about it, but it's over. It's done," he said.
At the age of 76, he's got other things to think about, which he's sharing on the online platform Substack, on a wide range of interests. "I'm just gravitating to things that intrigue me," he said.
Take his post on Will Smith after the Oscar slap of Chris Rock: "With a single petulant blow, he advocated violence, diminished women, insulted the entertainment industry, and perpetuated stereotypes about the Black community."
"That's critical," Axelrod said.
"It is. But he took the wrong step."
"Were you thinking, 'This is fair, but harsh'?"
"Yeah, well, slapping somebody in the face on national TV is harsh," Abdul-Jabbar replied.
"And this is the lane where you want to be as a social critic?"
"Yeah. There are times when you don't have any choice but to speak the truth."
Speaking his truth has always been a guiding principle for him. Born in New York City, he was still known as Lew Alcindor as he learned the game on courts in East Harlem. "At 14, I was 6'10". I crept up to seven feet in the next year or so."
But more than his game developed there. So did his world view. "What I learned about Black pride and Black history would not have happened if I wasn't raised here in New York and had my roots in Harlem," he said.
In the summer of 1964, a young Black man named James Powell was shot dead by a police officer, and Harlem burned. He said, "Those race riots made me aware of the anger in the Black community."
He chose UCLA mostly for its legendary coach, John Wooden. But the school's history of pioneering Black athletes also beckoned: "Jackie Robinson in baseball, Kenny Washington in football, Arthur Ashe in tennis, [they] integrated sports in America," he said.
At 20, he joined America's best-known Black athletes to support Muhammad Ali's refusal to serve in Viet Nam to protest racial injustice at home.
Axelrod asked, "Did you feel like a kid then?"
"I felt like I was gonna have to become a man in those moments," he replied.
He'd meet the moment the next year, during the 1968 Olympics. While Tommie Smith and John Carlos made statements on the medal stand in Mexico City, Abdul-Jabbar made his by staying home.
He chose not to play. "I did not want to be part of filling the world a false image of America," he said. "It was a very easy choice to make."
"Easy choice, [but] was there a price to pay?" Axelrod asked.
"I didn't have any money at the time – there was nothing they could take from me!" he laughed. "Certain things are worth more than anything that you can put a monetary value on."
"You feel like, if you go and play basketball for the U.S.A. in 1968, it's almost like you become a frontman representing a country that was not fulfilling its promise to all of its citizens at home?"
"Right. Representing a country that Jim Crow was still alive and well in? That bothered me," Abdul-Jabbar said. "I did what I could do."
Doing what he can do now is a natural extension of how Abdul-Jabbar has always lived his life.  Critical race theory, presidential politics, toxic masculinity … he's taking it all on, often with uncommon candor. Take his post on his relationship with LeBron James, who broke his scoring record this past season: "LeBron said we didn't have a relationship. And he's right – and for that I blame myself. Not for anything I did, but perhaps for not making more of an effort to reach out to him."
Axelrod asked, "So, this mission statement you have of Call it like I see it applies to you as well?"
"It has to!" Abdul-Jabbar laughed. "I can't give myself an out, expect everybody else to toe the line."
"So many other people do."
"Well, I'm not them."
But the man sportswriters labeled "sullen" wants to keep it light when possible. After all, this is the guy who made that cameo in the 1980 comedy "Airplane":
Joey: "Wait a minute – I know you. You're Kareem Abdul-Jabbar! You play basketball for the Los Angeles Lakers."Murdock: "I'm sorry, son, but you must have me confused with someone else. My name is Roger Murdock. I'm the co-pilot!"Joey: "You are Kareem! I've seen you play. My dad's got season tickets."Murdock: "I think you should go back to your seat now, Joey. …"Joey: "I think you're the greatest, but my dad says you don't work hard enough on defense. And he says that lots of times, you don't even run down court. And that you don't really try, except during the playoffs."Murdock: "The hell I don't!"
"Humor is important to you?" asked Axelrod.
"We can't be so serious that we can't smile about our shortcomings," Abdul-Jabbar replied.
Shortcomings … his, ours, the culture's. A Hall of Famer in one arena is trying to make his mark in another.
Axelrod asked, "Does it come with any dissonance? Why do I want to do this? Or, This is exactly what I want to do?"
"Well, I think I'm at this point in my life, and this is exactly what I have to do," he replied. "I have to call it like I see it. Speaking the truth, gotta do that."
     For more info:
      Story produced by John Goodwin. Editor: Ed Givnish. 
     See also: 
Jim Axelrod is the chief investigative correspondent and senior national correspondent for CBS News, reporting for "CBS This Morning," "CBS Evening News," "CBS Sunday Morning" and other CBS News broadcasts.
source: https://www.cbsnews.com/news/kareem-abdul-jabbar-social-critic-on-substack/