Hurricanes squeeze past Highlanders, Chiefs outclass Moana Pasifika
The Hurricanes have narrowly edged the Highlanders 22-21 in Dunedin.
Pouri Rakete-Stones Photo: PHOTOSPORT
Marty Banks opened the scoring for the Highlanders with a penalty goal in his 50th Super Rugby match, before Hurricanes midfielder Bailyn Sullivan made a clean break to score under the posts in the 8th minute.
Josh Dickson was the latest player to see the extended sin bin, receiving a 20-minute red card for dangerous shoulder contact on Pouri Rakete-Stones midway through the first half.
Salesi Rayasi made the most of the advantage with a slick try, and the Hurricanes carried a 14-6 lead into half-time.
Jordie Barrett extended the lead with a penalty after the break, but the Highlanders came back into the contest with a try to Andrew Makalio.
The Highlanders shot into the lead in the 67th minute courtesy of a sensational try that began inside their own 22.
Mitch Hunt put through a grubber on the left hand edge that was eventually finished frantically by Max Hicks just right of the posts.
The conversion from Marty Banks took the Highlanders to a 21-17 lead, and it looked as if the home side would emerge with an unlikely victory.
The Hurricanes snatched the lead back when replacement Aidan Morgan scored in the corner with five minutes remaining.
In dramatic circumstances, the Highlanders looked to have scored a try after the final siren had gone after a large build up of phases, but the TMO ruled that Salau Mau had been held up over the goal line and saw no clear grounding.
The win is the Hurricanes third from eight games this season, while the Highlanders struggles continue with just one win from their campaign so far.
The Hurricanes take on the Reds next Saturday while the Highlanders will face the Brumbies on Sunday afternoon.
The Chiefs have bounced back from their scoreless home defeat against the Blues last week, defeating Moana Pasifika 45-12 in Hamilton.
Luke Jacobson scored first for the hosts, followed quickly by Etene Nanai-Seturo.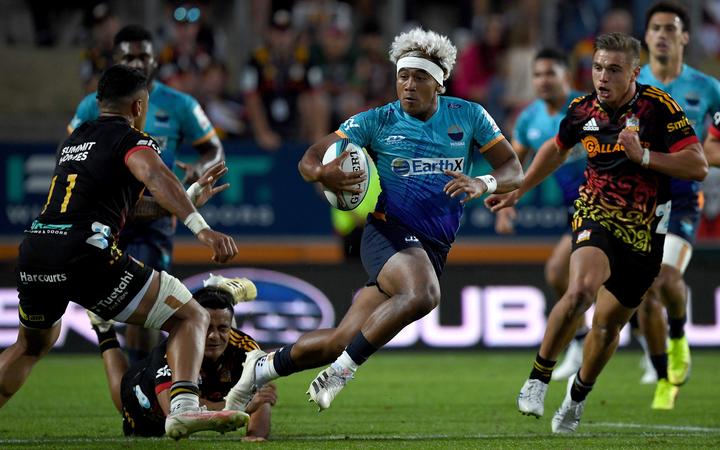 Fine Inisi breaks the line Photo: Photosport Ltd 2022
Moana Pasifika hit back through a try from Anzelo Tuitavuki, but a Bryn Gatland penalty and a late try from Alex Nankivell took the Chiefs to half-time with a 24-5 lead.
Solomone Kata scored an electric try to begin the second half and see Moana Pasifika pull within 12 points, but from that point on it was one way traffic with three unanswered tries from the Chiefs.
Nankivell and Nanai-Seturo both scored second tries, while Rivez Reihana put the icing on the cake with a try in the 79th minute to finish out the game.
Both teams will play in Melbourne next Friday for the first trans-tasman round of Super Rugby Pacific, with the Chiefs taking on the Waratahs and Moana Pasifika taking on the Western Force.
RNZ
source: https://www.rnz.co.nz/news/sport/465399/hurricanes-squeeze-past-highlanders-chiefs-outclass-moana-pasifika