How do flash floods happen and what makes them so dangerous?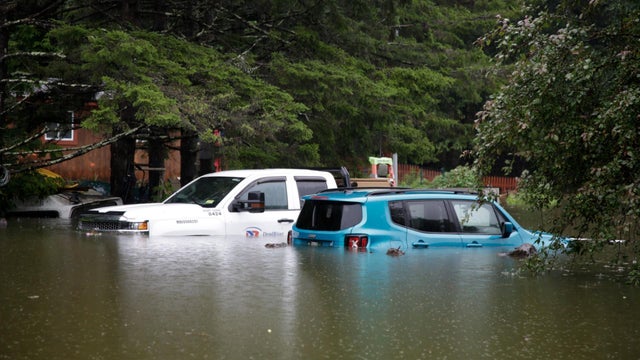 An entire summer's worth of rain hit parts of Pennsylvania, New Jersey, New York and New England over the course of just a few hours this week. Some of the flooding was so powerful it damaged roads, bridges and homes. One woman in New York was killed and heavy rains in the region continue to fuel dangerous floods. 
Nationally, floods are the most common natural disaster and flash flooding is the most dangerous type. So far this year, flooding has killed 34 people in the U.S. — 24 of those people died while driving. Since 1980, flood damage in the U.S. has on average cost more than $4 billion every year.
Flash floods develop when heavy rains hit in a short time. If there's more rain than the ground or sewage can absorb, that extra water flows downhill — a flash flood. Flash flooding can happen anywhere in the country and is most common in low-lying areas with poor drainage. These floods can develop within minutes and can even occur miles away from where a storm hits.  
Most infrastructure systems across the country are not designed to handle the level of precipitation that has hit the Northeast, Janey Camp, a research progressor and director of Vanderbilt University's Engineering Center for Transportation and Operational Resiliency, told CBS News.
"We've been on borrowed time for a while," she said. "Infrastructure in general is designed based on historical information and the trends no longer align with historical data."
Camp, who is a member of the American Society of Civil Engineers Committee on America's Infrastructure, helped write the group's 2023 report that gave the country's stormwater infrastructure a D grade. 
A warmer atmosphere holds more water and leads to heavier rainfall,  which dumps water quickly, rather than gradually across a season. 
For every 1.8-degree Fahrenheit increase in global temperatures, the atmosphere can hold 7% more water. And Earth's temperature has, on average, risen nearly 2 degrees since 1880. 
So as global temperatures rise, flash flooding gets more severe and more common. At the same time, drought is spreading across the U.S., which creates dry ground that struggles to absorb heavy amounts of rainfall.
Experts predict flash flooding will become more common and more severe in the U.S., particularly in the Mississippi River Valley, Midwest and Northeast.
"We know the climate is changing. There's still a lot of uncertainty with exactly what will happen, but we do know one thing is very true: that it will be very unpredictable from season to season. We'll see the extremes become more extreme," said Joshua Faulkner, research assistant professor and Farming and Climate Change Program Coordinator at The Center for Sustainable Agriculture at the University of Vermont. 
Flash flood waters can move more quickly than coastal or river flooding. Six inches of fast-moving water is powerful enough to sweep adults off their feet, while 12 inches can carry away cars and 18 to 24 inches can carry away trucks and SUVs. According to FEMA, nearly half of all flash flood fatalities are auto-related. 
Life threatening flash flooding continues across much of Vermont today. If traveling, heed all road closures and never attempt to drive around barriers blocking a flooded road. Many flood deaths occur in cars swept downstream. It is NEVER safe to drive or walk into flood waters! pic.twitter.com/hZp5x72haO
Flood waters can carry dangerous debris and contaminants like raw sewage, agriculture waste or chemicals. They can bring down still-active power lines and spread disease by polluting water sources. 
The best way to stay safe from flash flooding, experts and officials say, is to be prepared, heed warnings and stay away from flood waters. 
If local officials issue an evacuation warning, leave immediately via your community's evacuation routes. If you're driving through a flash flood and your vehicle stalls, immediately abandon it and seek higher ground. If you're in need of shelter, find the nearest Red Cross location. 
Know if your community is prone to flooding, have a go-bag, waterproof important documents, buy flood insurance and have an emergency plan for you and your family, pets included. 
Camp said those who can afford to be prepared, do so — so when disaster strikes, first responders can give their attention to the people who need it most. 
CBS News reporter covering climate change and energy.
source: https://www.cbsnews.com/news/what-causes-flash-floods-why-are-they-dangerous/