Phoenix blow two-goal lead in draw with Perth
Former Wellington Phoenix striker David Williams haunted his old club with a brace as Perth Glory fought back to square their A-League match 2-2 in Palmerston North.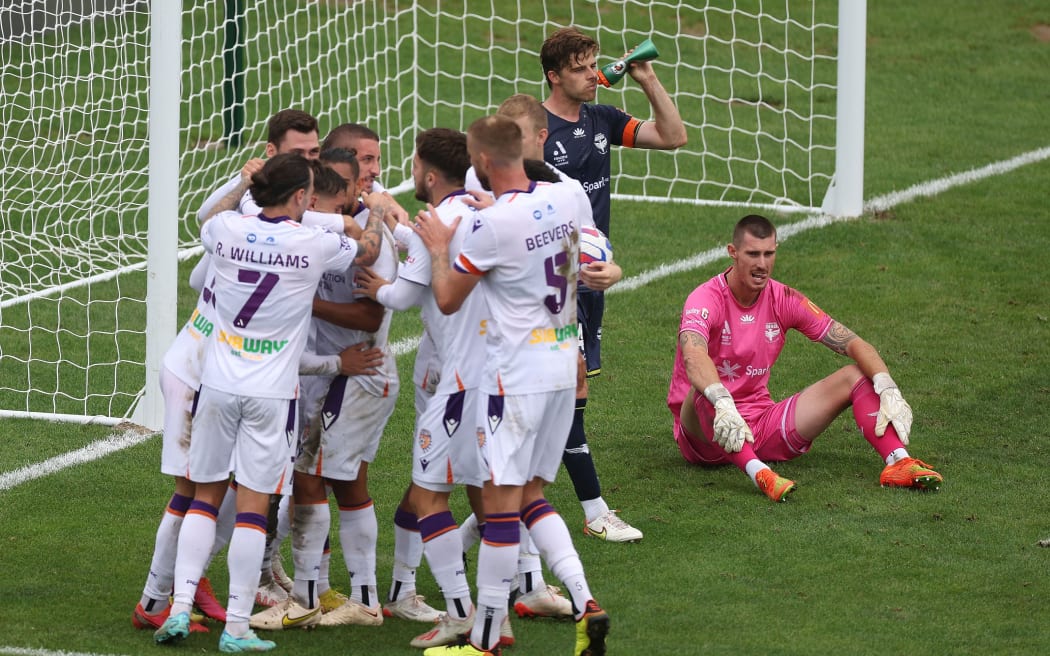 The Glory celebrate a goal as Phoenix's goal keeper Oli Sail sits dejected during their A-League match in Palmerston North. Photo: Photosport
Wellington squandered a two-goal advantage, not helped by losing defender Tim Payne to a contentious red card with half an hour remaining.
Perth dominated the closing stages and Williams was able to bag his second in the 80th minute to bring Wellington's three-match winning run to an end.
The Phoenix climbed to a provisional third place in the standings but it could have been second place if they'd preserved the early lead established through goals to Oskar Zawada - his fourth in four games - and Kosta Barbarouses.
Williams - who was a prolific performer during his former stint with the Phoenix - responded with a goal before halftime and he was the player brought down by Payne which resulted in the red card following a VAR delay.
The visitors also struck the crossbar twice in the dying stages but couldn't find a winner.
Phoenix head coach Ufuk Talay felt Payne should never have been shown a red card for his foul on Williams.
"I tried to have a look at it again in the changing room," Talay told journalists.
"I thought one, he (Williams) was never going to get to the ball and two, I think Cal Elliot's behind Payney as well to be able deal with it.
"Obviously the officials had a long look at it…and decided it was a red card which I thought was quite soft."
Talay says the decision had a big impact on the game.
"We had to change our formation and we had to make a sub. I felt the boys did well. Just probably that last lapse…and they score the second.
"To be honest…I could possibly say we got a bit lucky. The ball hit the post a couple of times.
"The main thing was playing with 10 men we didn't lose the game and we walk away with one point."
Talay made one enforced change to his starting XI, with Steven Ugarkovic replacing the injured Clayton Lewis at the base of the Phoenix midfield.
The Wellington Phoenix now face four matches on the road in February, starting this Friday when they visit the bottom of the table Melbourne Victory.
- RNZ
source: https://www.rnz.co.nz/news/sport/483270/phoenix-blow-two-goal-lead-in-draw-with-perth