NZ relay triathletes second at world sprint championships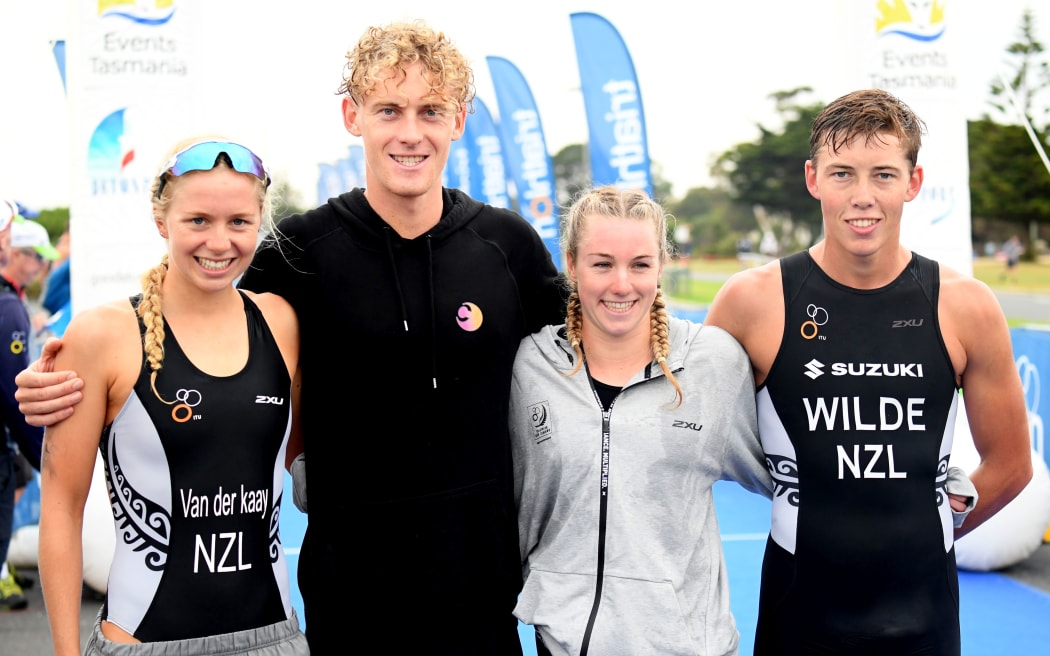 New Zealand have finished second behind Germany in the mixed relay at the world sprint triathlon championships in Hamburg.
The team was spearheaded by Hayden Wilde, who won the men's individual title a day earlier, while Ainsley Thorpe, Tayler Reid and Nicole Van Der Kaay helped clinch New Zealand's first relay medal since 2019.
A silver medal completes a full set for New Zealand at the three-day championship, following Wilde's gold and a bronze to the quartet of Dylan McCullough, Brea Roderick, Saxon Morgan and Hannah Knighton in the under-23 relay on Sunday.
Germany grabbed the automatic Olympic qualification slot on offer in the elite relay but Wilde said New Zealand showed they could be a force at the Paris Games next year.
"I think we've been racing with each other since like 2018 so we know each other inside and out and yeah, give us another year under our belt and I think we'll be definitely in the running for a medal," Wilde said.
"The team carried me today. I had a bit of a low par swim but did good on the bike and the run trying to get us back into contention and we were super lucky to have a strong group with Ainsley. Ainsley did a perfect race with a tactical move and ran brilliantly."
It was New Zealand's first relay medal since the same quartet clinched gold at the world championships in Edmonton in 2019.
New Zealand held the lead when Van der Kaay was tagged for the final leg.
The Taupo 27-year-old was passed by Germany's Laura Lindemann in the water but did enough from there to hold on for silver.
"I did what I could. I dropped a bit on the swim but I'm really happy with my bike and run…and also really stoked for the team," she said.
- RNZ
source: https://www.rnz.co.nz/news/sport/493832/nz-relay-triathletes-second-at-world-sprint-championships