Auckland floods: Emergency alert issued as more rain forecast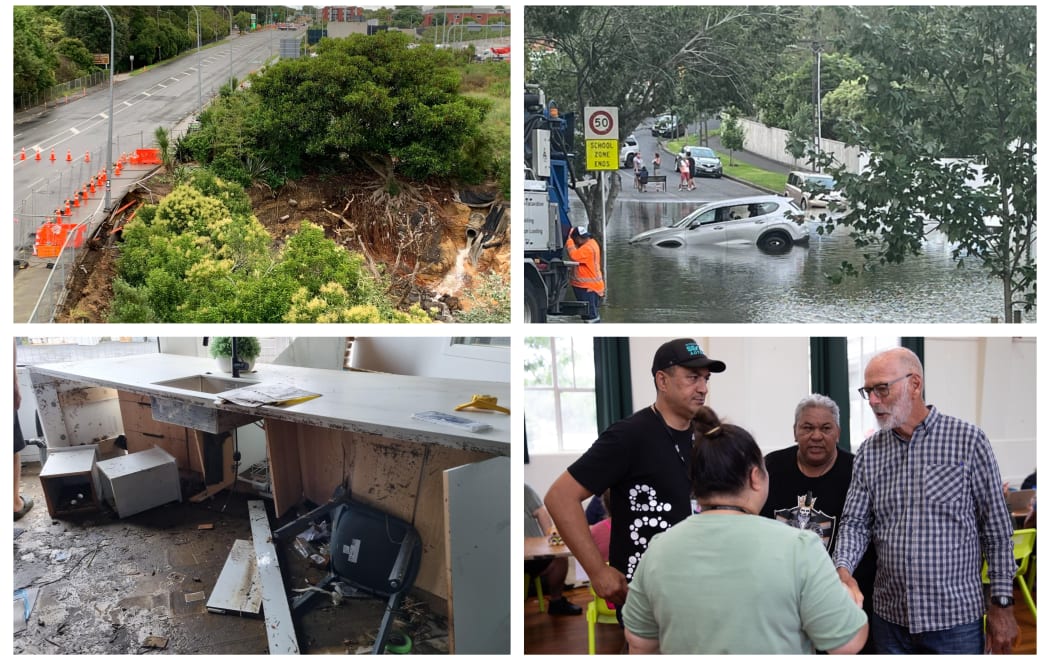 The belt of rain that caused Auckland's wettest day on record moved south on Sunday, leaving more devastation in its wake.
But with more rain forecast for the city overnight, Auckland Emergency Management issued an alert to Aucklanders' mobile phones shortly before 8pm warning of the potential for "very high intensity, localised downpours".
Both Auckland Region and the Waitomo District are under states of emergency, with four deaths related to the flooding now confirmed.
Here's a wrap of everything you need to know.
MetService says a slow-moving low is expected to remain to the northwest of the upper North Island until Tuesday, before beginning to move south.
Heavy rain warnings are in place for Northland, Auckland and Coromandel Peninsula until Monday, with localised downpours of 25 to 40mm/h possible in some areas, the forecaster said.
There are also severe thunderstorm watches in place for Northland and Auckland until 10am on Monday.
The forecast rain and thunderstorms could make driving conditions hazardous and cause rivers and streams to rise rapidly, MetService said.
Further south, severe thunderstorm warnings are in place this evening for Upper Hutt City, South Wairarapa, Manawatu, Tararua, Kapiti-Horowhenua and Wairarapa.
A fourth victim of the Auckland flooding was found on Sunday, police said.
Search and rescue personnel found the body of a man about one kilometre downstream from where a person went missing after being swept away by floodwaters in Onewhero on Friday.
While formal identification was yet to be completed, it was believed to be the missing man.
Earlier on Sunday, police also released the name of the person whose body was found in a culvert on Target Road, Wairau Valley, on Friday evening. He was local man Daniel Mark Miller, 34.
RNZ also understands that the man killed in a Remuera house collapse on Friday was a beloved volunteer at MOTAT museum, Dave Lennard.
Friends are paying tribute to him on social media.
Stuff reported that Lennard, in his 80s, was much loved at MOTAT.
"He was one of those guys who could make anything and teach himself how to use new equipment with ease," friend Evan James told Stuff.
Another person, who is yet to be named, was found dead in the early hours of Saturday morning, after police were called to a flooded carpark on Link Drive, also in Wairau Valley.
Speaking on Sunday afternoon, Deputy Prime Minister Carmel Sepuloni said it had been "incredibly heartening" to see the way Aucklanders had helped one another out since Friday's unprecedented weather event.
"We do have each others' backs, it's been so incredibly heartening to see the mammoth community impact first hand," she said.
Individual housing assessments were being undertaken by agencies, with an eye to supporting the most vulnerable in Auckland, she added.
"I really want to reiterate that support and shelter is there for people and whānau in need."
She encouraged those who needed aid to call the Ministry of Social Development's support line on 0800 400 100.
Auckland's mayor said lessons had been learned following the region's highest ever rainfall over 24 hours, which left four people dead and forced hundreds of people out of their homes.
Wayne Brown had been criticised for not calling a state of emergency earlier on Friday night.
In a press conference on Saturday, he went on the defence, saying the response to Friday's storm took a lot of concentration, happened quickly and the response was much quicker than people believed.
He said then that he followed the advice of the professionals when deciding whether to declare an emergency.
But during a visit to a community hall in Māngere on Sunday, Brown said emergency managers may have made some incorrect decisions.
At a press conference, Fire and Emergency's Ron Devlin said the organisation had received upwards of 3000 calls in the past 48 hours.
He acknowledged the "tremendous" impact the storm had had on Aucklanders and praised the fire-fighters who had carried out rescues and responded to the many emergency incidents.
They would continue to support those who needed help and were bringing in extra crews from around the country, he said.
Crews would also be sent up to Northland given the bad weather forecast there, he added.
Photo: Supplied/ John Stephens
Auckland residents with homes teetering on cliff edges are facing an anxious few days to see if more forecast heavy rain will cause further drama for their properties.
On Sunday evening, Auckland Council confirmed 141 properties had been yellow-stickered amid the floods and 30 red-stickered.
Red stickers mean an inspector has assessed a property as unsafe to enter. Yellow stickers can restrict access to certain parts of a building, or only to enter for a short time to remove valuables.
Several highways remain closed in the upper North Island and Waka Kotahi said flooding was continuing to cause problems on some motorway off-ramps.
Roads with closures include:
Transport Minister Michael Wood said there would be a long-term impact on roads due to the floods and that one highway had had 48 truckloads of debris cleared from it.
He thanked Waka Kotahi staff who had been working tirelessly to get roads open around the country.
"We can't help the adverse weather, but we can do as well as we can to work together by being patient, that will help others."
Watercare said many of its waste water pump stations had been flooded, causing damage to electrical components.
Its chief operations officer, Mark Bourne, said some smaller sites had been repaired but two large pump stations on the North Shore were badly damaged.
After asking North Shore residents to reduce their water usage "until further notice" on Saturday, Watercare tweeted late on Sunday that people could once again use their washing machines.
Across the city, people volunteered their time to help as clean-up efforts got underway.
Among those rolling up their sleeves at the Ellen Melville Hall in the central city was pop star Lorde.
The High Street site is offering showers, washing, hot food and other support services for impacted residents.
Auckland Airport reopened after its international terminal was inundated with water on Friday but its chief executive said it could be several days before flight schedules returned to normal.
Carrie Hurihanganui said 1000 travellers were expected to be able to depart on rescheduled flights following a frustrating two days.
The Auckland Anniversary Day Regatta was cancelled as the clean-up continued across the city.
In a statement, the regatta committee said it had taken the "difficult decision" on Sunday morning to cancel the 183rd Auckland Anniversary Day Regatta.
"With strong winds and heavy sea state forecast tomorrow, plus reports of substantial debris in the harbour from the rain, and emergency services already stretched dealing with the effects of the flooding, the safety of everyone is our number one concern," it said.
Other events that had already been cancelled included Auckland's Laneway Festival and Tauranga's two-day One Love festival.
Those who need to evacuate their homes and who cannot stay with friends or whānau can go to one of the following:
People are asked to bring any essential items they may need with them, e.g. medication, warm clothing, and baby items.
source: https://www.rnz.co.nz/news/national/483314/auckland-floods-emergency-alert-issued-as-more-rain-forecast