3 CD benefits you may not have known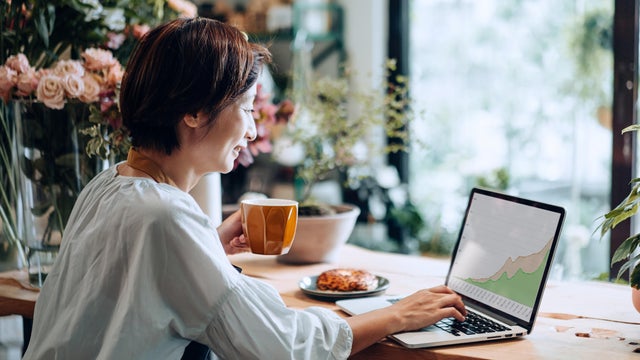 Putting your savings in a certificate of deposit (CD) can be a smart choice, especially considering how high interest rates are today.
CDs have a lot to offer anyone focused on growing their savings. Some CD interest rates reach as high as 5.30% APY — among the highest you'll find from deposit accounts today. And you'll get to lock in today's high rates for the entire term, guaranteeing a solid return on your cash. Plus, as long as you don't withdraw your deposit early, you can avoid paying any fees or penalties on your account.
But you may be able to maximize your CD even more by taking advantage of some of other, under-the-radar benefits that can help you reach your savings goals faster.
Start saving more today with one of the best CD rates available now.
Here are three benefits of CDs that every saver should know:
A traditional CD with a fixed rate, fixed term and penalty for early withdrawal isn't your only option. In fact, there are a number of different CD types, all with different features and benefits to suit a variety of needs. If you're hesitant to open a CD because you don't want to pay an early withdrawal penalty or you want to make additional contributions over time, consider more flexible CD types that may suit your preferences better.
Here are a few CD types to know about today:
Find out how much you can earn with a CD here now!
While it's true that CDs typically incur a penalty for early withdrawals, many banks will allow you to withdraw the interest you earn without penalty before your CD matures.
When you open your CD, you may be able to receive regular interest payments, rather than having the interest added to your balance. Depending on how much you put in your CD, this could result in a substantial regular payment or one-time withdrawal before the CD matures. 
However, you should be aware that taking interest disbursements from your CD means you'll miss out on the power of compounding interest. When you let the interest accrue, you'll ultimately gain more, since you'll earn interest on top of that interest. However, it can still be nice to have the option to withdraw interest when you need to, for some added flexibility.
You can also benefit from the options you'll have for your cash once your CD reaches maturity. In general, banks will allow a grace period of 10 days after the end of the CD term for you to decide what to do. 
For one, you can ask to have your full balance transferred to another account or mailed to you via check. This may be the best choice if you had a savings goal for the money and now want to use it, or you're planning to open a different account (such as a high-yield savings or different type of CD). 
If you don't need the money immediately, you can also roll the CD over to a new one with the same bank at the interest rate that's currently offered. In some cases, there may even be added incentive for your loyalty. A few banks offer a slightly boosted rate on your new CD as a renewal bonus. While this may not be a game changer for your savings, it can help outpace the interest you'd earn elsewhere.
Compare today's top CD rates here now to find the best option for you.
A CD can help you get the best interest rates possible on your savings today. Once you choose a CD term and decide how much you want to deposit, it can pay to read all the details of any accounts you're considering. Added benefits like the CD types offered, how you receive your interest earned and withdrawal options at maturity can be useful to keep in mind when you compare accounts to find the right one for you.
source: https://www.cbsnews.com/news/cd-benefits-you-may-not-have-known/