CPTPP: The UK officially joins at meeting in Auckland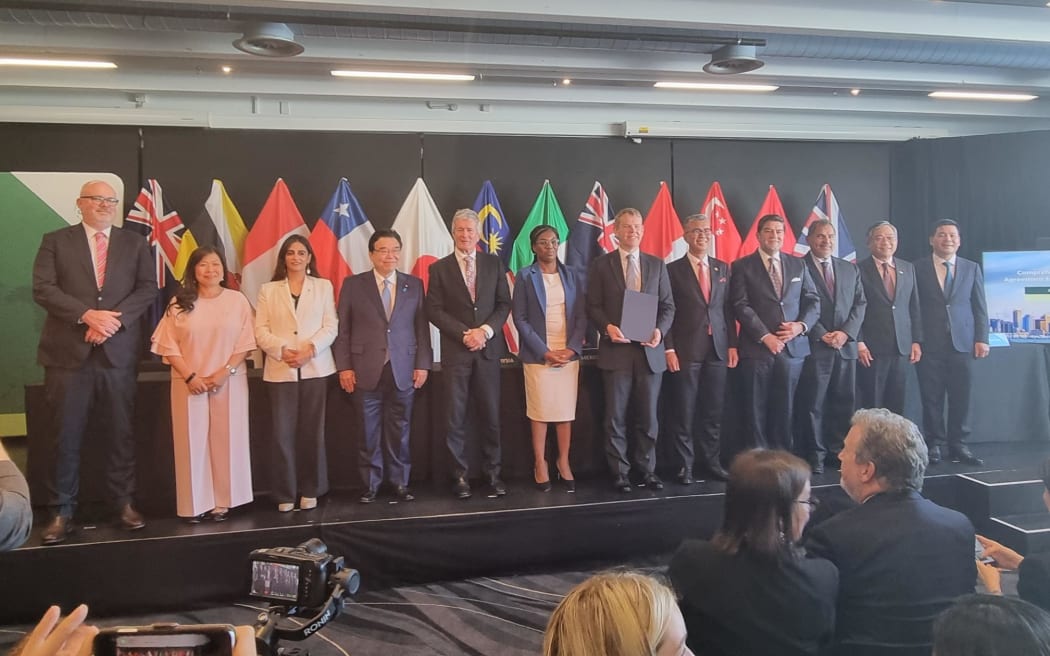 Ministers representing the signatories to the Comprehensive and Progressive Agreement for Trans-Pacific Partnership in Auckland on 16 July 2023. Photo: RNZ / Giles Dexter
The government's most significant meeting in New Zealand since the pandemic has been held in Auckland today, with the UK officially becoming the first new CPTPP signatory outside the original grouping.
Trade ministers from 12 countries gathered on Sunday to discuss the Comprehensive and Progressive Agreement for Trans-Pacific Partnership (CPTPP).
The CPTPP is a trade deal of 11 Pacific nations including Australia, Brunei, Canada, Chile, Japan, Mexico, New Zealand, Peru, Singapore, Vietnam - and, last year, Malaysia.
Together they cover a population of more than 500 million people, and accounted for 12 percent of global GDP in 2021, with the UK's accession expected to increase that to 15 percent - $21 million in New Zealand currency.
New Zealand Prime Minister Chris Hipkins said the United Kingdom's accession to the CPTPP was great news for the region.
"Worth $60 billion in two-way trade with partner economies, this agreement is providing significant benefits and opportunities for our exporters. By welcoming the UK into the CPTPP family we will only see those economic opportunities for growth and recovery further increase."
Trade Minister Damien O'Connor said the United Kingdom is a G7 member and the world's sixth-largest economy.
"It is also committed to high standard, rules-based trade, making it a perfect fit for CPTPP.
"Having the UK inside the tent will strengthen the rules-based trading system in our region, benefiting New Zealand exporters, providing greater certainty, and enhancing regional supply chains for trade."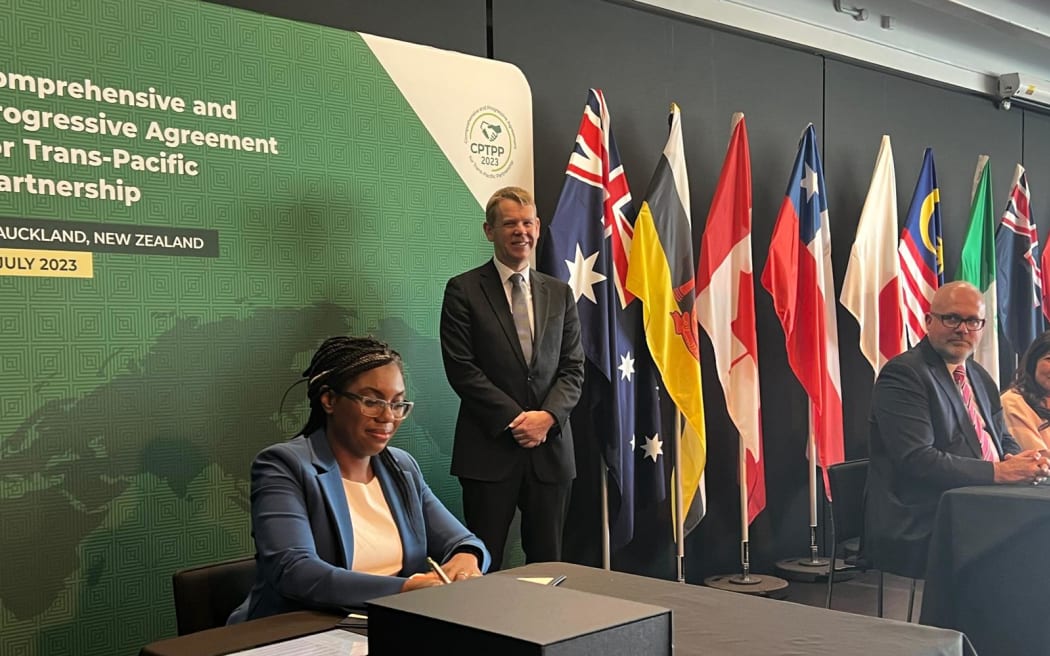 UK Secretary of State for Business and Trade Kemi Badenoch signing the Comprehensive and Progressive Agreement for Trans-Pacific Partnership as New Zealand Prime Minister Chris Hipkins looks on. Photo: RNZ / Giles Dexter
source: https://www.rnz.co.nz/news/national/493803/cptpp-the-uk-officially-joins-at-meeting-in-auckland