Floods and landslides kill at least 50 as monsoon rains lash Pakistan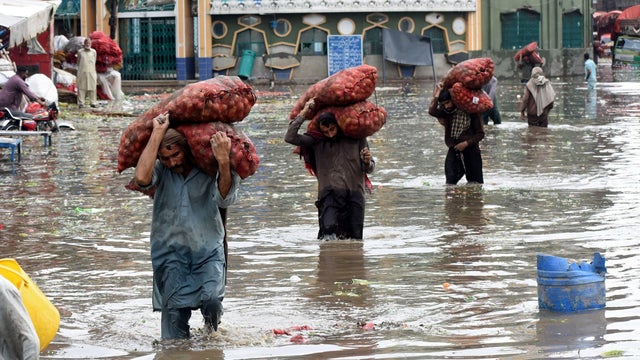 Lahore — At least 50 people, including eight children, have been killed by floods and landslides triggered by monsoon rains that have lashed Pakistan since last month, officials said Friday. The summer monsoon brings South Asia 70-80 percent of its annual rainfall between June and September every year. It's vital for the livelihoods of millions of farmers and food security in a region of around two billion people, but it also brings devastation.
"Fifty deaths have been reported in different rain-related incidents all over Pakistan since the start of the monsoon on June 25," a national disaster management official told AFP, adding that 87 people were injured during the same period.
The majority of the deaths were in eastern Punjab province and were mainly due to electrocution and building collapses, official data showed.
In northwestern Khyber Pakhtunkhwa province, the bodies of eight children were recovered from a landslide in the Shangla district on Thursday, according to the emergency service Rescue 1122's spokesman Bilal Ahmed Faizi.
He said rescuers were still searching for more children trapped in the debris.  
Officials in Lahore, Pakistan's second-largest city, said it had received record-breaking rainfall on Wednesday, turning roads into rivers and leaving almost 35% of the population there without electricity and water this week.
The Meteorological Department has predicted more heavy rainfall across the country in the days ahead, and warned of potential flooding in the catchment areas of Punjab's major rivers. The province's disaster management authority said Friday that it was working to relocate people living along the waterways.
Scientists have said climate change is making cyclonic storms and seasonal rains heavier and more unpredictable across the region. Last summer, unprecedented monsoon rains put a third of Pakistan under water, damaging two million homes and killing more than 1,700 people.
Storms killed at least 27 people, including eight children, in the country's northwest early last month alone.
Pakistan, which has the world's fifth largest population, is responsible for less than one percent of global greenhouse gas emissions, according to officials. However, it is one of the most vulnerable nations to the extreme weather caused by global warming.
Scientists in the region and around the world have issued increasingly urgent calls for action to slow global warming, including a chief scientist for the Nepal-based International Centre for Integrated Mountain Development (ICIMOD), which released a study this year about the risks associated with the speed of glacier melt in the Himalayas.
"We need to reduce our greenhouse gas emissions as quickly as we can," ICIMOD lead editor Dr. Philippus Wester told CBS News' Arashd Zargar last month. "This is a clarion call. The world is not doing enough because we are still seeing an increase in the emissions year-on-year. We are not even at the point of a turnaround."
source: https://www.cbsnews.com/news/pakistan-monsoon-2023-flooding-landslides-deaths/