Historic deep freeze to hit US northeast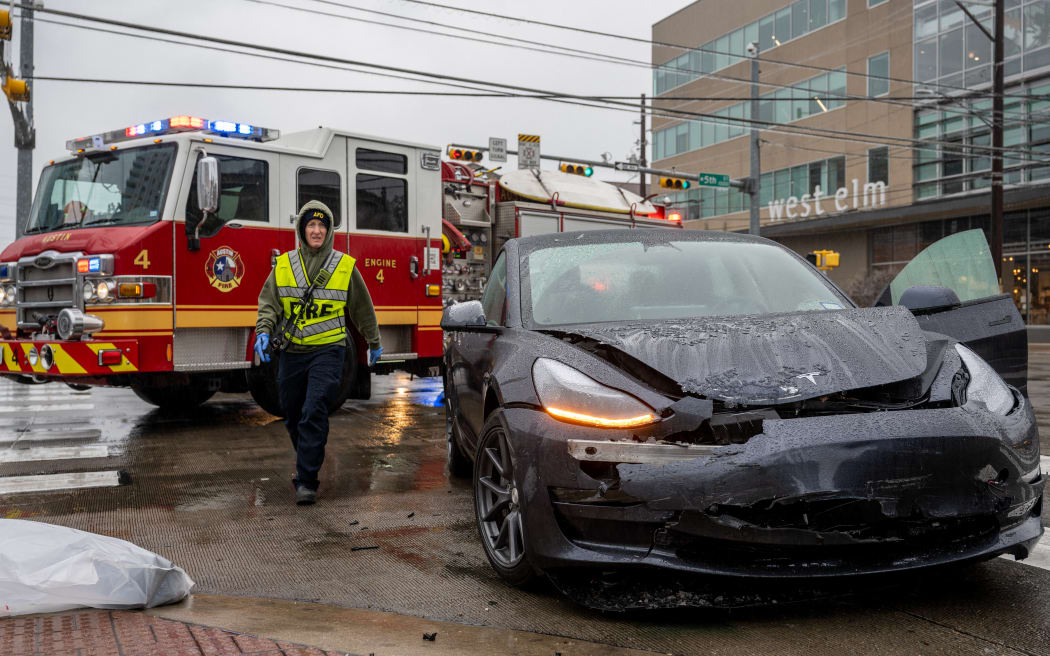 A winter storm is sweeping across portions of Texas, causing massive power outages and disruptions of highways and roads. Photo: Brandon Bell / Getty Images / AFP
A record-breaking deep freeze is expected in the northeast of the United States as thousands in the country's south remain without power after a deadly ice storm.
The cold blast could bring "once-in-a-generation" wind chills that cause frostbite in less than 10 minutes, the National Weather Service warned.
Residents from Pennsylvania to Maine are being urged to limit their time outdoors through Friday and Saturday (US time).
Boston, which is anticipating sub-zero wind chills, is under a cold emergency.
"I urge all Boston residents to take precautions, stay warm and safe, and check on your neighbours," Mayor Michelle Wu said in a statement.
Temperatures in New York City and other major cities are also expected to drop to about -13C to -17C by Saturday, although forecasters predict they will rebound by the end of the weekend.
At least eight people have died in the bad weather across the US south over the past several days.
More than 500,000 people were without power as of Thursday afternoon in Texas, Arkansas, Tennessee and Mississippi, according to poweroutage.us.
The ice storm in the region, which is expected to come to an end later on Thursday, has forced US airlines to cancel thousands of flights.
More than 700 flights were cancelled on Thursday morning, in addition to 2300 cancelled the previous day, with airports in Dallas and Austin being the most impacted.
The storm has brought a mix of freezing rain and sleet to south-central parts of the US, spreading from Tennessee to Texas, since Monday. More than 12 million people, including in Dallas, Fort Worth, Little Rock and Memphis were under an ice storm warning through Thursday. Ice is expected to melt by Friday as temperatures rise.
This weather phenomenon was caused by an Arctic cold frontal passage making its way south, where it was confronted with warm and moist air from the Gulf of Mexico.
Emergency crews in Texas have responded to hundreds of collision calls since Monday, some of which have been fatal. Three men were killed in a crash near Brownfield, south-west of the Texas city of Lubbock, according to the state's Department of Public Safety.
One person in Austin was killed in a car pileup on Tuesday, local authorities said. Another 45-year-old man died on Monday in Arlington after his SUV slid into a highway guardrail, while a student died in a rollover crash in Wolfforth, according to local outlet KCBD.
A 49-year-old woman was also killed while driving on an icy road north of Eldorado, Texas officials told CNN.
Several local police departments have urged motorists to drive carefully. The Dallas Police Department asked people to make sure their tyres are inflated, to slow down on icy roads and to avoid using cruise control.
The weather service said that road travel remains hazardous across the region that spans from Texas to Tennessee. Tree damage and further power outages were also possible before the ice begins to melt, it said.
-BBC
source: https://www.rnz.co.nz/news/world/483575/historic-deep-freeze-to-hit-us-northeast-as-ice-storm-subsides-in-south