Could safe racing spots curb dirt-bikers on streets?
The lack of places to race safely could be one of the reasons dirt-bike street rides are happening in Auckland, a biker club president says.
On Easter Sunday, a group of more than 30 people were seen driving on foothpaths and through red lights in Britomart in Auckland during the day.
Southern Bike Riders Club president Zane Christey said that part of the issue is the restricted access for places to ride.
His club is based in the South Island - but he said lack of access to the sport is nationwide.
"It all comes down to access to the sport. Otherwise it's just about people hanging out with each other and pushing the limits of safety and where they can ride, even pushing the limits of the law."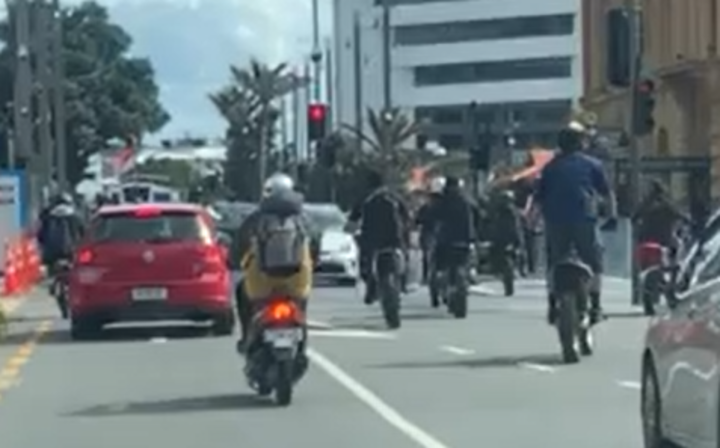 Screengrab of a group of 30 bikers driving through red lights in Auckland Photo: RNZ/ Rayssa Almeida
Christey said that the lack of locations for dirt-biking could be one of the reasons why young adults are bringing the sport to the city, in a unsafe and dangerous way.
"The sport in general can be expensive, it's not just the bike, the fuel and the gear. It's the race fees, it's the travel to the event. It's a fairly big commitment."
More than 130 people were charged and 44 arrested for dangerous driving and sustained loss of traction in an operation by Counties Manukau Police earlier this year.
Traffic law specialist Steven Cullen said it is hard to prosecute the drivers because they often drive in a pack.
"These types of offenders can disperse in a multiplicity of directions at high speed and the police find themselves in a situation that can endanger members of the public persuing them".
Police this year have impounded bikes in in Clover Park, Manurewa, East Tamaki, Ōtara, Wattle Downs, Conifer Grove and Takanini.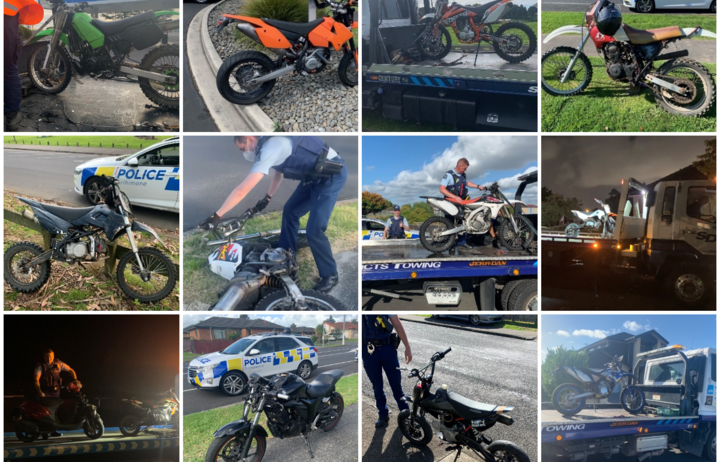 In a year-long operation, 59 dirt bikes and 39 vehicles were impounded. Photo: Supplied / NZ Police
In 2021, almost 2500 vehicles were stopped and inspected over the year as part of the operation.
Christey said that the sport is popular with young adults because of the adrenaline.
"Dirt biking gives you a thrill, riding gives you a thrill, but you have to do it in a safe way. The lack of experience in the sport combined with the young age can sometimes end up in reckless driving, putting themselves and others in danger."
Regarding the ride in Quay Street at Easter, the police said that the group was dispersed but no one was arrested or charged.
Manukau Police are investigating households in the region that are being used to organise illegal races.
source: https://www.rnz.co.nz/news/national/465799/could-safe-racing-spots-curb-dirt-bikers-on-streets