Pelosi endorses Schiff in California Senate race if Feinstein retires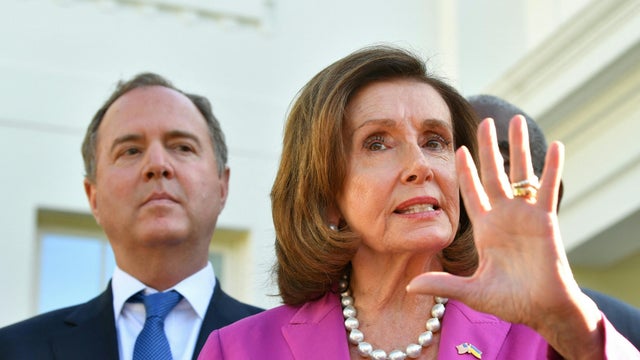 Washington — Former House Speaker Nancy Pelosi has endorsed fellow Democratic Rep. Adam Schiff for the U.S. Senate if Sen. Dianne Feinstein of California decides to retire at the end of her term.
"If Senator Feinstein decides to seek re-election, she has my whole-hearted support," Pelosi said in a statement. "If she decides not to run, I will be supporting House Intelligence Committee Chair Adam Schiff, who knows well the nexus between a strong democracy and a strong economy."
Pelosi, who holds the title of speaker emerita and has represented her San Francisco district since 1987, said Schiff would be "effective from the start in putting people over politics and advancing an economy that works safely and for everyone" in the Senate.
Schiff announced last week that he would mount a bid for the California seat in 2024, joining Rep. Katie Porter, a fellow Democrat, in the race to replace Feinstein. Rep. Barbara Lee has also told colleagues she will run for the Senate in 2024.
Feinstein, who has held her seat since 1992, has not said whether she will seek reelection or step aside at the end of her term, and told reporters last week that she expects to make a decision about her political future in "a couple of months." The 89-year-old is the oldest member of the Senate and has faced mounting pressure to retire.
Pelosi praised Feinstein for her decades of service in the Senate, saying she has been a "champion for democracy and working families."
"America is at a crossroads," she said. "We can continue to lift our communities, strengthen our economy and defend our democracy — or let Republicans roll back our progress, threaten our freedoms and give tax breaks to the wealthy special interests. In 2024, the fight for America's future is on the ballot."
Schiff led the House Intelligence panel in the last Congress and played a key role in the first impeachment against former President Donald Trump as an impeachment manager. He was also a member of the House select committee that investigated the Jan. 6, 2021, assault on the U.S. Capitol. 
House Speaker Kevin McCarthy blocked Schiff from serving on the Intelligence panel again, claiming he lied to the public during the 2019 impeachment proceedings. 
source: https://www.cbsnews.com/news/nancy-pelosi-adam-schiff-2024-california-senate-race-dianne-feinstein-retires/