Call for action over forestry slash in Tairāwhiti
A former Gisborne district councillor hopes the council will step in to tighten forestry regulations after photos emerged showing logs clogging a river in Tairāwhiti during recent flooding.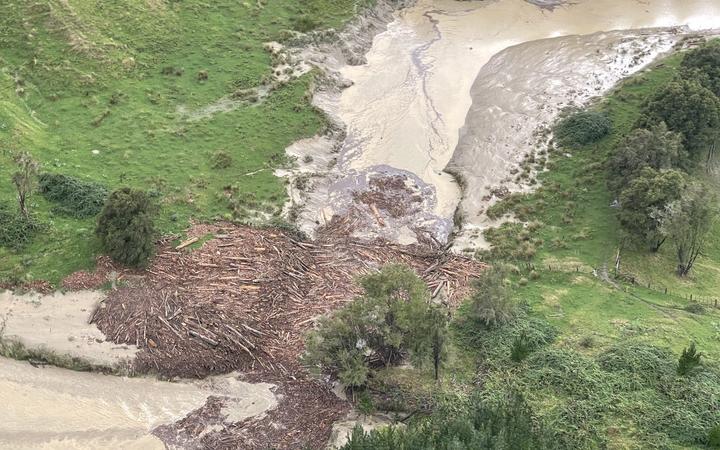 Forestry slash in a river north of the Anaura Bay turnoff on SH35 near Gisborne. Photo: LDR / Supplied / Uawa Live
Meanwhile, Gisborne District Council has not confirmed if prosecutions will be made over forestry slash following the recent rain events, but says it is possible.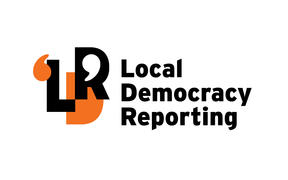 Ruatoria-based Manu Caddie voiced concern about tonnes of logs and debris clogging waterways, after photos taken by media company Uawa Live showed a jam near Anaura Bay.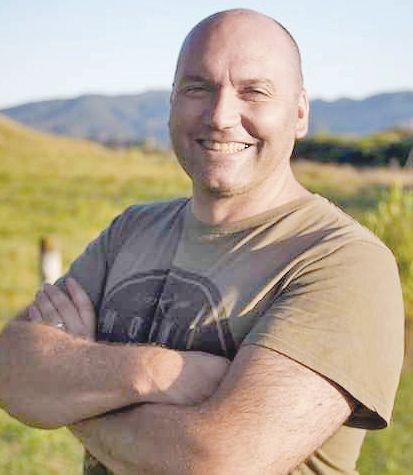 Manu Caddie. Photo: LDR / Supplied
It comes after Eastland Wood Council - a collective voice for the forestry sector here - said it was encouraged by the "relatively small" amount of pine found in waterways and on beaches following the flooding two weeks ago.
The forestry council said its early investigations indicated much of the debris washing up was a mixture of poplar and willow riparian plantings.
But Caddie is upset at the inference there isn't as much slash as previous floods in the district, and fears the forestry council is minimising the impact of its industry on the region.
"I think the opposite is true if you look at what the situation on the ground is," Caddie said.
"With the (district) council, there's some issues with the current rules, and the enforcement of the rules.
"While they have taken prosecutions for the 2018 event, it's clear that the practices aren't improving sufficiently even with that action. I wonder if there needs to be a proper review of all consents relating to forestry activities."
Slash, or slashings, are wood debris created through logging operations that have proved to be an ongoing problem for the East Coast following heavy rain events.
The council says it is too early to determine if it will prosecute following the recent flooding.
"The council is currently assessing the woody debris on city and coastal beaches and if it appears there have been breaches of the Resource Management Act, it will carry out further investigations," Gisborne District Council compliance monitoring and enforcement manager Gary McKenzie said.
In June 2018, the council prosecuted 10 companies for slash following similar rain events, the first two of which were fined a combined total of over $500,000.
Court proceedings have continued since, with a number of other companies fined, and an email obtained by Local Democracy Reporting shows at least one case is still ongoing.
In the email, lawyer Adam Hopkinson, representing the council, said a case involving company Ernslaw One Ltd was still before the court and was awaiting allocation of a disputed facts hearing.
East Coast residents have provided a range of opinions on the volume of slash from the March flooding.
At a stretch of coastline about three hours north of Gisborne, Graeme Atkins called the situation a "bloody mess".
Atkins said rubbish washed up between the mouth of the Waiapu River and Port Awanui after heavy rain, and suggested planting out riparian strips in front of the edge of rivers could be a solution.
He said the slash from last month's flooding seemed less than in 2018.
Just outside Gisborne, Makorori resident Margaret Hansen said it was only the second time in her 42 years of residence she had seen debris accumulate over a 3km stretch of the beach.
On 24 March, the Gladstone Rd bridge on State Highway 35 in Gisborne was closed for several hours to remove debris that had floated down the Waimata River.
Local Democracy Reporting is a public interest news service supported by RNZ, the News Publishers' Association and NZ On Air.
source: https://www.rnz.co.nz/news/national/465087/call-for-action-over-forestry-slash-in-tairawhiti