Athletes code switch in Commonwealth Games celebration
Experienced athletes and those on the cusp for selection for the first time were among the dozen athletes marking the 100-day to go milestone until the Birmingham 2022 Commonwealth Games.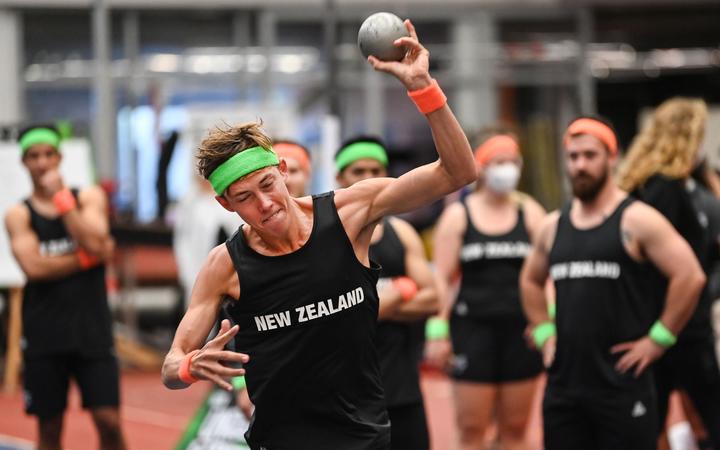 Triathlete Hayden Wilde gives shot put a go at a celebration to mark 100 days until the Birmingham Commonwealth Games. Photo: PHOTOSPORT
Athletes from a range of Commonwealth Games sports including triathlon, weightlifting, lawn bowls, swimming, diving, athletics, basketball, hockey, gymnastics and netball gathered at AUT Millennium in Auckland to compete in a multi-sport competition to mark the occasion.
Olympic bronze medal-winning triathlete Hayden Wilde is working towards selection to the team for the Games.
"It'd be an awesome experience to make it to Birmingham and get to wear the fern again," the 24-year-old said.
"I haven't competed at a Commonwealth Games before so it'd be pretty special for me. I'm feeling really good in my racing and this 100-day milestone makes it pretty real.
"As far as I'm concerned the Games can't come soon enough, bring it on."
Hammer athlete Julia Ratcliffe is also working towards being selected for the New Zealand team and will be hoping to defend the gold medal she won at Gold Coast 2018.
"The Commonwealth Games are always special," Ratcliffe said.
"There's so much great competition and it really does mean a lot to us as New Zealanders.
"I'm tracking well and there's three of us New Zealand female hammer athletes hoping to make it to Birmingham which would be pretty amazing."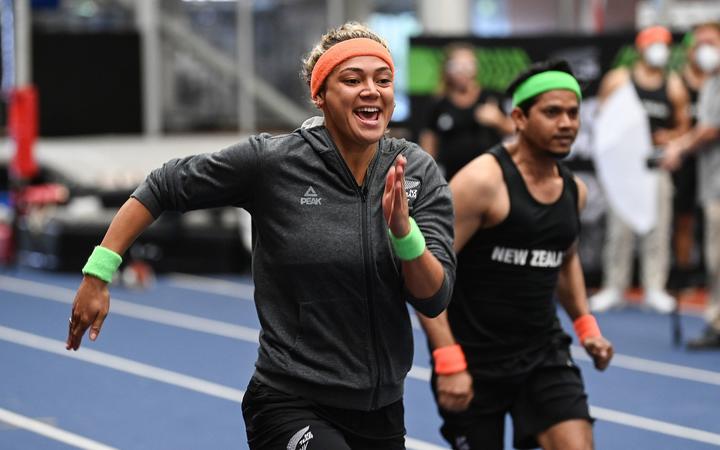 3x3 basketball player Ella Fotu taking part in a running race to mark the countdown to the Commonwealth Games. Photo: PHOTOSPORT
New Zealand chef de mission Nigel Avery said the 100-day milestone was a reminder that it is now crunch time.
"This is where the rubber hits the road and training goes up a notch,"Avery said.
"There's a lot happening between now and Games time, including a large number of international training camps and competition as our sports and athletes prepare for this pinnacle event."
Birmingham 2022 will welcome 4500 athletes from 72 nations and territories for 11 days of competition, from 28 July to 8 August.
New Zealand will be represented by up to 230 athletes, competing in around 20 sports and four para sports.
Women's T20 cricket and 3x3 basketball are included in the Commonwealth Games for the first time.
source: https://www.rnz.co.nz/news/sport/465493/athletes-code-switch-in-commonwealth-games-celebration