Some Tolaga Bay residents still stranded after Cyclone Hale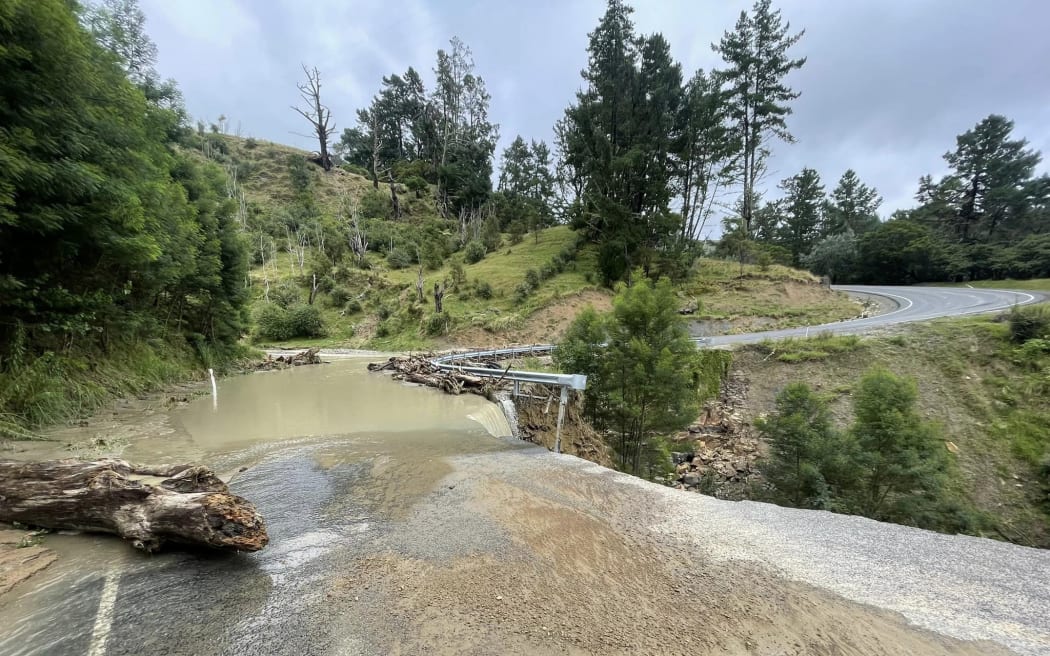 Cyclone Hate caused severe damage to the Tairāwhiti region, including a dropout on Arakihi Road in Tolaga Bay. Photo: Supplied/Uawa Civil Defence
Some families in Tolaga Bay are still stranded, two weeks on from the devastation of Cyclone Hale.
There are 300 identified faults across the Tairāwhiti region, such as dropouts and damaged bridges, with 22 roads still closed.
Gisborne District Council community lifelines director David Wilson told Morning Report the highest priority was making sure community members could access important roads.
Wilson said slips and fallen trees were blocking several roads, while some were accessible by four-wheel-drive cars only.
Tauwhareparae Road was the biggest to still be blocked off, where Wilson said many farmers and forestry workers needed access.
"There is significant drops and slipouts. We need to figure out how we can build a safe road that's not going to continue to move so the biggest thing for us is making sure engineers are happy so we can then be able to get in and do the fixes needed."
Wilson said debris from the forestry industry caused damage to some infrastructure and was still being cleared.
It was hard to tell how much of the road closures were due to forestry slash at this time, he said.
Meanwhile, Federated Farmers was calling on the government to establish an inquiry into the factors that contributed to flooding and smashed infrastructure from ex-tropical Cyclone Hale.
The Environmental Defence Society had also called for an inquiry into forestry practices.
Federated Farmers said residual material and slash from forestry harvesting had significantly contributed to damage to farmland.
National board member Toby Williams said with every rain event more slash was washing down.
He said forestry operators had lifted their game but farmers were frustrated at having to continually pick debris off their land.
"We've got farmers now who are seriously considering whether they just shut the gate and walk off the land," he said.
Minister of Forestry Stuart Nash earlier told Morning Report there was no need for an inquiry.
The ex-tropical cyclone had shown forestry needed be done differently in places prone to weather events, but instead of an inquiry, forestry companies needed to sit down with key stakeholders, he said.
source: https://www.rnz.co.nz/news/national/483060/tolaga-bay-residents-still-stranded-as-22-roads-remain-closed-following-cyclone-hale