Tiger Woods' Masters hype can't overshadow his dubious past
Opinion - Tiger Woods' presence at the US Master's may be dominating the headlines but his dubious actions off the course mustn't be ignored, Hamish Bidwell writes.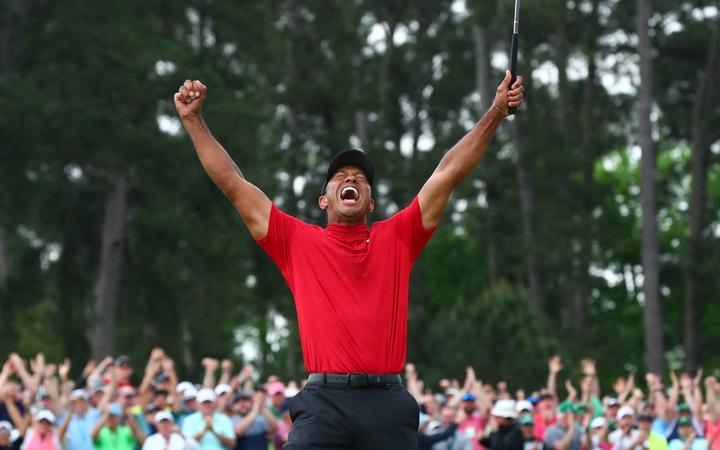 File image: Tiger Woods celebrates winning the 2019 Masters. Photo: PHOTOSPORT
Tiger Woods is the most astonishing athlete of my sport-watching life.
That's not to say I like or admire him, but the man's record is immense.
Think of all the dozens of golfers who competed against Woods for a period. Maybe it was for a fortnight or a month or a year or five years.
None of them could sustain the peaks or match the excellence of a career in which Woods has typically crushed all of his rivals.
Each had talent, each had impressive resumes, but few could ever beat him head-to-head.
If you and Woods were in contention for a title or paired in the same group, chances are his mental toughness would prevail over yours.
And we're not talking over a limited span, either.
From the time that Woods won his first green jacket at the Masters in 1997 up until now, he has been unsurpassed as a professional golfer.
There have been periods when Woods was off the scene, though, which takes me to the point of this column.
Woods is teeing it up at the Masters this week, for the first time since he rolled a car down a bank in February last year.
File image: A tow truck recovers the vehicle driven by golfer Tiger Woods in Rancho Palos Verdes, California. Photo: AFP or licensors
We'll never know why that car crashed. But we do know that Woods was once arrested for driving under the influence of prescription drugs.
People have been left to speculate about why Woods was several lanes over from where he should've been, back in 2021, and how he ended up down a ravine on the wrong side of the road.
But Tiger is back this week and what excitement his return has generated.
Sports fans, particularly those in the United States, love a comeback. Add in a bit of adversity, such as the limp Woods now walks with, and you have a story of Hollywood proportions.
Woods has taken leave from golf previously. That was after his wife discovered he was a serial philanderer and reportedly went after him with a golf club.
Golf gets a good run on TV in my household, especially when majors such as the Masters are on. This year we've been treated to coverage of the players practicing on the range, which could have added quite a lot to the sum of our collective knowledge.
Instead it's just been footage of Woods hitting chip after chip or eight-iron after eight-iron.
I don't mind a comeback. I think of a rugby player such as Michael Jones, who had his knee torn to bits in a test against Argentina in 1989.
People feared he would hardly be able to walk again and, yet, before long he was back in the All Blacks.
That's a comeback, that's a triumph over adversity.
Woods' wounds have all been self-inflicted and I don't see a lot that's heroic about that.
He's smart, though. He's used his son Charlie as an effective prop in recent times, putting the boy's golfing prowess on display and trying to market himself as a doting dad.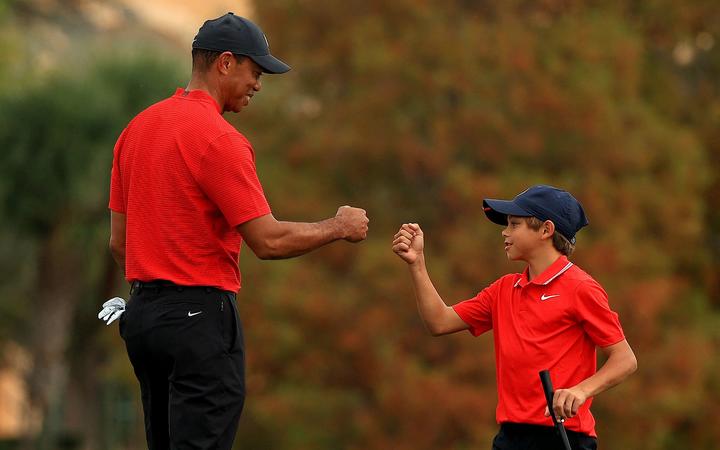 File image: Tiger Woods and son Charlie Woods at the 2020 PNC Championship in Florida. Photo: AFP
It's said Woods now talks to a few of his fellow golfers and that some actually like him. All a far cry from the man's absolute heyday when he treated everyone, including his own wife, with contempt.
If I'd grown up in the public eye, as Woods did, I doubt I'd subject my own child to the same scrutiny, but then we are talking about someone who's not famous for their empathy.
This week at Augusta, where the Masters are staged each year, is about no-one but Woods. And clearly he likes it that way.
The sideshow began a week or two ago when a story was leaked that Woods was back playing on the Florida course that backs onto his home.
Then he was off in his private jet to Augusta, to have a hit there too.
No need to hire one or fly commercial. No, go on your own jet so everyone knows that the comeback could be on.
Then a quote surfaced saying he might play the Masters or he might not. Way to get people on tenterhooks.
Finally the tournament-week itself arrives and so does Woods. Is he playing? Is he not? The man himself won't say.
The golf media breathlessly report each development, pausing only to predict that the great man might actually win the tournament.
And, look, he actually might. But I can't say I'll be celebrating when he does.
All that superstitious stuff with the red shirt and black trousers makes me laugh out loud, let alone his various failings as a man.
Will I be watching? Absolutely, but probably with the sound off.
I love golf and love these big events, but I resent them being about one man. A man that so many seem determined to saint, despite his dubious past.
I've no quarrel with Tiger Woods the athlete. He changed the game forever, with his emphasis on physical conditioning, the length that he hit the ball and his singular focus on winning.
Along the way he made himself, and his contemporaries, very rich men indeed.
But I can't divorce athlete from the man, unfortunately, and all the excuses that have been made for him along the way.
Woods is a truly phenomenal golfer, but I'd have to say he's also a flawed and unlikeable character.
source: https://www.rnz.co.nz/news/sport/464837/tiger-woods-masters-hype-can-t-overshadow-his-dubious-past