5 top gold coins for investment purposes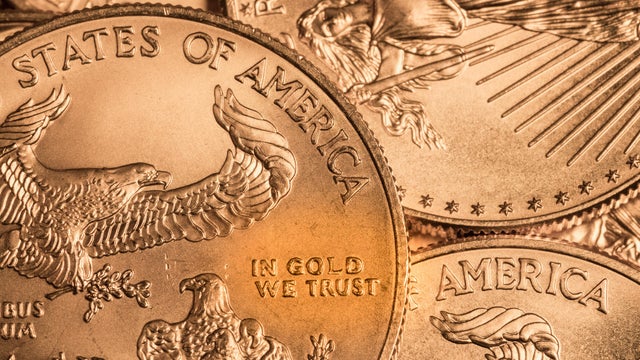 Gold has been a popular way for investors to diversify their portfolios and protect their wealth for hundreds of years. And in today's uncertain economic climate, investors are especially eager to take advantage of the reliable returns and historical stability gold can offer.
One of the most popular ways to invest in gold is with gold bars and coins. Gold coins, in particular, may be attractive to investors for their aesthetic and historical value in addition to their monetary value. But as with any collectible item, knowing where to start can seem overwhelming. With so many gold coins to choose from, which ones should you focus on?
Learn more about gold investing with a free information kit.
The following gold coins regularly make reputable "best of" lists for their purity, reputation and overall growth potential.
American Gold Eagle coins are one of the most popular and widely recognized gold coins on the market. These coins are produced by the United States Mint and are made of 22-karat gold. They feature a design of Lady Liberty on the obverse (heads) side, and the reverse (tails) side features either a bald eagle nesting or a bald eagle's head, depending on the year it was produced.
You can buy American Gold Eagle coins in weights of 1 oz, 1/2 oz, 1/4 oz and 1/10 oz. These gold coins are highly sought-after by investors due to their high purity and ease of liquidity.
The American Gold Buffalo coin is another popular option for investors and collectors alike and produced by the United States Mint. It's modeled after the famous 1913 Buffalo Nickel designed by James Earle Fraser and features a Native American chief's profile on the obverse side and an American buffalo on the reverse.
American Gold Buffalo coins are a higher purity than American Gold Eagle coins at 24 karats. You can buy American Gold Buffalo coins in 1 oz, 1/2 oz, 1/4 oz and 1/10 oz weights.
Request your free gold investment guide online now.
The South African Gold Krugerrand is one of the oldest and most trusted gold bullion coins in the world. First created in 1967, these coins are produced by the South African Mint and are made of 22-karat gold. This lower purity makes them more durable than 24-karat coins, and a great option for those concerned about the longevity of their investment.
The South African Gold Krugerrand features the profile of Paul Kruger, the South African Republic's first president, on the obverse side and a springbok antelope on the reverse. You can buy South African Gold Krugerrand coins in weights ranging from 1/50 oz to 2 oz.
The Canadian Gold Maple Leaf is a 24-karat gold coin produced by the Royal Canadian Mint. Released in 1979, this coin was the only competition for South African Gold Krugerrand for years, and it's still considered among the world's purest and most popular gold bullion coins. It features a maple leaf on the obverse side and Queen Elizabeth II's image on the reverse.
You can buy Canadian Gold Maple Leaf coins in a wide variety of weights, from 1/25 oz all the way up to 1 ounce, giving investors with different budgets plenty of options to choose from.
The Chinese Gold Panda is a 24-karat gold coin produced by the People's Bank of China. It's a favorite among collectors because its design changes yearly. The obverse side features the Temple of Heaven, while the reverse side features a panda design that has differed every year since its first production in 1983.
You can buy Chinese Gold Panda coins in the widest variety of weights on this list — anywhere from 1/20 oz all the way up to 1 kilogram.
Investing in gold coins can be an effective way to protect your portfolio from losses and hedge against inflation. Each of the coins mentioned above are great options to consider for investors looking to add the precious metal to their portfolio and perhaps also enjoy the satisfaction of building a collection.
Of course, before making any investment decision, it's important to do your own research, consider your investment goals and risk tolerance and speak with a financial advisor for customized guidance based on your individual financial situation.
Explore your gold investing options today with a free investors kit.
source: https://www.cbsnews.com/news/top-gold-coins-for-investment/