East Coast weather: Workers clear roads in aftermath of storm
Contractors have been working since first light to clear roads on the East Coast where with several state highways are blocked by fallen trees and flooding in the wake of Cyclone Fili.
The storm that blasted the East Coast of the North Island yesterday is moving away from the country and the rain has mostly cleared, and Tairāwhiti and Wairoa residents face another day of cleanup.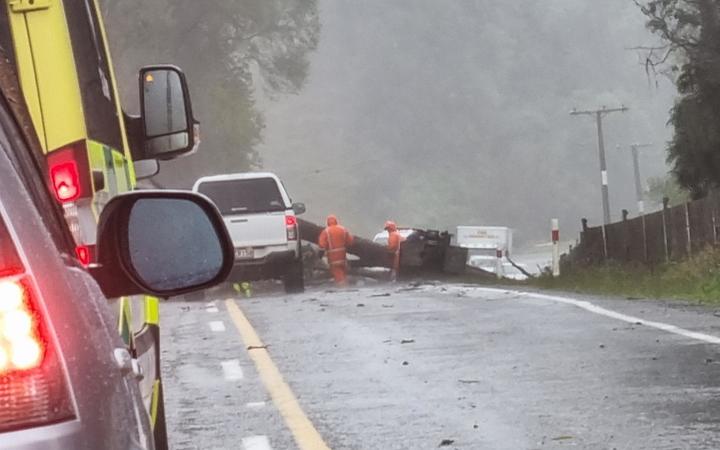 (file photo) A fallen tree being cleared from SH35 south of Tokomaru Bay on Wednesday 13 April. Photo: RNZ / Jimmy Ellingham
State Highway 35 was closed from Gisborne to Potaka, SH38 is closed at the intersection with Pakowhai Road in Frasertown, near Wairoa, due to flooding and extra caution was needed on SH2 from Gisborne to Wairoa.
Waka Kotahi spokesperson Helen Harris told Morning Report the agency was prioritising state highways because Eastland contractors need access to restore power to outlying communities.
"We're progressively hoping to open throughout the day," Harris said.
"We have crews that are going north and south to open the roads.
"There are multiple trees, and they are big trees, that have come down and they are blocking the whole network."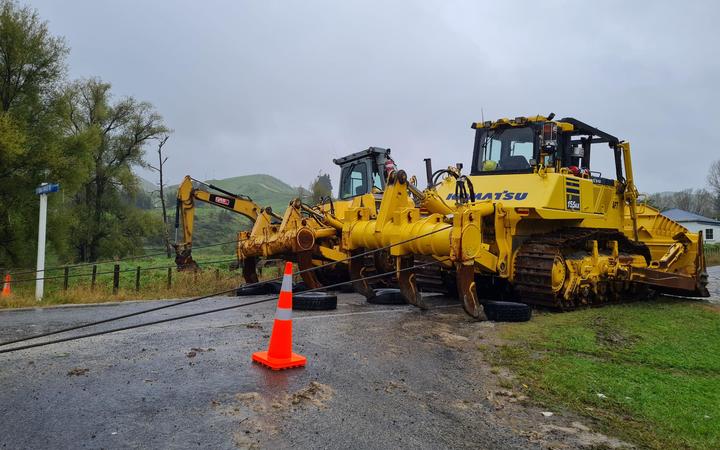 Bulldozers reinforce a bridge on Ruakituri Road near Te Reinga falls on Wednesday 13 April 2022. (file photo) Photo: RNZ / Rosie Gordon
MetService meteorologist Daniel Corrigan said it had been a major deluge, especially coming on top of widespread flooding in Tairāwhiti three weeks ago.
The hardest hit area was around East Cape where there was 200mm of rain between Tuesday evening and Wednesday midnight - with 50mm of that falling in just two hours between 10am and midday on Wednesday.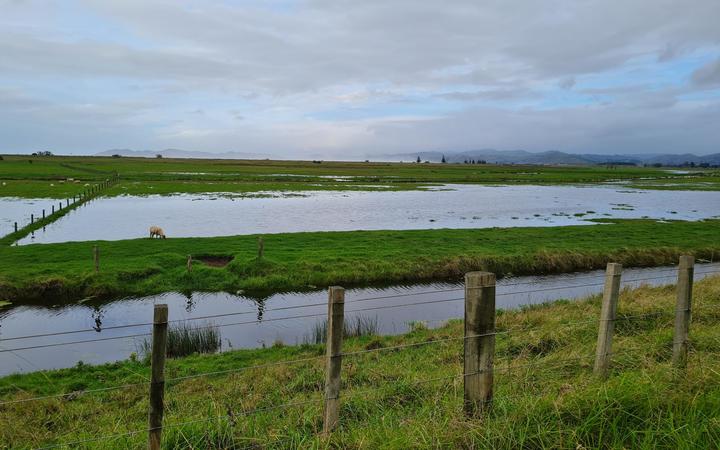 Floodwater on farmland near Gisborne on Thursday Photo: RNZ / Rosie Gordon
Tokomaru Bay-based civil defence coordinator Lillian Te Hau-Ward said the weather wasn't as bad as expected.
"Everyone is fine ... the sea is no longer roaring, it's no longer raining and the wind has died down."
There were road closures, power lines were down, and some cellphone communications were down.
source: https://www.rnz.co.nz/news/national/465257/east-coast-weather-workers-clear-roads-in-aftermath-of-storm