Alarm after dentist continues to treat patients despite suspension of practising certificate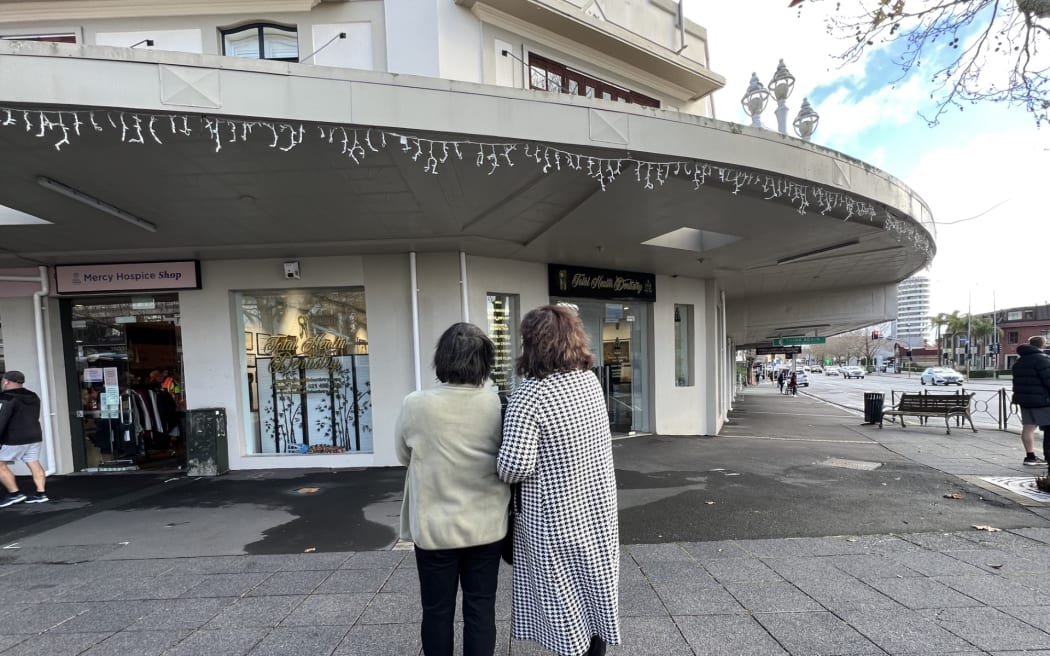 Rao Jing stands with the wife of another patient outside Total Health Dentistry in Auckland's Ponsonby neighbourhood on Monday. Photo: RNZ / Liu Chen
Patients of a dentist in Auckland are questioning how the practitioner has been allowed to continue giving medical advice after being suspended by the Dental Council.
Dr Jacob Goldenberg of Total Health Dentistry in Ponsonby had his practising certificate suspended from 21 March pending completion of an investigation, according to a naming notice published by the council. A spokesperson from the council confirmed the suspension was still in place.
However, correspondence and receipts seen by RNZ this week show Goldenberg has continued to see patients over the past three months.
Lee Kit Ming paid Total Health Dentistry $8248 over two instalments for two implants and a bridge.
Lee produced receipts from the clinic dated 27 May and 2 June as well as an "active treatment plan" from his May visit that bears Goldenberg's signature.
The clinic had ignored messages and phone calls to confirm subsequent appointments before he eventually discovered the suspension notice online, he said.
"This is ridiculous," Lee said. "Why is he still taking my money after he has been suspended?"
Another patient, Rao Jing, said she paid $6739 to Total Health Dentistry in September last year for two implants, but the surgery has yet to be performed.
"I've just had a hygiene session, one tooth pulled out and a few scans," Rao said. "The implants are just being delayed again and again."
Reasons for the delay in treatment have included Goldenberg's health, software and hardware updates, and a lack of staff.
After making no progress with her treatment during a visit to the clinic last week, Rao uncovered details of Goldenberg's suspension notice.
"I don't want to proceed with the treatment and would like a refund, but he is not getting back to me, even though I have contacted him multiple times," Rao said. "He later asked for my lawyer to get in touch."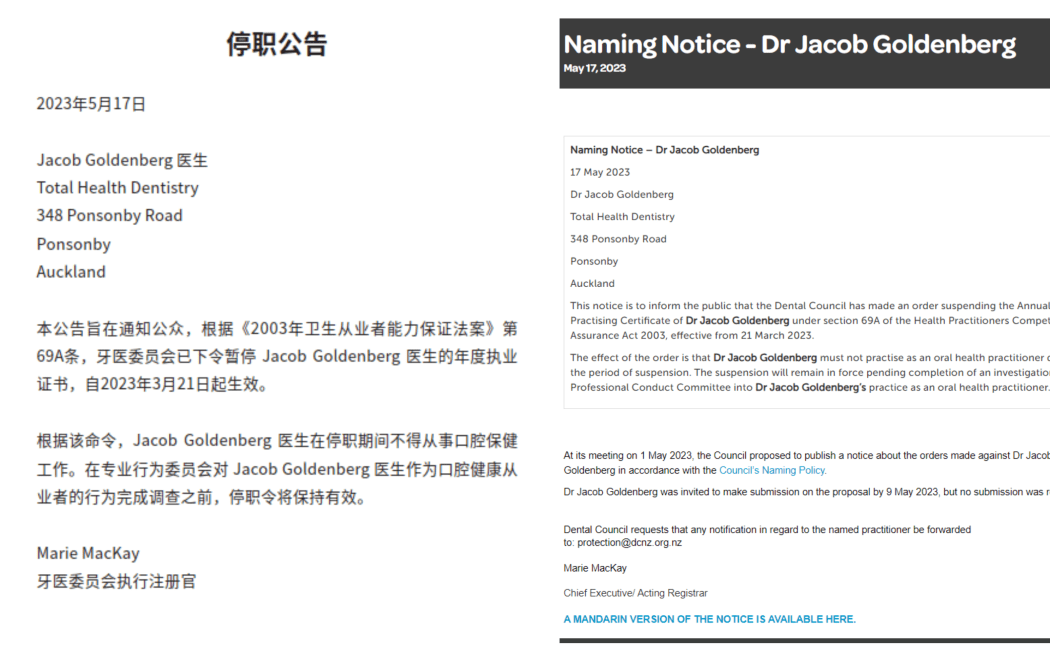 The Dental Council has issued a notice in Chinese and English stating that Dr Jacob Goldenberg's practicing certificate has been suspended from 21 March pending completion of an investigation. Photo: Screenshot
Rao said the Dental Council advised her to discontinue treatment at the clinic.
She had been in touch with several Chinese patients who had experienced similar issues with the practice, many of whom do not speak English fluently, she said.
"We don't want Chinese who don't speak English (to get treated here)," she said.
"The Dental Council says they've put a notice in the NZ Herald and Chinese Herald, but how many of us will come across that? Many people don't know about this and are still paying to get treated. I don't think this is right."
Goldenberg reportedly called the police on Monday after being confronted by Rao and another patient. The officers who responded left without further action after speaking to both parties.
When questioned about his suspension, Goldenberg told RNZ on Monday it was "temporary", although he refused to elaborate on the details.
When contacted by phone and via email on Tuesday, Goldberg declined to comment on the suspension order.
Dental Council chierf executive Marie MacKay told RNZ Goldenberg's practising certificate had been suspended in March after the council received complaints from Chinese-speaking patients.
The council believed the alleged conduct of Goldenberg "poses a risk of serious harm to the public".
"The suspension order will remain in place pending completion of the investigation by a professional conduct committee," MacKay said.
"Dr Goldenberg must not do anything that falls within his scope of practice as an oral health practitioner," she said.
"This would include practising as a dentist in his clinic and giving advice as a dentist. He should not be taking money from people for services he is not able to perform lawfully."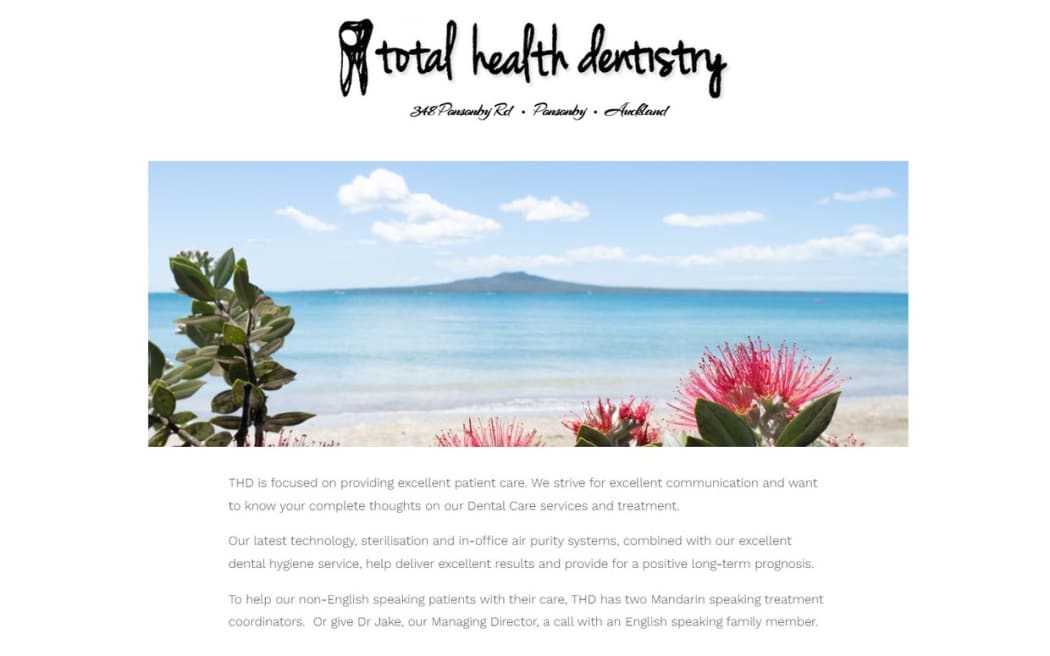 A screenshot of Total Health Dentistry's website, which says it has "two Mandarin-speaking treatment coordinators". Photo: Screenshot / Total Health Dentistry
MacKay said complaints relating to Goldenberg have been referred to the Health and Disability Commissioner as well as the Ministry of Health's Enforcement Division.
If money has been paid and a refund is refused, options may include a claim before the Dispute Tribunal, she said.
"The Ministry of Health is able to prosecute persons who unlawfully hold themselves out as health practitioners while they do not hold a current practising certificate," she said.
"A professional conduct committee, if it is satisfied that a health practitioner has practised while not holding a current practising certificate, or engaged in other misconduct for which a health practitioner may be disciplined, may bring a charge against the practitioner before the Health Practitioners' Disciplinary Tribunal. If a health practitioner is found guilty by the tribunal, the tribunal may order penalties that include a fine and cancellation of registration."
Patients were also urged to get in touch with the council if they have concerns about a dental practitioner's conduct.
A Ministry of Health spokesperson confirmed Goldenberg had been suspended from practising from 21 March. They declined to comment further while the investigation was ongoing.
"A health practitioner may be in breach of s7(2) of the HPCA Act if they continue to practise as a health practitioner once suspended. This is an offence and carries a maximum fine of up to $10,000 upon conviction," the spokesperson said.
"Members of the public are welcome to contact [email protected] if they have received dental treatment by a suspended health practitioner and are willing to speak to us further about this."
Health and Disability Commissioner Morag McDowell said it has jurisdiction to assess the care provided and determine whether a provider's actions are in breach of the code, but it does not have the power to stop a medical professional from practising.
"HDC is currently assessing a number of complaints received about Dr Goldenberg and Total Dentistry, and an investigation into one complaint has been completed," McDowell said.
"HDC is working closely with the Dental Council of New Zealand and the Ministry of Health regarding complaints about Total Dentistry and Dr Goldenberg. If members of the public have received substandard services from Dr Goldenberg, they can lodge a complaint directly with HDC."
source: https://www.rnz.co.nz/news/national/493660/alarm-after-auckland-dentist-continues-to-treat-patients-despite-suspension-of-practising-certificate