Carlos Alcaraz defeats Novak Djokovic in epic Wimbledon showdown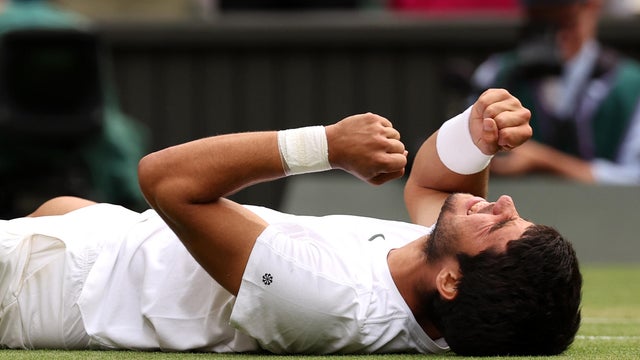 Spain's Carlos Alcaraz defeated Novak Djokovic in an epic Wimbledon final on Sunday that included a 24-minute single game. 
Djokovic took the first set 6-1 but Alcaraz coming back to win the next two. But Djokovic forced a fifth set before dropping behind Alcaraz early in that set, before coming back to a 5-4 score in sets. But Alcaraz took the next game, giving him the victory in the match.  
The final pitted the top-seeded Alcaraz against Djokovic, who in June won his 23rd Grand Slam title, setting the men's record. 
Instead of Djokovic, a 36-year-old from Serbia, becoming the oldest male champion at Wimbledon in the Open era, Alcaraz, a 20-year-old from Spain, became the third-youngest. The age gap between the two was the widest in any men's Slam final since 1974.  
So Alcaraz had youth on his side, which he also did, of course, when they met at the French Open last month. That one was extraordinary for two sets before Alcaraz cramped up and faded. This time, he had the stamina and the strokes to get past Djokovic.
Alcaraz is faster and capable of more power — serves topping 130 mph, forehands topping 100 mph — but Djokovic is equipped with an abundance of talents and so much muscle memory. He's been there, and done that, in ways Alcaraz, for now, can only dream of.
But if this victory on a windy and cloudy day at Centre Court, where Djokovic last lost in the 2013 final, was any indication, Alcaraz is on his way to achieving quite a bit himself.
Still, this is all relatively new to him: Djokovic's record 35th Grand Slam final was Alcaraz's second.
Yet it was Alcaraz who won a 32-point, 25-minute mini-masterpiece of a game on the way to taking the third set. And it was Alcaraz who moved out front for good by breaking to go up 2-1 in the fifth with a backhand passing winner. Djokovic, who fell during the point but quickly popped back up, reacted by slamming his racket into the net post, letting go on impact. He destroyed his equipment and earned a code violation from chair umpire Fergus Murphy.
They would play on for another 24 minutes, bringing the total to more than 4 1/2 hours, but Alcaraz never relented, never gave way. And it was Alcaraz, not Djokovic, receiving the trophy in the evening.   
source: https://www.cbsnews.com/news/carlos-alcaraz-wins-wimbledon-novak-djokovic/